Wednesday, May 30, 2018
Page 1
Candidate: Did Not Review Slate Mailers With Falsehood That She's a 'Prosecutor'
Senior Deputy County Counsel Rene Caldwell Gilbertson Admits Fault in Not Examining Campaign Message Concocted by Consultants
By a MetNews Staff Writer
Los Angeles Senior Deputy County Counsel Rene Caldwell Gilbertson, a candidate for the Los Angeles Superior Court, has admitted that she did not review the content of various slate mailers which falsely depict her as a "Prosecutor," and knew that under a State Bar rule, such a personal examination is obligatory, but has taken steps to undo harm to her chief election rival.
The misrepresentation—which Gilbert attributes to her campaign consultants—appears destined to divert votes from Deputy District Attorney Ken Fuller, her only serious competitor in the race for Office No. 126 on Tuesday's ballot. A third candidate, retired patent attorney Shlomo Frieman, has not been campaigning.
Neither Gilbertson's chief campaign consultant, David Gould, nor consultant Jim Freeman, to whom Gould relegates chores relating to slate mailers, responded to requests for comment.
Correction on Website
In the aftermath of the mass distribution of slate mailers, Gilbertson over the Memorial Day weekend posted a correction on her campaign website, which she beefed up yesterday. It reads:
Rule 1-700(A) of the State Bar's Rules of Professional Conduct provides that lawyers running for judicial offices are bound by Canon 5 of the Code of Judicial Ethics, which bars a misstatement of a candidate's own qualifications (or those of an opponent) and sets forth:
"A candidate for judicial office shall review and approve the content of all campaign statements and materials produced by the candidate or his or her campaign committee before their dissemination. A candidate shall take appropriate corrective action if the candidate learns of any misrepresentations made in his or her campaign statements or materials."
In a video on campaign ethics which judicial candidates are required by Canon 5 to view, the word "all" is italicized and underlined.
No Input
The misrepresentation was spotlighted in an email sent to the MetNews and others by an anonymous "Concerned Citizen." Gilbertson on Sunday acknowledged, in an email: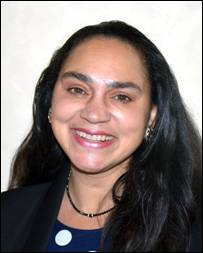 RENE CALDWELL GILBERTSON
Los Angeles Senior Deputy County Counsel
"The text of the slates was prepared by my campaign consultants, and I did not see or have input into the slates before they were mailed."
Her response to questions posed by the MetNews came in two emails on Monday. In the first, she said:
"As the candidate, my campaign is always my responsibility," adding: "I make no excuses and made a clear statement to that effect on my website."
However, she went on to say that there "are many prosecutorial elements" to her job, "in some states dependency cases are handled by prosecutors, and she "can see how a slate writer would choose 'child abuse prosecutor' as a description."
Pressed for further answers, she conceded in the second email:
"I viewed the video and was aware that I am required to review and approve campaign materials."
Gilbertson said she would not be self-reporting to the State Bar that she had failed to review the wording of her message on the slate mailers, declaring, "I do not consider this to be a reportable offense."
She added:
"I have taken active steps to correct any misunderstanding."
Fuller Not Satisfied
However, Fuller said Monday night, in an email to the MetNews, with a copy to Gilbertson and Gould, that he was not satisfied with Gilbertson's posting of a correction on her website. While expressing confidence "that Ms. Gilbertson herself did not do this on her own accord," and praising her for being "very gracious, professional, and courteous" during this campaign, he declared:
"I would ask and think it is only fair that further steps to publicize the correction be made in order to reach the millions of voters impacted by the slate mailers, including but not limited to, posting on social media (Facebook, Twitter, Instagram), contacting major newspapers, and television/radio networks to remedy the situation. In the alternative, I would ask that her campaign ensure that corrected mailers be sent to all of the voters in receipt of the incorrect information."
Fuller also called for the posting of a correction on the League of Women Voters' "Voter Guide for Los Angeles County" and on its "Voter's Edge" website, both of which convey Gilbertson's erroneous representation that she "[p]rosecutes child abuse cases in Los Angeles Juvenile Court." He noted that "candidates were required to personally certify the accuracy of the material submitted for those sites before it was published."
Gilbertson Obliges
A few minutes before midnight on Sunday, Gilbertson advised:
"I have given this issue a great deal of reflection. I share the same sentiments about Mr. Fuller and recall how he took the high road earlier in his campaign regarding the issue of his ballot designation. I will endeavor to do the same. I will issue a press release to the major Los Angeles newspapers, and will further amend my statement on my website."
(Fuller attempted to use two office titles on his designation, but acquiesced when the impermissibility of that was pointed out to him.)
She proceeded yesterday to issue a press release which tracked the language now appearing on her website. Gilbertson said she has asked that the two League of Women Voters websites to post her correction.
Major Effort
Gilbertson's committee has spent $98,147.30 on slate mailers, according to its campaign financial statement, filed a week ago.
Not all mailers contain descriptions of the candidates. Where they do, Gilbertson is variously labeled, including being termed a "24-Year Prosecutor," "24-year child abuse and neglect prosecutor," and "Child abuse/neglect Prosecutor for 24 years."
Slate mailers on which her committee has purchased space include "Feel the Bern," "California Republican Taxpayers Association," "Californians Vote Green," "No Party Preference Voter Guide," "Coalition For Senior Citizen Security," and "Millennials For Effective Government." Voter Guide Slate Cards, a Long Beach company that produces both Democratic and Republican mailers, was paid $12,500 to place Gilbertson on unenumerated slates.
Hammock's Analysis
Los Angeles Superior Court Judge Randolph M. Hammock, who frequently comments on matters relating to judicial elections, offered this view:
"Ms. Gilbertson appears to be an honest and sincere person. As such, I would accept her statement at face value that she did not review nor approve these particular slate mailers prior to their mailings. However, that is not an acceptable excuse."
He said the requirement that a judicial candidate review all campaign utterances "is specifically designed to prevent this exact situation," and remarked that "it is not unreasonable nor overburdening to expect a judicial candidate to take a few minutes to review" for accuracy what is said about him or her in space purchased on slate mailers.
The judge added:
"Unfortunately, Ms. Gilbertson is not the first (nor likely to be the last) judicial candidate to violate this rule. I am encouraged that she has now taken full responsibility for her violation, and moreover, she has taken steps to insure that in the future she complies with her legal and ethical obligations in this regard. I am hopeful that the current (and future) judicial candidates learn an important lesson from this rather unfortunate situation."
Copyright 2018, Metropolitan News Company