Friday, November 16, 2018
Page 1
Ninth Circuit Mulls Extent of Protection To Accord Probationers' PCs, Phones
By a MetNews Staff Writer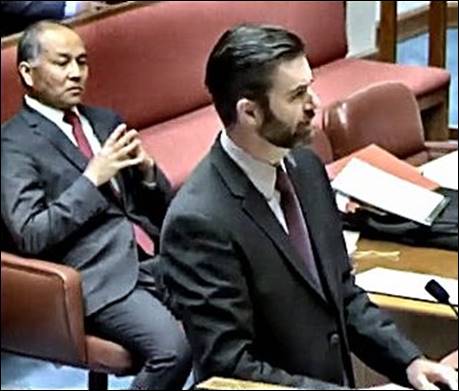 Assistant U.S. Attorney Sean Peterson of the Central District of California argues before a three-judge panel of the Ninth U.S. Circuit Court of Appeals, sitting in Pasadena. He argues against the position expressed by attorney Guy Michael Tanaka, seated, that conditions of probation allowing unrestricted searches of computers and cellphones invade privacy interests.
Pending before the Ninth U.S. Circuit Court of Appeals is the issue of whether, by virtue of the huge amount of personal information that can now be extracted from a user's computer or cellphone, decisions allowing the warrantless search of such devices by a probation officer, as a condition of a supervised release, have been rendered obsolete.
West Los Angeles attorney Guy Michael Tanaka, arguing on Wednesday before a three-judge panel in Pasadena, said that earlier decisions should be discounted because, technologically, "[t]hings have really moved on, things have changed." He asserted:
"[G]iven how much of our lives are now on our cellphones, on our computers, I submit those cases are of little import now."
He told the judges:
"If you search one's cellphone, you can find a whole history of their [sic] chats, emails, phone calls. You can find where they've been, who they've seen.
"You can find out, if you search their computers…what sites they've accessed, what they're interested in."
'Privacy Interests'
Tanaka maintained that the carte blanche computer-search condition his client will be subjected to, following his release from custody, "infringes on a whole host of privacy interests."
During a brief statement in rebuttal, following argument by Assistant U.S. Attorney Sean Peterson of the Central District of California, Tanaka observed that the sort of condition in issue did make sense when first imposed in child pornography cases. But such conditions, he complained, have now crept "into most any federal offense that can be said to be computer related."
His client, Kelly John Garrett, pled guilty in 2014 to wire fraud in a case where, it was charged, investors were cheated out of about $1.25 million based on his false representations that they were putting money into a video project launched in concert with the Boy Scouts of America.
Peterson noted that Garrett's "use of email was central to his wire fraud scheme."
Questioning by Clifton
Most of the questions were posed by Senior Circuit Judge Richard R. Clifton.
He noted that a person on supervised release "would otherwise be in custody and have no access at all" to computers or cellphones. With respect to the condition that searches be permitted of such devices, he asked Tanaka:
"Why is that a problem?"
It is unreasonable, the lawyer responded, for a condition to be "limitless."
The judge pointed out that the condition does not apply to the probationer's use of a worksite computer. He also recited that, in contrast to the fact situation in previous cases where a condition was invalidated, advance approval by a probation officer of the use of a computer or cellphone was not required.
All that is required, he said, is advising the probation officer of what specific devices are being used.
Tanaka advised:
"We have little problem with identifying the devices."
What is objected to, he explained, is a "monitoring of all of those devices and a search at any time."
Special Protection
It is accepted that the person of someone on supervised release may be searched at any time, Clifton said, remarking that such is "much more intrusive" than a search of an electronic device. He asked, "What is it about a computer that deserves more protection?"
Garrett's attorney responded: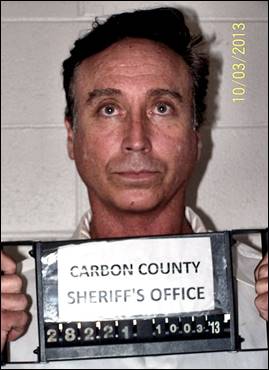 Above is a booking photograph of Garrett taken Oct. 3, 2013 in Utah, where he was charged with fraud and theft by deception. He is currently housed, for the U.S. Marshal's Service, in a Utah facility.
"Even a search of a person, which is physically intrusive, doesn't reveal as much private information as a search of a cellphone would these days….Almost everything you do is on there.
"There has to be some reasonable restriction or reasonable connection between just allowing a probation officer access to rummage through everything in your life."
Clifton noted that "reasonable suspicion" is not needed for a bodily search of a probationer, and said he doesn't know why it should be required for examining a device. He added:
"You expect that a probation officer has better things to do than to rummage through the devices."
Tanaka said there is particular concern over the monitoring of PCs, likening this to "somebody sitting over your shoulder and watching everything you do on your computer."
He continued:
"For all we know, the monitoring software sits there and records every keystroke."
Circuit Judge Richard Paez said it was his impression that the government represented in its briefs that recording of keystrokes would not occur, and he suggested that in light of that, such a restriction be read into the condition.
However, Peterson later acknowledged that the condition "does allow for keystroke monitoring."
Clifton observed:
"We now all have in our pockets and purses devices more powerful than could have been imagined a few years ago."
He asked Peterson:
"Why is it that the fact that he [Garrett] happened to use a computer along the way justifies the level of intrusion provided by these conditions?"
The government lawyer said that Garrett would not be prohibited from using a computer to access the Internet or communicate by email, and would not need prior authorization to use a computer.
Also on the panel is Second Circuit Court of Appeals Judge Barrington Daniels Parker Jr.
The case is United States v. Garrett, 16-50482.
Copyright 2018, Metropolitan News Company