Monday, September 17, 2018
Page 1
Ninth Circuit:
Warrantless Search of House a Fleeing Suspect Ran Through Was Fourth Amendment Breach
Majority of Three-Judge Panel Says Officers Weren't Justified in Concluding Man Reaching Into Waistband Had a Gun Because He Might Simply Have Been Holding Up Baggy Pants
By a MetNews Staff Writer
Police were unreasonable in supposing that a fleeing suspect who reached into his waistband had a gun, the Ninth U.S. Circuit Court of Appeals has declared in a 2-1 decision, discounting the contention that a warrantless sweep of a house the man ran through before being apprehended in a nearby yard was justified because someone inside the house might have been handed that weapon.
The man who fled, the majority suggested, might simply have been holding his pants up.
The allegation that the search was violative of the Fourth Amendment's right against unreasonable searches and seizures was raised by the owner of the home, Javier Garcia, who was prosecuted after officers found he was in possession of methamphetamine.
Although entering the house to do a quick inspection—to determine if any person who was armed and dangerous were inside (the "emergency" exception to a warrant requirement) or if someone there were in need of help (the "emergency aid" exception)—Salinas police officers soon ascertained that Garcia was on probation and was subject to searches with or without cause. A thorough search ensued, revealing three bindles of methamphetamine next to his wallet and two bindles inside it.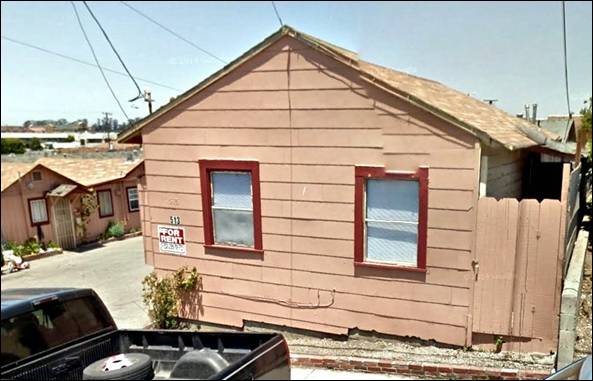 Above is a home in Salinas. Officers conducted a warrantless search of it after a fleeing suspect entered through the front door, existed through a rear window, and continued his flight. The Ninth U.S. Circuit Court of Appeals held on Thursday, in a 2-1 decision, that the sweep constituted a breach of the homeowner's rights under the Fourth Amendment.
Charged with possession of methamphetamine with intent to sell, as well as violation of his probation, Garcia's suppression motion was denied by District Court Judge Beth L. Freeman of the Northern District of California on April 15, 2016. She ruled after conducting an extensive evidentiary hearing which included testimony from Officer Richard Lopez.
Lopez recounted that he and his partner were assigned to provide neighborhood protection in a high-crime area; that on Jan. 19, 2015, his partner radioed that a suspect was running from him and appeared to be armed; he spotted the man entering a small house in a cluster with other abodes sharing a parking area; he secured the house, at the front entrance, with his gun drawn; a woman came out of the house frightened and shaking; the partner then radioed that the suspect was apprehended nearby; two sergeants arrived and it was decided to conduct a warrantless search of the house in light of what they viewed as exigent circumstances.
The suspect was not armed when apprehended leading to a reasonable suspicion, the prosecution asserted, that the weapon had been left in the house and might be used offensively.
Garcia was convicted by Freeman at a bench trial on Feb. 7, 2017, on stipulated facts, and he appealed based on denial of the motion to suppress evidence found in his home and statements he made later.
Baggy Pants
In Thursday's decision, the majority, comprised of Senior Circuit Judge N. Randy Smith and District Court Judge Deborah A. Batts of the Southern District of New York, sitting by designation, reversed the denial of the suppression motion and remanded for further consideration. With respect to the perception of the officers that the fleeing suspect, Alfonso Nevarez, was armed, the judges observed, in a memorandum opinion, that "grabbing one's waistband when one begins to run" is "a gesture also common when the individual is wearing baggy pants."
The opinion comments that this gesture "is much less suggestive of actual gun possession than the facts confronting officers in cases where we have upheld the emergency exception" to the requirement of obtaining a warrant.
The judges apparently took a cue from Garcia's attorney on appeal, Jamie Lee Moore of San Rafael, who pointed out at oral argument in San Francisco on May 14 that the officers never saw a gun being held by Nevarez, saying:
"What they saw was that he was holding his waistband—which could mean he was holding a gun but could also mean he was holding something else, including holding up his pants as he was running. There are all kinds of reasons why he was holding his waistband."
Wallace Dissents
Dissenting, Circuit Judge John C. Wallace said:
"In this case, although the record did not conclusively establish the existence of an emergency situation, it did demonstrate that officers had reasonable grounds to believe someone inside Garcia's residence may have needed immediate assistance. When Nevarez initially fled from police, he grabbed his waistband, reasonably suggesting to the pursuing officer that he had a gun. The majority claims that this gesture is 'also common when the individual is wearing baggy pants,' but Officer Lopez did not testify that the suspect was holding up baggy pants, nor did any other witness. Only the majority has made this 'factual' finding."
A rejoinder came from the majority. In a footnote, their opinion says:
"The dissent, trying to 'muster up' any evidence it can to suggest that grabbing the waistband reasonably suggests that this meant that Nevarez was grabbing a gun, criticizes us for making a factual finding not supported by the record. The dissent is incorrect: we make this observation—not factual finding—only to illustrate that alternative inferences can be drawn from these facts and to show that the dissent's suggestion, that Nevarez grabbed his waistband because he possessed a gun, is little more than a guess."
Freeman's View
In denying the suppression motion, Freeman found significance in the officers' belief that Nevarez was armed. She noted the government's position that the officers "had a reasonable belief that the area swept harbored an individual posing a danger to them," citing "the officers' knowledge from training and experience that a suspect fleeing from police will sometimes run to join accomplices or fellow gang members who pose a threat to officers even after the fleeing individual is arrested."
Freeman wrote:
"On the basis of the articulable facts provided, the Court finds that the officers were reasonable and prudent in their belief that a dangerous individual could be inside Unit 10, posing a danger to the officers or others. Specifically, the officers knew that a potentially armed suspect had run into the residence, that a frightened woman had come out, and that both they and the individuals they had directed away from the building could nevertheless be in the line of fire….Thus, the Court finds that the officers' entry was justified not only under the emergency aid exception, but also as a protective sweep conducted out of fear for their own safety."
Reversal Explained
In reversing, Smith and Batts said:
"The possibility that Nevarez might have had a gun that he left inside the house prior to his arrest is not only speculative, but, even if true, not ipso facto sufficient to create an emergency….Nor is it remarkable that a woman might appear frightened while exiting an apartment at which the police are pointing a gun. The fact that the police had no reason to believe that anybody remained inside the residence—much less somebody violent or injured—undercuts a finding of emergency."
At oral argument, Moore said of the woman who exited the premises:
"She didn't come out screaming. She didn't come out yelling. She was completely unharmed. The officers did not ask her consent to go in the home."
The lawyer recounted that Lopez testified that he was uncertain whether he asked her if anyone were present in the house.
Need for Questioning
Assistant U.S. Attorney Susan B. Gray countered that the woman was frightened, noting that Lopez testified that she behaved as if something "horrible" had been done to her in the premises. She said that even if statements had been elicited from her, they would not have been apt to be "reliable."
Gray said the officers knew that persons in that vicinage were not prone to make disclosures as to persons "illegally staying" in local premises, apparently vaguely alluding to a reluctance to tattle on illegal immigration.
The majority opinion counters that officers "never asked anybody whether there were individuals inside requiring immediate assistance, in part, apparently, because they assumed that the residents might lie." It declares that this assumption "cannot serve as a substitute for reasonable grounds" for believing that an emergency existed and that "the officers' entry was not justified under the emergency aid exception."
A remand was ordered because Freeman had recognized no Fourth Amendment violation as having occurred. In light of the conclusion on appeal that it did, the district judge should be allowed "to consider whether the exclusionary rule applies in this case in the first instance," the majority's opinion says.
The case is United States v. Garcia, 17-10071.
Copyright 2018, Metropolitan News Company