Friday, January 5, 2018
Page 1
25-Year-to-Life Term Upheld for Sex Offender Who Failed to Report His Address Change
Third District Opinion Says It's Appropriate Under Three-Strikes Law
By a MetNews Staff Writer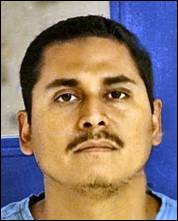 JACINTO JOSE FLORES
Sex Offender
A sex offender who failed to report his change of address was appropriately sentenced, under the three strikes law, to a 25-year-to-life indeterminate term, the Third District Court of Appeal held yesterday.
Acting Presiding Justice Harry E. Hull Jr. wrote opinion, which was not certified for publication.
Defendant Jacinto Jose Flores argued that Tehama Superior Court Presiding Judge C. Todd Bottke abused his discretion in declining to strike his prior convictions because the sentence for not registering a forwarding address was grossly disproportionate to his offense, in violation of the Eighth Amendment protection against cruel and unusual punishment.
Hull disagreed. He recited that the registration requirement was based on misdemeanor child molestation, and after Flores committed that offense, he went on to incur convictions for forcible rape and assault with intent to commit rape, as well as vehicular burglary, criminal threats, and failing to register as a sex offender.
Defendant Missing
Police went to the home at the address he had registered to arrest him after receiving a report that the electronic monitoring device he was required to wear, as a condition of parole, had been tampered with. They found the device was there, but Flores wasn't; he had moved.
He was later located and arrested on April 7, 2016.
Hull wrote:
"Defendant's conviction did not stem from a negligent oversight made in the context of dutifully supplying law enforcement with accurate information….Defendant's conviction stemmed from removing his monitoring device, leaving his registered address, and failing to inform police of his new address. Further, as the trial court noted, his criminal history placed him within the spirit of the three strikes law. Accordingly, the trial court did not abuse its discretion and defendant's sentence does not violate the Eighth Amendment to the Constitution."
High Court Precedent
The sentence, he noted, was the same as that approved by the California Supreme Court, in the 2012 case of In re Coley, for a man who failed to register as a sex offender within five days of being released from prison.
The case decided yesterday is People v. Flores, C083713.
The crimes giving rise to the strikes are recited in a July 31, 2007 unpublished Third District Court of Appeal opinion, also written by Hull, who said:
"After attacking his cousin's wife, defendant Jacinto Jose Flores entered negotiated pleas of guilty to rape…, burglary of a locked vehicle…, making criminal threats…, assault with intent to commit rape, sodomy, and oral copulation…, and failing to register as a sex offender…. The court dismissed four other charges, including kidnapping to commit rape…, and the parties agreed that a maximum sentence of 11 years might be imposed."
There, the court affirmed a 10-year sentence.
On July 3, 2006, while Flores was in prison, he was indicted on a federal charge of illegal reentry by an alien, but it was later determined that he had acquired citizenship, and the charge was dismissed.
Copyright 2018, Metropolitan News Company