Tuesday, December 4, 2018
Page 3
C.A. Won't Resuscitate Action by Whistleblower Against GOP
By a MetNews Staff Writer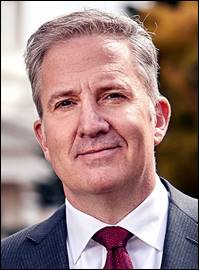 DAVID DOUGLAS FENNELL
Litigant
The First District Court of Appeal has declined to reinstate an action brought in 2010 by a self-styled "whistleblower" against various candidates and officials of the Republican Party, claiming they defamed him based on his uncovering and exposing corruption within the GOP.
Among those he sued were Mitt Romney, who had been an unsuccessful candidate for the Republican presidential nomination two years earlier (capturing it in 2012, but losing in the run-off, and now U.S. senator-elect from Utah) and the Republican party's 2010 gubernatorial candidate Meg Whitman (who failed in the general election).
The latest opinion in the case came on Friday. Acting Presiding Justice John Streeter of Div. Four authored it.
It affirms a March 16, 2017 order by Santa Clara Superior Court Judge Richard DuBois dismissing the action as to defendant Charles Munger Jr., a physicist who is a former chair of the Santa Clara County Republican Party and a major Republican donor. Dismissal was based on a failure to bring the action to trial within five years.
The case is Fennell v. Munger, A151300.
Motion for Reconsideration
Streeter's memorandum opinion also affirms the June 29, 2017 denial by Santa Clara Superior Court Judge Gerald Buchwald of a motion for reconsideration of the 2010 dismissal of certain defendants from the action—including Romney and Whitman—pursuant to anti-SLAPP motions. The judgment of dismissal was affirmed by Div. Four on Sept. 22, 2011, in an opinion by then-Presiding Justice Ignacio Ruvolo, now retired; the California Supreme Court on Dec. 14, 2011 denied review; the U.S. Supreme Court on May 21, 2012, denied certiorari.
Friday's decision affirming the denial of reconsideration came in Fennel v. California Republican Party, A152298.
Streeter quoted the opening brief of appellant David Douglas Fennell as declaring that the action he brought "involves the libeling of a whistleblower who found money laundering and potential political influence peddling conducted by staff of the California Republican Party and related campaigns."
The jurist noted:
"This sweeping statement is accompanied by no citations to the record…."
Judicial Bias Claimed
Both appeals were predicated on a claim of judicial bias. Streeter said:
"The bias issue appellant apparently wishes to raise is too cryptic for us to review in a meaningful way. Because it is not properly presented or sufficiently developed to be cognizable, we must treat it as waived."
 Fennell alleged in his 2010 complaint that as a volunteer campaign worker, he uncovered a "California Republican Party culture of corruption and incompetency, which was firmly entrenched." He charged that after he declared his candidacy for the post of Republican state chair in 2009, party officials conspired to intimidate him by means of "slander, libel, threats and extortion," seeking to destroy his reputation by portraying him as "a molester, statutory rapist and thief."
Catherine Brinkman—state chair of California Young Republicans in 2004-2008 and executive director of the San Mateo County Republican committee since 2005—did disclose "rumors" about Fennell in a 2009 email to "delegates and California Republican Party leadership." She apparently did not act on behalf of the state party.
Other Defendants
Defendants, in addition to Romney and Whitman, who gained dismissals from the action pursuant to anti-SLAPP motions, included Whitman's opponent in the GOP primary, then-Insurance Commissioner Steve Poizner; the Republican candidate for the U.S. Senate, Carly Fiorina; and then-State Chair Ron Nehring.
The campaign committee for 2008 Republican presidential candidate John McCain, a U.S. senator from Arizona, and his running mate, former Alaska Gov. Sarah Palin, made a subsequent anti-SLAPP motion, which also succeeded.
In the June 5 state­wide primary, Fennell ran for lieutenant governor and came in fifth, with 7.9 percent of the ballots, just behind former State Bar President Jeff Bleich, who garnered 9.9 percent.
Four years ago, Fennell came in third in the race for that post, with 8.6 percent of the votes.
Fennell's ballot designations both times was "Entrepreneur." However, with respect to both appeals decided Friday, he sought and was granted a waiver of the $775.00 filing fee and two other specified costs.
Copyright 2018, Metropolitan News Company