Friday, May 25, 2018
Page 3
Social Media Providers Must Turn Over 'Public' Posts—S.C.
Facebook, Instagram, Twitter Need Not Disclose Postings That Were Private, Opinion Says,
But Does Not Resolve the Classification of Deleted Public Posts
By a MetNews Staff Writer
The California Supreme Court held yesterday that Facebook, Instagram and Twitter must disclose to criminal defendants public posts concerning a homicide of which they are accused, but not posts that were restricted to specific persons.
However, it sidestepped the issue of whether a post that was initially public but was then reclassified or removed must be produced.
At issue was an interpretation of the federal Stored Communications Act ("SCA"), 18 U.S.C. §2701 et seq. Sec. 2702 declares that a provider of "an electronic communication service to the public shall not knowingly divulge to any person or entity the contents of a communication while in electronic storage by that service" but makes an exception where there is "lawful consent" of the sender.
In her opinion for a unanimous court, Chief Justice Tani Cantil-Sakauye said that where matter is publicly posted, there is necessarily consent to disclosure, but that the SCA bars production of private communications.
The material's sought by subpoenas relate to a drive-by shooting on June 24, 2013, which resulted in the death of a 19-year-old male and injury to his 17-year-old girlfriend. Defendants Derrick Hunter and Lee Sullivan are charged with murder and other offenses.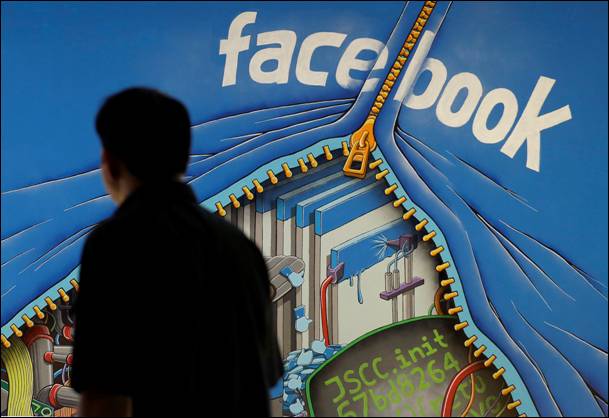 —AP
In this 2014 file photo, a man walks past a mural in an office on the Facebook campus in Menlo Park.
Broad Discovery Ordered
Subpoenas served on social media providers seek "[a]ny and all public and private content" of messages posted by Jaquan Rice Jr., the man who was slain, and Renesha Lee, who supplied the car used in the drive-by shooting. San Francisco Superior Court Judge San Francisco Bruce E. Chan ordered production.
The First District Court of Appeal on Sept. 8, 2015, directed Chan to vacate his order. Justice Terry Bruiniers of Div. Five wrote:
"[W]e find no support for the trial court's order for pretrial production of information otherwise subject to the SCA's protections. The consistent and clear teaching of both United States Supreme Court and California Supreme Court jurisprudence is that a criminal defendant's right to pretrial discovery is limited, and lacks any solid constitutional foundation. Simply alleging that the material they seek might be helpful to their defense does not meet Defendants' burden to show that the SCA is unconstitutional in denying them access to protected information at this stage of the proceedings."
Chief Justice's Opinion
Cantil-Sakauye said in yesterday's opinion:
"[W]e conclude that the Court of Appeal was correct to the extent it found the subpoenas unenforceable under the Act with respect to communications addressed to specific persons, and other communications that were and have remained configured by the registered user to be restricted. But we conclude the court's determination was erroneous to the extent it held section 2702 also bars disclosure by providers of communications that were configured by the registered user to be public, and that remained so configured at the time the subpoenas were issued."
Whether any communication falls under the "lawful consent" exception can't be determined by the existing record the chief justice said.
Trial Court's Inquiry
"We will direct the Court of Appeal to remand the matter to the trial court to permit the parties to appropriately further develop the record so that the trial court may reassess the propriety of the subpoenas under the Act in light of this court's legal conclusions," she wrote.
Cantil-Sakauye did not resolve the question of whether the poster has revoked consent by deleting a message or reclassifying it as public, saying:
"Because the record does not indicate whether, in fact, any public communication sought by defendants was subsequently reconfigured or deleted before the relevant underlying subpoena was issued, we express no opinion on the revocation of consent issue — and leave it to be explored, if necessary, by the trial court on remand."
The record reflected some uncertainty as to the extent of the burden on social media providers in requiring retrieval of deleted messages. Twitter insisted such messages were not "reasonably available."
A subpoena has not been served on Lee, whose whereabouts are unknown.
The case is Facebook v. Superior Court, 2018 S.O.S. 2533.
Free-Speech Case
Also decided yesterday by the state's high court was the case of Delano Farms Company v. California Table Grape Commission, 2018 S.O.S. 2513.
There, five growers and shippers of California table grapes protested assessments to promote all of the state's table grapes equally, as if they were fungible even though the plaintiffs asserted their products were superior and they were thus being forced to subsidize speech with which they disagreed. This, they argued, abridged their free-speech rights under Art. I, §2(a) of the state Constitution.
Cantil-Sakauye again wrote for a unanimous court. The opinion affirms the Court of Appeal in finding the assessments proper.
There is no "compelled speech" by the plaintiffs, she said but, rather, speech by government in promoting grapes.
"The government speech doctrine recognizes that a properly functioning government must express potentially controversial viewpoints as a matter of course, and that payers of taxes and fees may be required to subsidize this speech, even when they disagree with it, without implicating their constitutional right to free speech," she wrote.
Copyright 2018, Metropolitan News Company