Tuesday, May 15, 2018
Page 1
Group Seeks Assisted Suicide Law to Be Voided by Riverside Judge
By a MetNews Staff Writer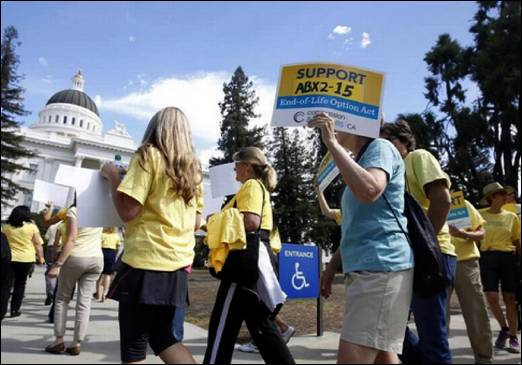 —AP
In this Sept. 24, 2015 file photo, supporters of a measure to allow the terminally ill to end their own life march at the Capitol while calling on California Gov. Jerry Brown to sign the bill.
Attorneys for Life Legal Defense Foundation will be in Riverside Superior Court this morning seeking a judicial invalidation of the End of Life Option Act, which permits assisted suicides.
The Office of Attorney General and amicus curiae Compassion & Choices oppose the assault on the act.
The plaintiffs are arguing that the measure was invalidly adopted at an extraordinary session of the Legislature, called by Gov. Jerry Brown in 2015 to address Medicaid funding shortfalls. It is relying upon the California Supreme Court's 1942 decision in Martin v. Riley which said:
"The duty of the Legislature in special session to confine itself to the subject matter of the call is of course mandatory. It has no power to legislate on any subject not specified in the proclamation."
That language was quoted by the state high court with approval in the 1995 case of Amwest Surety Ins. Co. v. Wilson.
Executive Director Comments
Legal Life's executive director, Napa attorney Alexandra Snyder, commented yesterday:
"This flagrant and unlawful abuse of the legislative process cannot be permitted to stand. If the Attorney General has his way, virtually any special interest bill could be enacted by a select handful of legislators. The California Constitution expressly prohibits such an outcome, as it violates the democratic process, which requires legislation to be approved by the full body of elected representatives."
Martin v. Riley also sets forth:
"[W]hen the Governor has submitted a subject to the Legislature, the designation of that subject opens for legislative consideration matters relating to, germane to and having a natural connection with the subject proper."
Dying Woman's Remarks
In a press statement yesterday, Life Legal quoted a moribund woman, Stephanie Packer—whose insurance company declines to pay for chemotherapy but will pay for life-ending drugs—as saying:
"As soon as this law was passed—and you see it everywhere when these laws are passed—patients fighting for a longer life end up getting denied treatment, because this will always be the cheapest option."
Packer has a terminal form of scleroderma, a connective tissue disease.
Riverside Superior Court Judge Daniel J. Ottolia on June 16 of last year denied the motion by the Office of Attorney General for judgment on the pleadings. However, the plaintiffs failed earlier in their efforts to gain a temporary restraining order and a preliminary injunction to block the act from going into effect on June 9, 2016.
The action was brought by the American Academy of Medical Ethics and five California physicians. It challenges the law which authorizes a prescription for lethal drugs to anyone who is diagnosed with a disease rendering the person apt to live no more than six months.
Copyright 2018, Metropolitan News Company