Monday, February 12, 2018
Page
Field of Superior Court Candidates Burgeons to 25
Coletta Receives Judge Paul Jr.'s Endorsement to Succeed Him in Office No. 4
By SEAN P. THOMAS, Staff Writer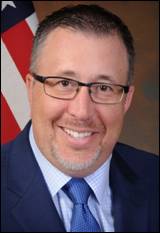 DAVID DIAMOND
Attorney
Two additional candidates for the Los Angeles Superior Court filed declarations of intent to run in the June 5 primary election, bringing the total number of contestants to 25.
Filing for open seats ends today at 5 p.m.
Declarations were filed Friday by criminal defense attorney David D. Diamond, seeking Office No. 118, presently held by Judge Henry T. Barela, and by Deputy District Attorney Ben Colella, running for Judge Phillip K. Mautino's Office No. 60.
Two candidates have already signed up to run for Office No. 118: Deputy District Attorneys Troy Davis and Emily Theresa Spear. Spear has also signed up for Office No. 146, occupied by Judge William Willett, and will have to decide between the two seats when she files nomination papers.
Deputy Public Defender Holly L. Hancock and fellow Deputy District Attorney Tony J. Cho previously filed for Mautino's office.
The period for filing against an incumbent ended Wednesday. Woodland Hills employment attorney Anthony Lewis targeted veteran Judge Malcolm Mackey, who holds Office No. 63, and Klint James McKay, an administrative law judge in the California Department of Social Services, challenged newly appointed Judge Kristin Escalante, whose seat is Office No. 94.
Candidate Backgrounds
Diamond has practiced law for 18 years. He said he has handled criminal, civil and family law matters in the Los Angeles Superior Court, including more than 4,000 felonies and misdemeanors. He is a certified criminal law specialist.
The lawyer has a law degree from Southwestern. He has worked for the law firm of Lewis Brisbois Bisgaard & Smith where he concentrated on litigation.
Diamond has retained Fred Huebscher as his campaign consultant.
Colella obtained his law degree from Whittier College School of Law. He was admitted to the State Bar in 1989.
Election Developments
In other election developments, Judge Roy Paul Jr. endorsed Deputy District Attorney Alfred Coletta on Friday to replace him in Office No. 4.
Coletta is the sole candidate to succeed Paul and is one of only two candidates not to draw an election opponent for one of the 10 open offices. The other is Los Angeles Superior Court Commissioner Danielle R. A. Gibbons, the sole contender for Office No. 71, being vacated by Judge Mark G. Nelson.
In response to the news of the election challenge to Escalante, Los Angeles County Bar Association President-Elect Brian Kabateck said that although he does not know Escalante, he urges "all lawyers" to support any judge who "draws a challenge such as this."
Kabateck declared:
"If it's a judge who has been on the bench for over 30 years or one who has been there for less than 30 days, we owe it to our judicial system to keep it free of politics. I have been to states where judicial elections are political, and we do not want that in California."
Escalante was one of six appointed to the Superior Court by Gov. Jerry Brown on Dec. 22.
Escalante Comments
In an email, the former Securities Exchange Commission senior trial counsel remarked that she was "surprised by the challenge" and said:
"I plan to mount an aggressive campaign to retain my seat. I am gratified by the outpouring of support I have received from current and former colleagues, family and friends."
Deputy District Attorney David A. Berger, who is vying with two other candidates for Office No. 126, previously announced he was represented by political consultant David Gould. He said he has additionally retained the services of Huebscher.
Copyright 2018, Metropolitan News Company