Friday, February 9, 2018
Page 1
Two Additional Candidates Enter Superior Court Races
Gilbertson Bows Out of One Contest, Enters Another
By SEAN P. THOMAS, Staff Writer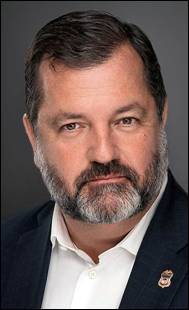 DAVID DEJUTE
Former Assistant U.S. Attorney
Two additional candidates yesterday entered races for Los Angeles Superior Court open seats and another candidate switched from one race to another.
David DeJute, a former assistant U.S. attorney for the Central District of California, filed a declaration of an intent to run for Office No. 16, held by Judge C.H. Rehm, who has said that he intends to retire on March 8 and has already left the bench.
DeJute will contend with Deputy Los Angeles City Attorney Patricia Ann Hunter and Deputy District Attorney Hubert S. Yun who already staked claims to the seat. DeJute has retained Cerrell Associates, Inc. to oversee his campaign.
In addition, Deputy District Attorney Mary Ann Escalante filed an intent to run yesterday for Office No. 20, presently held by Judge Marc Marmaro. Marmaro indicated on Monday that he was not prepared to commit to a new six-year term.
Senior Deputy Los Angeles County Counsel Catana Rene Gilbertson has switched from one race to another.
Defending the President
DeJute has more than 30 years of experience in the law. Most notably, as an assistant U.S. attorney, he successfully defended President Barack Obama in U.S. District Court and the Ninth U.S. Circuit Court of Appeals in a case that sought to remove the president from office based on allegations that he was born in Kenya, which, under the Constitution, would bar him from office.
Before joining the U.S. Attorney's Office, DeJute was vice president of litigation at Sony Pictures and was responsible for handling cases against the entertainment giant. Prior to his stint there, he spent time at Kaye Scholer (now Arnold & Porter Kaye Scholer) and Kinsella Boesch Fujikawa and Towle.
At Kinsella Boesch Fujikawa and Towle, DeJute worked on a six-week trial involving "The Three Stooges" intellectual property.
DeJute received his law degree from Harvard. He was admitted to the State Bar in 1991.
Escalante has worked in the District Attorney's Office for over 30 years. Prior to being admitted to the State Bar of California in 1987, she received her law degree from Loyola Law School.
Election Shakeup
Gilbertson yesterday abandoned her plan to run for Office No. 71, for which she filed on Tuesday, shifting her aim to Office No.126,  held by Judge Robert J. Higa.
She changed her target office after Los Angeles Superior Court Commissioner Danielle R.A. Gibbons also filed papers on Tuesday to run for Office No. 71, doing so after Gilbertson filed for the office held by retiring Judge Mark G. Nelson.
"I will not run against a sitting judge or commissioner," she explained.
Instead, Gilbertson will compete with Los Angeles District Attorney David A. Berger, who filed a declaration of intent to run for Higa's office on Wednesday.
The candidate pool now stands at 23 as of late yesterday afternoon, with two challengers, Woodland Hills Attorney Anthony Lewis and Administrative Law Judge Klint James McKay, attempting to unseat incumbent judges Malcolm Mackey, Office No. 63 and Kristin Escalante, Office No. 94, respectively.
Possible Candidate
Criminal Defense Attorney David Diamond indicated yesterday by email that he intends to run for Office No. 146 in a bid to replace Judge William Willett.
Office No. 146 is being sought by two other candidates: Sydne Jane Michel, senior deputy city prosecutor for the cities of Redondo Beach and Hermosa Beach City and Deputy District Attorney Emily Theresa Spear. However, Spear has filed for two seats, Office No. 146, and Office No. 118 occupied by Judge Henry T. Barela, and will ultimately have to decide between the two when she files her nominating papers.
The deadline for challenging a judge was Wednesday. There is an automatic five-day extension—ending Monday—to declare for open seats.
List of Candidates
The candidates are:
Office No. 16: Deputy Los Angeles City Attorney Patricia (Patti) Hunter, Assistant U.S. Attorney David DeJute,
Office No. 20: Deputy District Attorney Wendy Segall, Deputy District Attorney Mary Ann Escalante
Office No. 60: Deputy District Attorney Tony J. Cho, Deputy Public Defender Holly L. Hancock
Office No. 63: Woodland Hills employment attorney Anthony Lewis, Los Angeles Superior Court Judge Malcolm Mackey
Office No. 67: Former Los Angeles Deputy City Attorney Onica Valle Cole, Deputy District Attorney Dennis Vincent
Office No. 71: Los Angeles Superior Court Commissioner Danielle R.PA. Gibbons
Office No. 94: Los Angeles Superior Court Judge Kristin S. Escalante, Administrative Law Judge Klint James McKay
Office No. 113: Deputy District Attorney Javier Perez, Deputy Los Angeles City Attorney Matthew Schonbrun, Deputy District Attorney Steven Schreiner
Office No. 118: Deputy District Attorney Troy Davis, Deputy District Attorney Emily Theresa Spear
Office No. 126: Deputy District Attorney David A. Berger, Senior Deputy Los Angeles County Counsel Catana Rene Gilbertson
Office No. 146: Sydne Jane Michel, senior deputy city prosecutor for the cities of Redondo Beach and Hermosa Beach, Deputy District Attorney Emily Theresa Spear
Copyright 2018, Metropolitan News Company