Friday, June 29, 2018
Page 1
Paul Egly, Retired Superior Court Judge Who Ordered School Busing, Dies
Was Law School Dean and Professor, Also a Private Judge
By a MetNews Staff Writer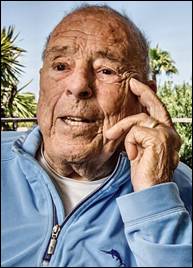 PAUL EGLY
1921-2018
Paul W. Egly, who, as a Los Angeles Superior Court judge gained national attention in 1978 by attempting to end segregation in Los Angeles city schools by ordering busing of about 85,000 students to schools outside the neighborhoods where they resided, has died, at the age of 97.
His widow, retired attorney Jane Egly, said yesterday no services have been planned but that "some time in the future, there will be a celebration of his life."
Paul Egly died on Tuesday.
Prior to going on the bench, he was president of the Pomona Valley Bar Association. As a judge, he supervised the Eastern District, and was twice named "Judge of the Year" by the California Trial Lawyers Association (now "Consumer Attorneys of California").
Egly was the founding dean of LaVerne College of Law and was a professor of constitutional law there from 1970 until 2004—at which point, he was 85 and blind. Egly was a private judge and handled receiverships in Los Angeles and San Bernardino counties.
'Most Troublesome Case'
But what is generally best remembered about him is his handling of the case of Crawford v. Board of Education, which, in later years, he described the as the "most troublesome case" of his career, "not to say the most memorable."
As a Superior Court judge, appointed in 1968 (following five years as a Citrus Municipal Court judge), he sat in Pomona for several years. A probate practitioner there, Robert L. Kern, a former president of the Eastern Bar Association, reflected:
"Paul was probably most remembered (and both praised and reviled) as the judge who ordered and supervised the integration of the Los Angeles Unified School District. He wryly observed at the time he was assigned to the case that both sides had stipulated and suggested that he be given the assignment and that he was the only judge that he knew of that had a court determination attesting to his fairness."
Kern added that Egly "also recognized that the case would probably be career ending when it was over."
No Reelection Bid
Actually, controversy resulting from his ruling caused his judicial career to end before the case was over. He was up for reelection in 1982, and decided not to run (and bowed out of the Crawford case in 1981).
He told the MetNews on Jan. 16, 1981:
"Why should I run? My pension is vested.
"What's the use of going through the hassle?"
Given the inevitability of an election challenge if he did run, Egly said it "isn't good" for parents, children the school district, "or any judge" for a judicial campaign to take place with school integration as an issue, adding:
"I don't think that's right."
Gitelson's Defeat
"Busing" had, indeed, been the central issue in attorney William Kennedy's successful campaign in 1970 to unseat Los Angeles Superior Court Judge Alfred Gitelson, who ruled that year that segregation did exist in the Los Angeles Unified School District and had to be remedied.
The California Supreme Court in 1976 affirmed Gitelson's decision, with modifications, and ordered that the trial court come up with a "reasonably feasible plan" for abating segregation, caused by housing patterns.
On Nov. 6, 1979, California voters enacted Proposition 1 which amended the state Constitution to bar busing plans as a means of dealing with school segregation. Egly found the amendment to be inapplicable.
Div. Two of this district's Court of Appeal on Dec. 19, 1980, acting on an expedited basis, upheld the validity of Proposition 1 and directed that specified orders by Egly be vacated. The "By the Court" opinion said that Egly "made it clear early in the proceedings that nothing short of a plan involving large-scale mandatory reassignment of pupils on a racial and ethnic basis would be satisfactory," noting:
"At the commencement of the school year in the fall of 1978 he brought about the implementation of such a plan. After a year's experience with the plan all parties were dissatisfied with the plan, and were agreed that it had failed to achieve its objective."
Columnist's Recollections
In a Sept. 28, 1997 column in the Los Angeles Times, Patt Morrison recalled the turbulence over what some called "desegregation" and others termed "forced busing." She wrote:
"And for a time, the name of the judge who presided over it all became the foulest four-letter word on the civic tongue: Egly. Appointed to the bench by Gov. Pat Brown, elevated to Superior Court dignity by Gov. Ronald Reagan, Paul Egly had drawn the short judicial stick in a long case that began in 1963, when the family of a Jordan High School student allowed its name to carry the school-integration case forward."
She recounted that Egly "was so controversial that he felt constrained to warn state Supreme Court Chief Justice Rose Bird—a woman so reviled that her black robe could have been embroidered 'Kick me'—that it might not be wise to have her picture taken with him, so well known that when Mayor Tom Bradley agreed to meet with him, he had Egly smuggled into City Hall via the underground garage on a weekend."
Egly's papers from the period when he was presiding over the Crawford case are housed at UCLA's Charles E. Young Research Library. There are 110 boxes and five oversize boxes.
Egly's Background
Egly was born March 9, 1921 in Fullerton. He received an undergraduate degree from UCLA in 1942, went into the Army, and emerged a first lieutenant.
His law degree is from George Washington University. The future judge was admitted to the District of Columbia Bar in 1949.
From 1949-51, he practiced before the US. Occupation Court in Germany. Returning here, he was admitted to the State Bar of California in 1952.
He practiced a short-time in downtown Los Angeles, but then moved his office to Covina. After awhile, he acquired a partner, Howard Wiener, who later became a member of the Fourth District Court of Appeal's Div. One.
Egly & Wiener
In an April 24, 2007 interview, as part of the California Appellate Courts Legacy Project, Wiener told of the days of the two-man firm of Egly & Wiener, saying:
"We had a very small office. It was like you'd open up the front door and there was a hallway down with three little rooms. His was the front room, a middle room, and I was in the back office, very small, on 151 East Badillo Street in Covina. And we did―everything.
"Paul was a veteran, 10 years older than I am. He [was]… very well-educated, wonderfully smart, wonderfully creative...very charismatic, a lot of fun….
"But to give you the picture when I first started, we had a library in that middle room that consisted of the Witkin books. I think there were two….One was procedure and the other was substance. That was our library. And Paul's [first] wife Marion had been from Germany; she was back in Europe at the time. And Paul's task, when I first went with him, was to take care of their parakeet Manny. So there were the two Witkin books and Manny in a cage in the library, and so that was our physical setting. We had a Royal manual typewriter."
Further Recollections
Wiener yesterday elaborated on his days in partnership with Egly. He said that after law school, he clerked for a year for a U.S. District Court judge, then needed to find a law firm to join.
The year was 1956. He reminisced:
"In the process of searching, I met Paul Egly, then about 35 years old, a World War II veteran, who had earned a field commission in the service, then a sole practitioner with a small office in Covina, a small, suburban community, still dotted with orange groves. Paul had lived in Covina and graduated high school there before attending UCLA….
"In my eyes at the time, he was not only a decade older, but a seasoned lawyer with a unique background including military experiences reaching concentration camps and assisting the impoverished prisoners released from captivity. In that setting he acted not only bravely but with remarkable and concerned compassion.
"It took about 30 minutes chatting over lunch for Paul to offer me a job and we became that 'well-known law firm' Egly & Wiener practicing together for about 6 years until Paul was appointed to the Citrus Municipal Court. Our office suite was about the size of a large closet welcoming anyone who cared to enter willing to undertake anyone who wanted to retain us."
In General Practice
The former jurist, now an independent neutral in San Diego, continued:
"We were in every sense of the phrase engaged in the general practice of law representing persons in civil litigation as well as persons charged in criminal matters. Every day was exciting—Paul was always positive, incredibly smart, modestly entrepreneurial with a great sense of humor.
"His focus was invariably on the interest of the client, concerned that we assist that person as much as possible subordinating our need to be compensated. Essentially we practiced poverty law without really intending to do so. Paul was energetic, willing to spend whatever time necessary to properly represent his clients whether they were able to pay him or not."
Wiener added:
"We had 6 interesting years together as law partners working in a range of matters, both civil and criminal, furnishing a background for his productive years as a jurist."
Founds Law School
In 1964, Egly founded West Covina's California College of Law, and was dean. He had a day job as a judge, but turned his attention after court hours to the law school, which had about 200 night students.
It merged in 1970 with LaVerne, and he became dean.
Los Angeles Superior Court Judge Robert A. Dukes pointed out yesterday that Egly's effort created "a legal education opportunity to persons in the eastern L.A. County and Inland empire."
'Best' Private Judge
After leaving the bench, he continued teaching, as well as handling cases as a private judge. He joined Judicial Dispute Resolution in 1991.
On its website, it says of Egly:
"Well known by trial lawyers and defense counsel alike to be the very best private judge in A.D.R. Judge Egly has been instrumental in creating standards now routine in A.D.R. law. Since 1981 Judge Egly has heard and resolved more disputes in Early Neutral Evaluations, Mediations, Arbitrations, Referee, Special Master and Private Trials than possibly any retired judge."
'Giant Among Judges'
Dukes—a former presiding judge, who sits in Pomona—said of Egly:
"Paul was a good friend and mentor and a giant among judges. He had two passions—social justice and law. He was able to use one to achieve the other and do so in an intellectually honest way….
"He lead a full and fascinating life and will be greatly missed by his wife Jane and their family and friends."
His widow said yesterday that aside from being a "wonderful husband," he was "a super father, he was a super step-father, he was a super grandfather."
She noted that despite his eyesight having failed, he was an avid "reader"—doing his reading by listening to audiobooks.
Copyright 2018, Metropolitan News Company