Wednesday, May 30, 2018
Page 1
Candidate for Attorney General Seeks Writ To Keep Becerra's Name Off Nov. 6 Ballot
Republican Eric Early Says Incumbent Is Statutorily Ineligible for Post
By a MetNews Staff Writer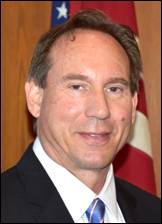 ERIC EARLY
Candidate
A Los Angeles lawyer who is running for state attorney general yesterday brought a writ proceeding aimed at blocking the name of the appointed incumbent, Xavier Becerra, from going on the Nov. 6 general election ballot based on his alleged ineligibility based on not having been an active member of the State Bar for the preceding five years.
The petition, filed in Sacramento Superior Court on behalf of Republican candidate Eric Early, relies on Government Code §12503, which provides:
"No person shall be eligible to the office of Attorney General unless he shall have been admitted to practice before the Supreme Court of the state for a period of at least five years immediately preceding his election or appointment to such office."
Becerra was admitted to practice on June 14, 1985.
The petition, signed by former Los Angeles District Attorney Steve Cooley, the 2010 Republican candidate for attorney general, sets forth:
"During the 26-year period between 1991 and 2017. Becerra was an inactive member of the California State Bar, meaning that he was prohibited from practicing law (and. indeed, it would have been a misdemeanor for him to do so). Becerra only became an active member of the California State Bar able to practice law in January of 2017. when he was appointed by Governor Brown to complete Kamala Harris's term as Attorney General upon her election to the United States Senate. Accordingly, between 1991 and the November 2018 general election. Becerra will have only been a practicing attorney for one year, ten months and five days, which is barely more experience than a newly minted attorney fresh out of law school."
A Sacramento Superior Court judge in 2006 rejected a similar challenge to the eligibility of then-Oakland Mayor (now Gov.) Jerry Brown to be attorney general based on years of inactive membership.
Deukmejian's Opinion
A 1980 opinion issued by then-Attorney General George Deukmejian (later governor, and now deceased) said that "inactive members are members of the State Bar."
Attorneys representing Early, in addition to Cooley, are Brentford J. Ferreira, Lancaster Mayor R. Rex Parris of Parris Law, and Peter D. Scott of Early Sullivan Wright Gizer & McRae LLP.
Becerra and Insurance Commissioner Dave Jones, both Democrats, are the leading candidates in the race. There is a Republican contender in addition to Early: former El Dorado Superior Court Judge Steven C. Bailey who, despite his resignation from the judiciary, is facing disciplinary proceedings before the Commission on Judicial Performance, in part based on campaigning for the post while still a judge.
Jones's Lawsuit
Last week, Becerra drew a lawsuit filed by Jones alleging that the attorney general unlawfully used Sacramento's Library and Courts Building, where the Third District Court of Appeal sits, as the setting for a political commercial and a mailer. Amber Maltbie of Nossaman LLP is representing Jones, along with Alexander Suarez and former Los Angeles County Counsel Lloyd Pellman.
Stephen J. Kaufman, the attorney for the Xavier Becerra for Attorney General 2018 campaign, commented:
"The campaign applied for and obtained a permit from the California Film Commission to film at the courthouse by going through the same legal process that is available to everyone. The law cited by Jones does not apply where a candidate uses a public forum that is available to anyone else on the same terms. These claims are baseless and frivolous."
Copyright 2018, Metropolitan News Company