Tuesday, November 13, 2018
Page 1
Court of Appeal:
Heavy Metal Drummer Not Entitled To Disqualify Bandmate's Lawyer
By SHANE PATRICK ETCHISON, Staff Writer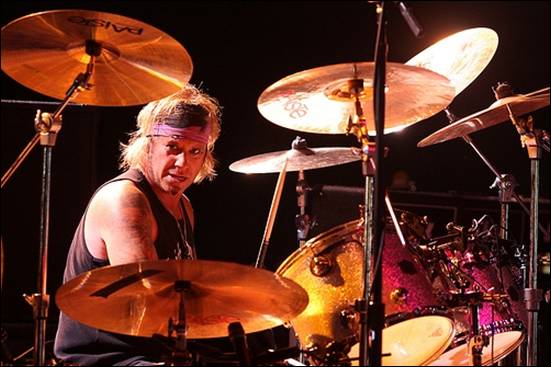 —AP
In this file photo, Ratt drummer Robert Blotzer performs during a concert.
The Court of Appeal for this district has weighed in on a feud between two musicians from the 1980s heavy metal band Ratt, holding that the drummer was properly denied his motion to disqualify the lead guitarist's attorney.
Justice Anne H. Egerton on Thursday delivered Div. Three's opinion, which was not certified for publication. It affirms an order by Los Angeles Superior Court Judge Maureen Duffy-Lewis.
Former Ratt drummer Robert Blotzer claimed that the retention of a law firm by his onetime compatriot, lead guitarist Warren DeMartini, was improper, because a former "of counsel" attorney for the firm had previously represented both men in a similar action by another band member.
Duffy-Lewis disagreed, and denied Blotzer's motion to disqualify attorney Kyle P. Kelley. She noted that Kelley's association with the firm had apparently ended, and that the firm's continued mention of him on its website and letterhead "appears to be an oversight."
Underlying Dispute
The dispute between the bandmates centers around a corporation, WBS, Inc., which they purportedly set up to oversee the band's business and operations, including ostensibly the right to tour under the Ratt name.
Blotzer, wishing to use the name "Raa" with the tribute band he toured with as the only original Ratt member, ousted DeMartini as president and CEO of WBS at a shareholders' meeting which DeMartini was unable to attend.
At that same meeting, Blotzer installed himself in the lead positions of the company, and assigned himself the exclusive rights to use the Ratt name on tour.
In response, DeMartini filed the current shareholder's derivative action, contending among other things that Blotzer's actions were ineffectual because his 50 percent stake in the company was not enough to unilaterally reach the required quorum for his actions.
Blotzer's Disqualification Motion
Blotzer moved to disqualify attorney Grant A. Carlson and his firm, Friedman, Enriquez & Carlson ("FEC") of Beverly Hills. His own attorney, Drew H. Sherman of ADLI Law Group in Los Angeles noticed that Kelley was mentioned on FEC letterhead.
Kelley had represented DeMartini, Blotzer, and WBS in a 2001 shareholder's derivative action brought against them by lead singer Stephen Pearcy. The corporation brought a cross action, and Pearcy was ultimately enjoined from using the Ratt name without authorization.
In support of DeMartini's opposition motion, Kelley submitted a declaration, in which he said:
"At no time have I ever consulted with any attorney at [FEC] about this case, nor do I recall having spoken to Mr. Blotzer's attorney. Any documents which I had on the Pearcy Lawsuit were long ago destroyed. I have no material information relative to the merits of Mr. Blotzer's takeover of WBS, and I have no intent in playing a role in any dispute between Messrs. DeMartini and Blotzer."
He added:
"Most importantly, I never shared any confidential information from the Pearcy Lawsuit with Mr. Carlson or anyone at FEC, nor would I ever breach the attorney client privilege by doing so."
No Irrebuttable Presumption
Egerton wrote:
"Blotzer contends the trial court incorrectly focused on Kelley instead of Carlson when the court denied the motion to disqualify. He contends there is an irrebuttable presumption that Carlson received confidential information when Kelley was representing the parties in the Pearcy Lawsuit, requiring his and FEC's disqualification. We disagree. California law does not impose such a presumption in these circumstances, and Kelley's current status with FEC was relevant to the trial court's inquiry."
The drummer relied on People ex rel. Dept. of Corporations v. SpeeDee Oil Change Systems, Inc., a 1999 state Supreme Court case in which an of counsel attorney's consultation with a party's attorney disqualified his firm from representing an adverse party in the same litigation.
The jurist declared:
"Like the of counsel attorney in SpeeDee Oil, Kelley also was 'of counsel' and maintained his own legal practice separate from the firm….The similarities end there, however. Unlike the attorney in SpeeDee Oil, Kelley did not represent Blotzer in the same litigation at the same time FEC represented DeMartini. Rather, Kelley's representation of Blotzer in the Pearcy Lawsuit had ended 13 years before Carlson and FEC began representing DeMartini in the current litigation. Moreover,…Kelley had severed his association with FEC three years before the current litigation began."
The case is DeMartini v. Blotzer, B282271.
Hair Metal Progenitors
Ratt was founded by Pearcy in Los Angeles in the mid-1970s, but only took on its current name in 1981. It is considered to be an influential part of the hair metal scene, which arose in this city during the early 1980s, blending heavy metal riffs with the androgyny and camp of the prior decade's British glam rock superstars David Bowie, Elton John, Gary Glitter and their ilk.
(Hair metal—also known as glam metal—garnered its sobriquet due to its musicians' propensity for big, backcombed hair. Other early Los Angeles bands emblematic of the genre—which fell out of mainstream popularity by the early 1990s—include Quiet Riot, Mötley Crüe, and Dokken; ensembles Bon Jovi, Poison, and Van Halen are later examples.)
Ratt is perhaps best well known for the 1984 hit "Round and Round," which has been hailed by VH1 as one of the greatest songs of that decade and one of the greatest hard rock songs of all time.
The music video for "Round and Round" features two cameos by the late comedian Milton Berle, known in the early days of TV as "Mr. Television." Berle, whose antics on his television show included frequently dressing as a woman, appears in the video as both the patriarch of a wealthy family and—in wig and sequined gown—its matriarch.
Berle's nephew, Marshall Berle, was Ratt's manager at the time.
Ratt Reunion
Although the opinion says that "Pearcy has stated he will not tour," the lead singer this year started touring under the Ratt name, alongside original bassist Juan Croucier (also formerly of Dokken) and three new bandmembers.
In 2017, U.S. District Judge Dean D. Pregerson of the Central District of California granted summary judgment to Croucier, whom WBS had sued alongside the band's manager, claiming trademark infringement and other causes of action.
Pregerson found that in 1997, when Pearcy, DeMartini and Blotzer had purportedly assigned the Ratt name to WBS, Croucier had still been a member of the band's partnership agreement. The assignment of the band's intellectual property required unanimous consent by the members under that contract, and so WBS had no trademark for the name.
Pearcy, DeMartini and Croucier ousted Blotzer from the partnership, which still owns the rights to the Ratt name. DeMartini left the band prior to the Pearcy/Croucier revival tour.
Copyright 2018, Metropolitan News Company