Tuesday, February 27, 2018
Page 1
50 Year-to-Life Juvenile Sentences For Nonhomicides Barred—S.C.
From Staff and Wire Reports
A divided California Supreme Court yesterday struck down sentences of 50 years to life or greater for juveniles convicted of crimes other than homicide, saying such a punishment was unconstitutional because it doesn't recognize the defendant's youth and ability to change.
The 4-3 ruling came amid heightened scrutiny of sentences for juveniles around the country. In 2010, Justice Anthony Kennedy, writing for the majority in People v. Contreras, declared:
"This Court now holds that for a juvenile offender who did not commit homicide the Eighth Amendment forbids the sentence of life without parole."
He said children are more likely to be impetuous, fail to appreciate risks, and be vulnerable to peer pressure and home environment.
Liu's Opinion
Citing that decision, California Supreme Court Justice Goodwin Liu said yesterday that juvenile sentences must recognize the offender's capacity for change and limited moral culpability, offer hope of restoration and a chance for fulfillment outside prison walls, and give the juvenile an incentive to become a responsible individual.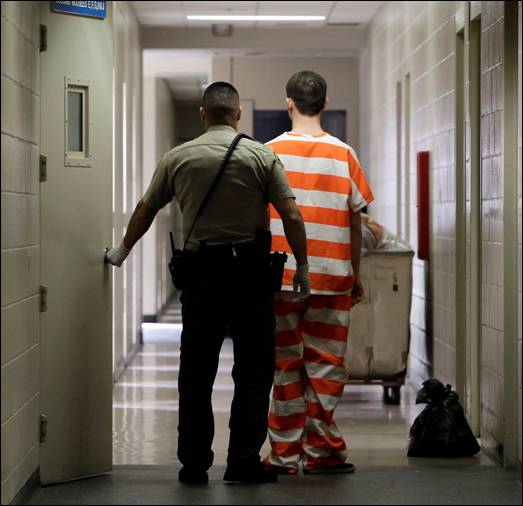 —AP
In this 2013 file photo, an inmate at the Madera County, Calif., Jail is taken to an inmate housing unit in Madera.
The ruling came in the case of two 16-year-olds charged as adults and convicted in 2012 of kidnapping and raping two teenage girls in San Diego County.
The decision built on a California high court's 2012 holding in People v. Caballero that a determinate sentence that exceeds the expected lifetime of the juvenile defendant—a total of 110 years to life in that case—violates the Eighth Amendment's ban on cruel and unusual punishment because it was the functional equivalent of life without parole ("LWOP").
Attorney General's View
The Attorney General's Office argued that the present case was different because the defendants would get an opportunity for parole within their expected lifetimes. It urged that the court "adopt the following rule: any term of imprisonment that provides a juvenile offender with an opportunity for parole within his or her expected natural lifetime is not the functional equivalent of LWOP...."
It presented a report published by the Centers for Disease Control showing that a 16-year-old boy in the United States is expected to live to the age of 76.9 years and declared that one defendant presumably live to the age of 66 years old when first eligible for parole and the other to 74.
It asserted:
"Because it affords appellants an opportunity for parole within their expected natural lifetimes, a sentence of 50 years to life and 58 years to life is not the functional equivalent of LWOP and therefore may be constitutionally imposed."
Contentions Rejected
Liu scoffed that "this actuarial approach urged by the Attorney General is practically and conceptually problematic."
He declared:
"Even assuming defendants' parole eligibility dates are within their expected lifespans, the chance for release would come near the end of their lives," Liu said. "Even if released, they will have spent the vast majority of adulthood in prison."
On remand, the opinion instructs, the trial court is to "impose a time by which defendants may seek parole, consistent with this opinion."
Chief Justice's Dissent
In a dissenting opinion, Chief Justice Tani Cantil-Sakauye agreed with the attorney general, saying sentences that offered parole at 66 and 74 did show respect for the ability of juveniles to change and reenter society.
Cantil-Sakauye said "profound life experiences still may lie ahead of someone released from prison at age 66 or 74."
"The majority describes these ages as falling 'near the end' of a person's life, language that suggests that fulfillment at such a juncture is well-nigh impossible. The millions of productively employed senior citizens would beg to differ," she said.
The case is People v. Contreras, 2018 S.O.S. 883.
Copyright 2018, Metropolitan News Company