Friday, January 12, 2018
Page 4
PERSONALITY PROFILE:
DANIEL J. BUCKLEY
Top-Notch Lawyer Becomes Stellar Presiding Judge
Watches Over the Court—and Notre Dame Games on the Tube
or Daniel J. Buckley, presiding judge of the Los Angeles Superior Court, the law is more a calling than a job.
"It's hard to imagine loving a job more than I love this one," he says.
Growing up a self-described "airline brat"—his father was a pilot—Buckley and his family had moved at least five times before they settled in West Covina when he was in the fourth grade. He was born in New York City, and also lived on Long Island, in Syracuse, NY and in the Boston area.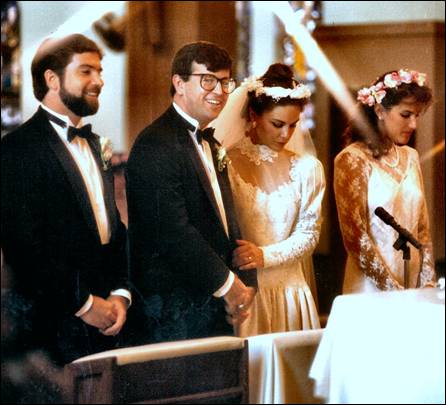 In wedding picture, at altar, are brother Mike Buckley, Daniel Buckley and bride Gaby, and her sister Teresa Wiviott.
But one constant in young Buckley's life was both loyalty on the part of both his mother's and father's family to the University of Notre Dame. When Buckley was about 12 years old, his father took him to South Bend, Ind., to see a Fighting Irish football game. From that point on, he was hooked.
He attended Notre Dame for both his bachelor's and law degrees.
As an undergraduate, Buckley studied economics, though he says the program was geared more toward liberal arts than business. As he neared graduation, he decided that he wanted to teach high school and, toward that end, took some education courses.
Attends Law School
But ultimately he decided to give law school a try, assuming that he could always decide to teach if he didn't like the law.
Buckley soon discovered that he didn't like the law—he loved it, he says. At first, he thought he might become a deputy public defender.
"I saw it as a means of public service—something that was ingrained in me at Notre Dame," he notes.
At one point in its history, Notre Dame sent more graduates into the Peace Corps than any other American college, Buckley advises.
Interviewed by Crispo
But he was offered a law firm job when he graduated. It was Lawrence W. Crispo of Breidenbach, Swainston, Crispo & Way—later a Los Angeles Superior Court judge, now a private judge—who interviewed him. That was in 1980.
"The partners of the firm agreed that Dan would become a superstar when we hired him as an associate," Crispo recounts." He did!
"He remained a superstar as a partner."
The firm became Breidenbach, Buckley, Huchting, Halm & Hamblet, and for the last seven years Buckley was there, he was managing partner.
He left practice in 2002 when then-California Gov. Gray Davis appointed him to the Superior Court.
Buckley was initially skeptical when the husband of a colleague suggested that he apply for a judgeship. He thought he didn't have the right "connections" in the political realm to be seriously considered. Ultimately, though, his application received widespread support from fellow lawyers, and Davis' administration took notice.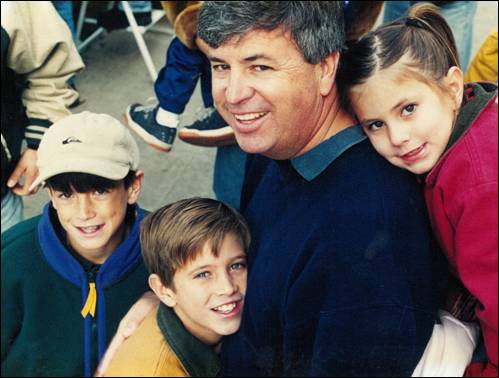 Buckley is seen in photo taken 17 years ago with children, from left, Danny, Casey, and Elana.
Pines Comments
The judicial appointments secretary to Davis was former Los Angeles City Attorney Burt Pines, who would later serve as a Los Angeles Superior Court judge from 2003-11 (and still regularly serves on assignment throughout the state).
"Dan is correct in saying that he did not have any political connections," Pines remarks, noting the same was true of most of Davis's judicial appointees. He continues:
"As I recall, Dan was an ideal candidate. He had distinguished himself in private practice. He had a great reputation among the bench and bar. He was a superb lawyer.
"He had significant trial experience in complex litigation matters. He was active in the Bar and a leader in his law firm. He had the perfect temperament for the bench and he received excellent evaluations during the vetting process."
Role of Teacher
Buckley also does some teaching. He conducts an intensive trial advocacy program at Loyola Law School as well as a California civil procedure at USC Gould School of Law. The jurist also regularly lectures at the annual orientation program for new judges conducted by the Judicial Council in San Francisco where he offers a three-day class in evidence and also speaks on judicial ethics.
As a judge, Buckley has presided over both criminal cases and civil cases, including probate. He served as supervising judge of the civil division in 2012.
During his time as presiding judge, he says, he been proud of advancements in the use of technology in the court system, particularly in terms of case management.
Being an administrator is challenging in its own way. He supervises some 496 judges and 84 commissioners in settings ranging from small branch courts to the massive Stanley Mosk Courthouse downtown.
Buckley notes that the fact that he has served as a judge both in Central and in several different branches gives him a good perspective on the varying experiences of the judges in each realm.
For example, he knows that some of the judges in the more remote branch courts can get frustrated that most of the seminars the judicial administration runs for judges take place at the Central location. On one hand, that makes sense, since there are so many judges at Central. But for those who would have to travel LA traffic midday, attendance can be next to impossible. So when he can, Buckley strives to provide enrichment opportunities for branch court judges.
Court Funding
The number one challenge he faces as presiding judge is skimpy courthouse financing. The state is seeing declining resources provided to judicial officers and staff. While most states spend an average of 2 percent of their budget on the judiciary, California spends significantly less, some years as little as 1.4 percent.
The tight budget means that there are fewer judges hearing more and more cases. The increased workload means judges can't take as much time with each case as they might like. Buckley worries whether litigants feel that they've truly had the judge's full attention.
"In general, though, I think we do a very good job of letting people have their day in court here in Los Angeles County," he says.
One thing Buckley says he wants the general public to know is how the chronic underfunding of the courts has a real impact on the courts' ability to dispense justice and adds tremendous pressure to judges' jobs.
Unavailability of Courtrooms
While he says he regards alternate dispute resolution to be a "very good and necessary part of our judicial system," he expresses concern that delays will increasingly force people out of the public court system and put them to the expense of private adjudications.
Buckley also sees remote access to courts becoming more popular in the next few decades, where witnesses and others can appear in court via teleconference or technology such as Skype. This promotes access for people in far flung areas, but can cause problems with fairness, as it can be harder for juries to gauge evidence when hearing or seeing it in two dimensions rather than live in court, he says.
The presiding judge does not question the public's right to criticize the courts, but bemoans social media spurring criticisms "without people knowing the full story.
"I continue to believe that those who directly use the court system have a lot of respect for what goes on in our courthouses," he remarks. "But those who have little contact with the judiciary may be losing respect for the role of the courts based on outside criticism."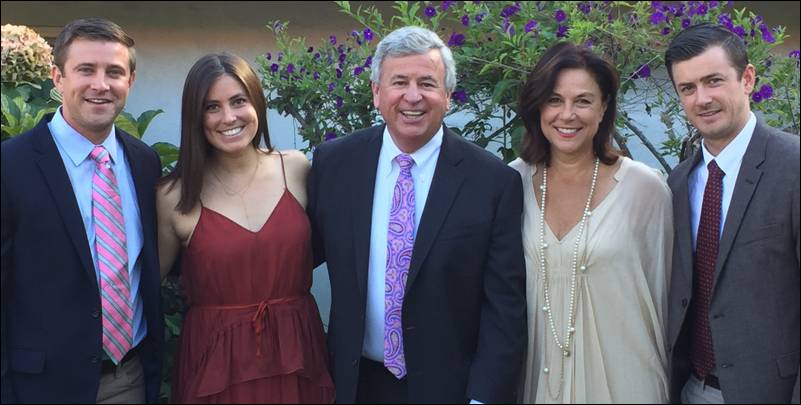 Pictured are the Buckley family in a current shot. From left: children Casey and Elena, honoree Daniel Buckley, wife Gaby, and son Danny.
Conversations With Jurors
He comments:
"I've talked to jurors. They start out reluctant to even be there. But by the time they're finished, they have had a good experience and gained a lot of respect for the system.
"They tend to take their role in it very seriously once the case is turned over to them for deliberation. By the end they're extremely glad they served. I do think that most people leave knowing more about the system and having more respect for our work than when they arrived."
One of his toughest trials as a judge was in 2014 involving a doctor who treated newborns. The baby got E. coli in the hospital. The opposing lawyers spewed vitriol at one another. Buckley's role became trying to shepherd the jury through the discord and keep them focused on the legal issues.
Notre Dame Games
Buckley says he has no hobbies other than watching Notre Dame sports and hanging out with his wife and children, who are all in their 20s. His two sons work in sales and his daughter is in finance. He coached his daughter in mock trial programs through her middle school and high school years.
At first she expressed interest in pursuing a legal career. But that interest waned when she realized that for every hour of "fun" presenting a case in court, lawyers spend 10-15 hours preparing behind the scenes.
Most of his time not spent at work involves attending bar functions and civic events. He also reads at least five newspapers each day. He swims when he has time for fitness and relaxation.
After finishing his term as presiding judge, he says he hopes to find time to travel the U.S. as well as Europe and Asia. He hasn't been outside the U.S. since his honeymoon in Paris in October 1986.
A really satisfying day for him, he relates, is one where he makes a lot of tough decisions, where half the litigants and attorneys think he's a genius and the other half think he doesn't know what he's doing, but everyone walks away thinking the system is working.
Overall, though, he loves the intellectual challenge of being a judge, he says, noting that there's always a new subject to learn.
"It's a great feeling to leave work on Friday looking forward to Monday," Buckley remarks. "I still love what I do."
—M.G.T.
______________________________________
COMMENTS
From Superior Court Colleagues…
I am especially pleased that my colleague and friend, Dan Buckley, has been named as a METNEWS Person of the Year. As I past recipient of this honor, I know what a great tribute it is to Judge Buckley. It is well deserved.
I have known Dan since he came on our bench and it was quickly apparent that he would make an excellent judge and later a wonderful supervisor. Now that he has become our Presiding Judge, he is has become a wonderful leader and example to the entire court for hard work and dedication to everything for which our court stands. Recognition of him in this way is a credit to him and to our court. I join everyone in congratulating him.
J. Stephen Czuleger
Judge Buckley has been an important leader of the court in his role as Assistant Presiding Judge and Presiding Judge of the Los Angeles Superior Court.
First, he has completely transformed the Los Angeles Superior Court when it comes to technology by implementing a complete changeover of the computer management systems used by the clerical staff and the Judges. This new technology system allows everyone in the court system to access court information in a timely and more cost effective manner. This is no small achievement as it requires that every court employee, including Judges, must be retrained and buy into these new court management systems. Moreover, his efforts to bring the Los Angeles Superior Court into the 21st Century of technology also benefits the public as it includes "e-discovery," "e-filing," and the ability to pay traffic tickets without waiting in line for hours.
Second, Judge Buckley has brought back a certain swagger and confidence back to the Los Angeles Superior Court. After years of debilitating State budget cuts, Judge Buckley has reopened some of the closed courtrooms, has sponsored the first all Court Conference educational program with Supreme Court Justice Anthony Kennedy as the keynote speaker and has implemented a quarterly newsletter which gives recognition to the accomplishments of the Los Angeles Superior Court and its employees. Under Buckley's leadership, the Los Angeles Superior Court has moved on up and maintained its position as the best trial court in the United States.
Finally, Judge Buckley has the gift of gab and tells wonderful Irish stories at our Executive Committee meetings of which I am a member. Judge Buckley deserves this award from the METNEWS because of the long hours he works on behalf of the Los Angeles Superior Court.
Stephen A. Marcus
Although we are the largest court in the world, with his guidance and leadership, we are achieving the goal of being the best court in the world. I thank him for his dedication to excellence, the public, his colleagues and the work environment.
Bobbi Tillmon
He loves the Fighting Irish and brings that same fighting spirit to securing access to justice in the L.A. Superior Court. He also has the warmest, caring heart.
Helen Bendix
I've known and worked with Judge Buckley over 35 years as lawyer, law partner and now colleague on the court. We tried a yearlong trial, 25 years ago, defending an alleged toxic, environmental polluter accused of bringing multiple diseases, deaths and devaluation of property values to some 4,000+ people. As a great trial lawyer, in a trial where causation and damages were the only issues, Dan was able to persuade the jury to bring in 9 zero damage cases out of 17 test cases. The other 8 verdicts were minimal ones. Later, he distinguished himself as the managing partner of our firm. It's no surprise that Dan has applied superlative leadership skills to guide our court into the 21st century with great success.
Howard Halm
Like Thomas Francis Meagher, Judge Dan Buckley could be considered "The Immortal Irishman." We consider Buckley to be a revolutionary, albeit only for a technology revolution for the Los Angeles Superior Court. We consider Buckley to be a visionary, albeit only a vision for a unified court. We acknowledge Buckley for his persistence in the fight for justice, while imploring others to remain patient and positive. Whether immortal or not, we are confident that Judge Buckley's efforts to modernize and unify our court will aid the court in dispensing justice for years to come.
Huey P. Cotton
There once was a PJ named Dan
For the Court, he effected a plan
To seek funds obtainable
That were quite sustainable
And not just a flash in the pan
Rolf M. Treu
Judge Buckley is a humble and vibrant public servant. Along with our very talented administrative team, he's taken on the Herculean task of bringing the largest court in the world in step with 21st century users.
Eric C. Taylor
Judge Daniel Buckley is an extraordinary jurist, superb leader, enthusiastic teacher, and invaluable mentor. Most of all, he is a humanitarian guided by the highest ethical standards who sees the good in everyone and the silver lining in the most difficult of situations. His dedication to justice and to the Los Angeles Superior Court in particular is unwavering. Judge Buckley's leadership and his gentle reminder to all of us through actions and words to practice with purpose, integrity, and civility reverberate throughout the legal community and have inspired those of us on the bench to aim high in our service to ensure equal access to justice for all.
Michelle Williams Court
We thank him for his leadership, hard work, dedication and commitment to excellence. We congratulate him for his tireless efforts as he leads "our court" in an efficient, creative and innovative manner.
Allen J. Webster Jr.
We are extremely fortunate to have Dan leading our court. He has both feet planted solidly on the ground, yet at the same time he has great vision with his eyes to the sky. Bottom line: He's the real deal.
Randolph M. Hammock
I want to thank Dan for his leadership, kindness and especially for his humor. In these difficult times for the Court, Dan has encouraged us to achieve more each day for the Public we serve. His leadership in technology is a legacy he will leave the Court for decades to come. I am grateful for what he does each day for us and for the People we serve.
Steve Moloney
From an Association…
We thank him for his leadership in encouraging communication between judicial officers, promoting the concept of "One Court," and promoting a diverse and harassment free environment.
Association of African American California Judicial Officers, Inc.
Copyright 2018, Metropolitan News Company