Monday, September 10, 2018
Page 1
Court of Appeal:
Summary Judgment Erroneously Granted in Case Challenging 'One A Day' Label on Gummies
Recommendation of Daily Dose of Two Chewable Vitamins Appears in 'Nano Type' on Back Label
By a MetNews Staff Writer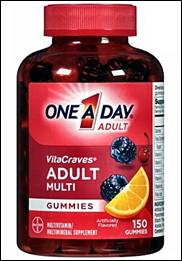 The Court of Appeal on Friday reversed a judgment dismissing an action claiming that use of the "One A Day" label on gummies is misleading.
The Fourth District Court of Appeal on Friday reinstated a lawsuit that claims the front label of "One A Day"-branded gummy vitamins is misleading because the daily serving is two gummies.
The opinion by Justice William W. Bedsworth of Div. Three reverses a judgment of dismissal that followed Orange Superior Court Judge William D. Claster's order sustaining a demurrer by defendant Bayer Corporation and related entities, without leave to amend. Bedsworth rejected the reasoning in two federal cases finding the labeling not to be deceptive.
In his action under the Unfair Competition Law and Consumer Legal Remedies Act, plaintiff William Brady claimed he was misled by the brand name, emblazoned conspicuously on the front of the bottle. In much smaller type, on the reverse of the bottle, was written:
"Directions: Adults and children 4 years of age and above. Chew two gummies daily."
Prior Federal Cases
Claster relied on a 2011 federal case, Howard v. Bayer Corporation. There, U.S. District Judge D. Price Marshall Jr. of the Eastern District of Arkansas dismissed a similar One A Day vitamin case against Bayer.
In a 2017 federal case regarding the vitamins, Goldman v. Bayer AG, U.S. District Judge Phyllis J. Hamilton of the Northern District of California also dismissed a plaintiff's claims, relying on the reasoning set forth by Marshall. She wrote:
"A 'reasonable consumer' who is purchasing vitamins—choosing from the many different brands and formulas that are available on store shelves in the United States—would look at the entire label to see what vitamins or other nutrients were included in the formula. It is implausible that a reasonable consumer would purchase 'multivitamins' without even knowing what he/she was purchasing…."
Bedsworth's Reasoning
Differing, Bedsworth said:
"To affirm the court below, we would have to conclude that even if plaintiff's allegations are true, there is no cause of action….We would have to conclude that the market for vitamins is undifferentiated, and that a hypothetical 'reasonable consumer' would, as a matter of law, necessarily look behind the front label of a jar of Bayer's One A Day gummies and in the course of that action, would discover that not one gummie but two is what the company recommends.
"We have been unable to reach that point. Not all reasonable vitamin buyers can be said to be alike as a matter of law. Some consumers would scoff at what they might consider the paltry daily dosage recommendations of One A Day; they might believe they need much higher amounts.5 Or lower. Those are the consumers Bayer has in mind - the ones who scrutinize the back ingredients label to assure themselves they are buying the amounts they, or their health care provider, think are needed. But other reasonable consumers will consider the daily dosages recommended by Bayer and the FDA to be just fine—they might even consider those numbers a safe way to avoid against any danger of ingesting too much—and will rely upon the name they have come to trust."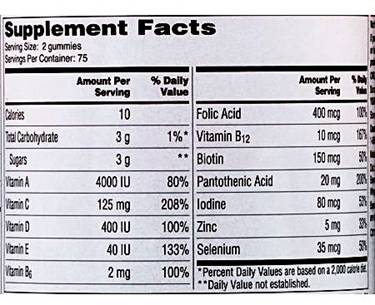 A label on the backs of bottles of One A Day gummies indicates the "serving Size" is "2 gummies."
Four Categories
Bedsworth discussed numerous cases in which packaging was alleged to be deceptive and said they broke down into four categories, elucidating:
"1. Common sense: Bayer's One A Day gummies cannot be said, as a simple application of common sense, to indicate that two gummies a day are required. Indeed, common sense flows in the other direction: If the label prominently displays the words 'One A Day' there is an implication that the daily intake should be one per day. 2. Literal truth: In the context of its gummie product, the One A Day brand name is literally false. A consumer seeking to get the 'one a day' amount of vitamins associated with the brand's capsules will not take one a day. 4. Nature of the brand name: 'One A Day,' when it comes to gummies, is explicitly misleading. Even judges can do enough math to know two does not equal one.
"But the most damaging of these themes to Bayer's position in our case is 3, the front-back problem. The front of the product makes no attempt to warn the consumer that a one-a-day jar of gummies is in fact foil of two-a-day products. One must look at the back of the jar, in small print in the upper right hand corner, to receive the direction to 'Chew: two gummies daily,' making a 'Serving Size' is indeed two gummies. And unlike the billboard, sunburst-backed brand name print, that information is printed in nano-type."
He cited the Ninth U.S. Circuit Court of Appeals's 2008 opinion in Williams v. Gerber Products Co., in which the court had held that a front-label claim on a snack advertising "Fruit Juice" was misleading when the back label clarified that the only juice content was "white grape juice from concentrate."
Bedsworth wrote:
"Bayer's argument runs counter to an important insight from the Williams opinion: You cannot take away in the back fine print what you gave on the front in large conspicuous print. The ingredient list must confirm the expectations raised on the front, not contradict them."
The case is Brady v. Bayer Corporation, 2018 S.O.S. 4420.
Brady was represented by Scott B. Cooper (now a judge for the Orange Superior Court) and Samantha A. Smith of Irvine. Counsel for Bayer was David R. Carpenter of Sidley Austin's Los Angeles office, and Jonathan F. Cohn and Joshua J. Fougere of the firm's District of Columbia branch.
____________________________
1925 Candor Contrasted With 2018 Product Labeling
(The following is Bedsworth's introduction to the opinion. The entire opinion appears in today's Slip Opinion Supplement.)
In 1925, Merck Pharmaceuticals sent a letter to Morris Fishbein, chairman of the Journal of the American Medical Association. The letter said, "We have been recently startled by the unexplainable demand on the part of our customers for Sodium Borate C. P. Powder. From our representatives, we have learned that a Dr. Brinkley, of Milford, Kansas, has broadcast recommendations for the use of Merck's Sodium Borate C. P. in obesity, and we have been literally swamped with orders, not only from the trade, but also from the laity. [¶] We have taken action by notifying our . . . customers, as well as our sales staff and such retail druggists as have inquired of us regarding the product, strongly discouraging the use and sale of this material for the above mentioned purpose, as we are cognizant of the dangers involved in the internal administration of Sodium Borate."
It's been almost a hundred years since Merck sent that letter—responding to demand created by a charlatan with no formal medical training whose license to practice had been revoked in several states, but who had his own radio station and was making a fortune peddling unfounded remedies to unsuspecting citizens with little or no access to doctors. Since then, Americans have learned to resist such hucksterism and rely not only upon their personal physicians and organizations like the AMA, but upon pharmaceutical companies whose closely regulated research, production, and merchandising have taken the place of expertise the average citizen is unable to develop.
So when consumers find a reputable company offering them vitamins – a company with 75 years of brand recognition, now owned by an international pharmaceutical company respected all over the world – they can be expected to adhere to that company's advice. And when that company suggests, as it has with its products since 1949, that one vitamin pill a day is sufficient, it cannot then rely upon individual consumers reading the small—indeed miniscule—print on the back of its label to learn that instead of ONE A DAY, they should be taking two.
Much has changed since 1925 but we find nothing to suggest the public does not still expect that kind of responsible entrepreneurism from Merck—now a division of respondent Bayer—as well as the rest of the industry we entrust daily not just with goods and services but with our lives. So in this case we conclude Bayer has failed to appreciate the degree to which their trade name One a Day has inspired reliance in consumers, and we hold an action alleging they violated California's Consumer Legal Remedies Act (CLRA, Civ. Code § 1770), Unfair Competition Law (UCL, Bus. & Prof. Code, § 17200) and express warranty law (Com. Code, § 2313) should have survived demurrer.
As we will explain, we are well aware that two federal district courts have reached a different decision. In both Howard v. Bayer Corp. (E. D. Ark. July 22, 2011)…and Goldman v. Bayer AG (N. D. Cal. 2017)… a bench officer saw this case differently than we do. But both cases are based on what we think is an untenable proposition: that the market for vitamins is undifferentiated; that the hypothetical "reasonable consumer" would, as a matter of law, examine the makeup of a daily vitamin supplement; that such a consumer would not rely upon the expertise of pharmacologists and doctors but would instead analyze the various concentrations of vitamins and minerals in each brand and draw a personal conclusion about which ingredients he/she needed in a daily vitamin supplement. We find nothing in law or experience to support that conclusion.
Copyright 2018, Metropolitan News Company