Friday, July 27, 2018
Page 1
Los Angeles County Bar Association:
State Bar Should Not Routinely Post 'Consumer Alerts' on Lawyers
Trustees Agree With LACBA Committee That Proposal of Office of Chief Trial Counsel Goes Too Far
By a MetNews Staff Writer
The Los Angeles County Bar Association Board of Trustees has voted to oppose the proposed posting of a prominent "Consumer Alert" at the top of the State Bar's online profile page of any lawyer against whom disciplinary charges of any sort have been filed.
Approval of the proposed stance, recommended by LACBA's Professional Responsibility and Ethics Committee ("PREC"), came without opposition at a late Wednesday afternoon meeting—an atypical one, staged in a pool house at the Pasadena home of LACBA President Brian Kabateck and his wife. It preceded a party on their massive lawn to which leaders of affiliated bar associations and others were invited.
About 100 persons from groups throughout the county attended, some, coming from work, clad in business attire, others, taking a cue from the invitation announcing acceptability of shorts, in casual dress.
Prior to a discussion at the board meeting of PREC's proposal, Kabateck noted his desire for inclusiveness. He said he wants to "put 'County' back in the County Bar" and not have the organization perceived as a bar association tied to the downtown area of the City of Los Angeles.
Apparently desiring inclusiveness to extend to the judiciary, Kabateck announced that Los Angeles Superior Court Presiding Judge Daniel J. Buckley had, earlier that day, agreed to serve as an assistant vice president of LACBA. (While board members expressed delight at Kabateck having enlisted the presiding judge's participation, the appointment could not immediately receive immediate confirmation because the matter was not on the posted agenda.)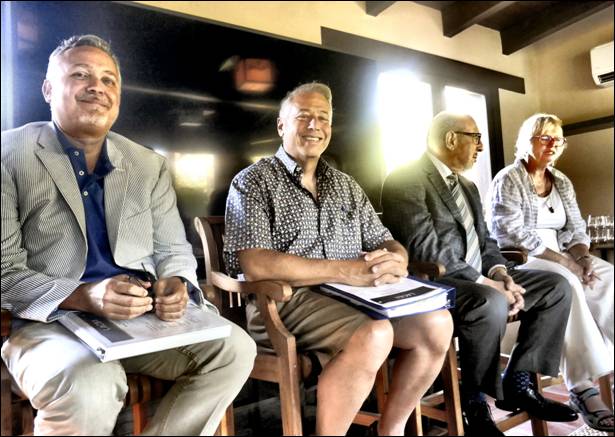 Officers of the Los Angeles County Bar Association, seen at a meeting at the home of the president preceding an outdoor picnic dinner are, from left, Vice President Bradley S. Pauley, President Brian S. Kabateck, President-Elect Ronald Brot, and Senior Vice President Tamila Jensen. Leaders of bar associations and other groups were in attendance at the party. Casual attire was suggested in the invitation.
Letter From Kabateck
Dominating the discussion of substantive matters was whether to approve sending a letter to the State Bar, to go out over Kabateck's signature, urging rejection of a proposal by the State Bar's Office of Chief Trial Counsel. It recommends that whenever a notice of disciplinary charges is served on a lawyer, a "high visibility consumer alert" would be pasted atop the lawyer's profile page, boxed by a red border.
Explaining PREC's opposition were two former chairs of the committee, retired State Bar Court Judge Michael Marcus and attorney Ellen Pansky. Marcus said an attorney should not, merely because accusations have been made, have a "scarlet letter" affixed to his or her online profile, and Pansky argued that the idea is "unfair and unnecessary."
Marcus noted that PREC took its stance against the proposal by a vote of 23-1.
Pansky said that the fact of State Bar discipline having been imposed has, "for many years," been noted at the bottom of profiles, and that since 2008, it has been possible to click on a link to view the charges and the member's response.
Since 2011, she noted, a "banner" has been placed at the top of profiles in "only two instances": where major misappropriation of client funds is alleged and where it is alleged that the attorney has committed at least 15 offenses in connection with loan modifications.
Other Proposals Acceptable
Pansky, who specializes in the defense of lawyers facing disciplinary charges, said PREC does not oppose the Office of Chief Trial Counsel's proposals to place consumer alerts on profiles of a lawyer in four additional categories.
These are, she specified, where the lawyer is charged with a felony, where the Superior Court has assumed jurisdiction over the lawyer's practice, where a petition seeks placement of the lawyer on inactive status based on danger to the public or to clients, and where the lawyer has already been placed on involuntarily inactive status.
But, Pansky asserted, "the mere filing" of a notice of disciplinary charges "should not trigger the banner."
She pointed out that in 2017, out of 334 filings, 117 cases, about one third, were closed with no discipline being imposed. If the banner requirement had been in effect, Pansky said, each of those 117 lawyers "would have been represented as a lawyer who had significant disciplinary problems."
This, she declared, could have caused clients of those lawyers to seek representation elsewhere, and could have had an impact on judges and opposing counsel.
Pansky noted the effect can be particularly devastating because the State Bar prosecutors routinely insert allegations of "moral turpitude."
The letter to be sent by Kabateck sets forth:
"Because there is no sound public policy for posting a consumer alert upon the filing of unproven charges at the top of an attorney's State Bar Profile page, and because of the unfairness inherent in posting charges that may ultimately be dismissed, LACBA opposes proposed change number 1 and urges the Board of Trustees to reject it."
The State Bar Board of Trustees has set a deadline of 5 p.m. on Tuesday for comments on the Office of Chief Trial Counsel proposals.
Also Wednesday, the LACBA trustees deferred to its August meeting, during a retreat in Palm Springs, consideration of a request by the Amicus Briefs Committee that the association lend its name to an amicus brief to be drafted by the San Francisco Bar Association in In re Humphrey, pending before the California Supreme Court. Review was granted on May 24 on the court's own motion.
Div. Two of the First District Court of Appeal on Jan. 25 considered the petition for a writ of habeas corpus filed by a man who was incarcerated based on his inability to post bail. Presiding Justice J. Anthony Kline declared that the man "is entitled to a new bail hearing at which the court inquires into and determines his ability to pay, considers nonmonetary alternatives to money bail, and, if it determines petitioner is unable to afford the amount of bail the court finds necessary, follows the procedures and makes the findings necessary for a valid order of detention."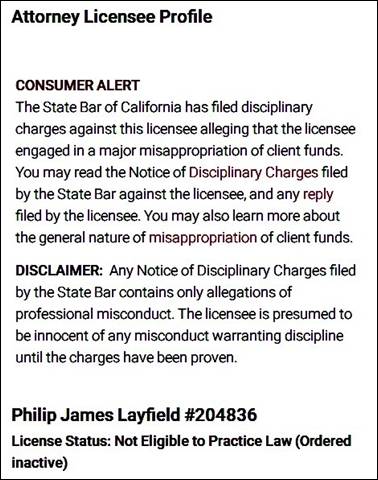 Above is a "consumer alert" in the case of a lawyer accused of massive misappropriation of client funds. The Los Angeles County Bar Association is opposing such warnings, as proposed, in every instance where a charge of any sort is filed by the Office of Chief Trial Counsel against a lawyer.
The Supreme Court limited briefing to these issues:
"(1) Did the Court of Appeal err in holding that principles of constitutional due process and equal protection require consideration of a criminal defendant's ability to pay in setting or reviewing the amount of monetary bail? (2) In setting the amount of monetary bail, may a trial court consider public and victim safety? Must it do so? (3) Under what circumstances does the California Constitution permit bail to be denied in noncapital cases?"
Trustees opted to take the time to study the Court of Appeal's opinion and otherwise acquaint themselves with the issues, and consider whether its guideline is met that amicus briefs be limited to cases affecting the legal profession.
Copyright 2018, Metropolitan News Company