Thursday, November 29, 2018
Page 3
Court of Appeal:
USC Not Liable to Woman Injured at Off-Campus Fraternity Party
Opinion Says University's Use of Patrols by Campus Security Officers Did Not Give Rise to Reasonable Expectation of Protection
By a MetNews Staff Writer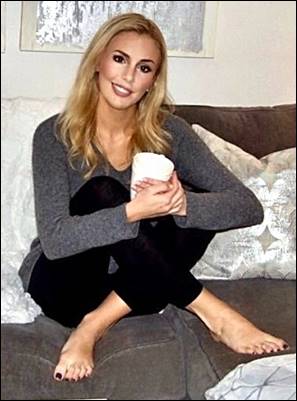 Appearing above in a publicity shot is Carson Barenborg, plaintiff in an action against USC. The Court of Appeal for this district held Tuesday that the university cannot be held liable for the severe injuries suffered by Barenborg at an off-campus party in the backyard of a fraternity house caused by another party-goer. Various theories of liability were found ineffective in an opinion directing that the Los Angeles Superior Court vacate an order denying summary judgment to USC and enter an order granting such relief.
A woman who, after ingesting cocaine and downing five to seven alcoholic drinks, came to a USC fraternity party, continued drinking, and, while on a makeshift dance platform was knocked off and hurt, cannot gain damages from the university under a "negligent undertaking" theory that was based its patrol officers failing to shut down the shindig, the Court of Appeal for this district has held.
Div. Four on Tuesday issued a writ of mandate directing that the Los Angeles Superior Court grant the previously spurned motion by USC for summary judgment. Los Angeles Superior Court Judge Gary Micon, sitting on assignment, wrote the opinion, which was not certified for publication.
The opinion rejects the reasoning of Los Angeles Superior Court Judge Ruth Kwan who, in denying USC's motion, said that she could not "determine that, as a matter of law, Defendant did not owe Plaintiff a duty of care."
Alcohol Abuse
Kwan observed that there was evidence suggesting that USC "was aware that alcohol abuse in the Greek System...was a problem," including at Sigma Alpha Epsilon Fraternity ("SAE"), which hosted the party at which plaintiff Carson Barenborg was injured. The ongoing off-campus alcohol consumption, she said, "was a problem that caused accidents and injuries."
The judge found that USC "asserted control over SAE and/or SAE's ability to have events" and "voluntarily assumed a protective duty to Plaintiff" through having its Department of Public Safety ("DPS") patrol the fraternity area, known as "Greek Row," enforcing university policies.
SAE was in violation of two policies on the night in question: one barring use of alcohol at a social event without prior consent (which had not been sought) and the other prohibiting parties after 10 p.m. on the night before a school day. This party was held on a Thursday.
Patrol officers came to the fraternity house several times that night, on Oct. 10, 2013, in response to complaints of noise, saw that alcohol was being consumed, warned of the stricture against the drinking, but did not order the merrymakers to disperse.
Kwan said that Barenborg, who was then a 19-year-old student at Loyola Marymount University, had "relied" on USC and DPS "to provide her with a safe environment."
The judge also found the existence of "triable issues of material fact as to the existence of a special relationship between Defendant and Plaintiff."
Negligent Undertaking
Micon recited that a party can acquire a duty to protect another by voluntarily undertaking to do so, and will incur liability in connection with shoddy performance resulting in injury, under circumstances where the assumption of the role of defender caused reasonable reliance on the protection or where the "failure to exercise reasonable care increased the risk of harm to the plaintiff."
Barenborg could not reasonably have relied on DPS to protect her from harm, Micon declared, explaining:
"Despite her deposition testimony that she relied on DPS to protect her, there is no indication that her awareness of the existence of DPS caused her to behave any differently….The evidence also does not support her claim that any reliance was reasonable. Barenborg acknowledged that the party was 'very large, very crazy, packed and crowded,' and there was no visible security or control. Alcohol was plentiful. Barenborg had already consumed cocaine and several alcoholic drinks. She stepped onto a makeshift raised platform to dance with her friends amid other partygoers and was bumped off the platform and fell to the ground. In these circumstances, any reliance on USC or DPS to protect her from harm was unreasonable."
No Increased Risk
Nothing USC did or didn't do increased the prospect of harm to Barenborg, the acting justice said. He wrote:
"By establishing policies governing fraternities, providing a security patrol with authority to enforce those policies both on and off campus, and failing to enforce those policies by shutting down the Cal. Gamma party after it began or preventing the party from occurring in the first place, USC did not create any new peril. USC's failure to prevent or curtail the party allowed the party to occur and continue, but neither created the party nor increased the risks inherent in the party.
"A defendant does not increase the risk of harm by merely failing to eliminate a preexisting risk."
Barenborg argued that a duty of care should be recognized based on the foreseeability of harm. Micon responded that the "attenuated connection between USC's failure to enforce its policies and the independent conduct" of the fraternity, the student who caused Barenborg to fall "whether intentionally or negligently," and the plaintiff "weighs against finding a duty."
Micon commented that recognizing a duty of care, under the facts of the case, "could create a disincentive for universities to regulate alcohol use and social activities and provide security patrols."
No 'Special Relationship'
In finding that no "special relationship" existed between USC and Barenborg giving rise to a duty of protection, Micon relied on the California Supreme Court's March 22 decision in Regents of the University of California v. Superior Court. In ruling that a special relationship might be established, Kwan did not have the benefit of that decision; her denial of summary judgment came on Jan. 11.
In Regents, Justice Carol Corrigan wrote for a nearly unanimous court—Justice Ming Chin provided a concurring and dissenting opinion—in saying that a special relationship between a university and a student "extends to activities that are tied to the school's curriculum but not to student behavior over which the university has no significant degree of control."
Corrigan specified:
"Of course, many aspects of a modern college student's life are, quite properly, beyond the institution's control. Colleges generally have little say in how students behave off campus, or in their social activities unrelated to school. It would be unrealistic for students to rely on their college for protection in these settings, and the college would often be unable to provide it. This is another appropriate boundary of the college-student relationship: Colleges are in a special relationship with their enrolled students only in the context of school-sponsored activities over which the college has some measure of control."
Micon pointed out that Barenborg was not a student at USC and the party at the fraternity house was not a school-sponsored activity.
Duty to Invitees
Even so, Barenborg argued, she was an invitee who was on premises controlled by USC, likening the situation to that present in landowner-liability cases.
"The relationship between a possessor of land and an invitee is a special relationship giving rise to a duty of care," Micon agreed, saying that there is "a duty to exercise reasonable care to maintain the land in a reasonably safe condition." But, he added, the rule has no applicability to USC.
"Although USC's policies governing use of alcohol and social events applied to SAE, those policies, along with DPS patrols to enforce those policies, did not constitute an exercise of control over the property," he said.
Dean E. Dennis and Jenner C. Tseng of the downtown Los Angeles firm of Hill, Farrer & Burrill represented USC. Arguing against issuance of a writ were San Diego attorney Martin N. Buchanan and Amanda McClintock of the Los Angeles firm of Girardi|Keese.
"We are very pleased with both the Court of Appeal's analysis and decision," Dennis remarked yesterday.
He said no decision has been made as to whether whether to request publication of the opinion.
Buchanan did not respond to a request for comment.
The case is University of Southern California v. Superior Court, Barenborg RPI, B288180.
Comment on Website
Barenborg graduated from Loyola in 2017 and now resides in Seattle. On her website, beautywithparalysis.com, she says:
"In 2013, while attending a party at USC, I was intentionally pushed off a platform by another female which completely caught me off guard. After that one moment, my whole life changed and at that time I felt like the whole world was caving in on me. I was so ashamed of the way I looked and tried to avoid the public at all costs. I spent a year recovering in a rehabilitation clinic, with a severe traumatic brain injury, complete hearing loss on my left side, and permanent facial paralysis. Now three years later, I have created an Instagram blog for women, spoke at two support group meetings for women, and was interviewed by the show, Doctors."
It was not judicially established that Hollis Barth, the student who bumped into Barenborg, had intentionally caused her to fall. Barenborg entered into a settlement with Barth which Los Angeles Superior Court Judge Randolph Hammock determined to have been reached in good faith.
Kwan granted summary judgment in favor of SAE as well as with the entity that owns the building used by its local chapter. A footnote in Micon's opinion relates that appeals from those decisions are pending.
Copyright 2018, Metropolitan News Company