Thursday, March 9, 2017
Page 1
Justice Kathryn Werdegar to Retire This Summer
By KENNETH OFGANG, Staff Writer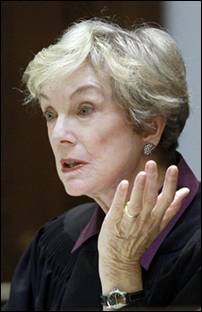 —AP
In this file photo, Justice Kathryn Werdegar is shown at the California Supreme Court in San Francisco.
California Supreme Court Justice Kathryn Mickle Werdegar will retire this summer, the jurist said yesterday.
Werdegar's retirement is effective Aug. 31, ending a 23-year tenure on the court and 55 years of public service. With the confirmation of her successor, Gov. Jerry Brown will have appointed a majority of the court.
"It's been a very lengthy and interesting road," the justice told the MetNews. "I have mixed feelings. I love my colleagues and I love my work. But I look forward to more freedom."
The justice, who turns 81 next month, said she hopes to put her experience in the law to some future use, but hasn't thought about specifics and is "in no rush to." In the meantime, she said she wants to "experience the freedom of a weekday life, instead of a weekend life."
The justice said she is in no position to judge her own legacy, but looks forward to seeing how she will be judged by others. "I hope I will be perceived as someone who always had an open mind, a sensitivity to the human issues that arose in our cases, but always acted with respect for the law, as I saw it," she said.
San Francisco Native
A native San Franciscan, Werdegar attended Wellesley College and received her undergraduate degree from UC Berkeley. After working as a ward clerk at UC San Francisco Medical Center, Werdegar—the daughter and granddaughter of lawyers—decided to go to law school, entering what was then known as Boalt Hall.
She was first in her class and the first woman to be elected editor-in-chief of the California Law Review. She transferred to George Washington University School of Law in Washington, D.C. following her marriage to David Werdegar, a physician, and graduated first in her class, which included only one other woman.
She began her legal career as an attorney with the Civil Rights Division of the United States Department of Justice in 1962.
Returning to California a short time later, she worked as an attorney and author on a number of initiatives relating to mental health issues, and then taught at the University of San Francisco School of Law, where she became an associate dean. She also directed the Criminal Law Division of Continuing Education of the Bar.
She went to work for the First District Court of Appeal as senior staff attorney in 1981, then became senior staff attorney to state Supreme Court Justice Edward Panelli in 1985. She held that post until 1991, when her onetime law school study partner, then-Gov. Pete Wilson, appointed her to the First District Court of Appeal, Div. Three.
Wilson elevated her to the Supreme Court in 1994 when Panelli retired.
She has generally been described as a moderate justice, often dissenting from decisions of the court when it was dominated by appointees of Wilson and predecessor George Deukmejian, and frequently siding with plaintiffs in anti-discrimination cases.
She wrote for the majority in cases where the court upheld San Francisco's effort to preserve affordable housing by restricting and taxing conversions of residences into hotels, imposed a clear-and-convincing-evidence standard on families seeking to withdraw life-sustaining treatment for those who are brain-damaged but still conscious, allowed Medicare beneficiaries to sue HMOs for denying them adequate care, allowed the dismissal of "strikes" under the Three-Strikes Law in furtherance of justice, and barred landlords from refusing to rent to unmarried couples.
Public Record
She also authored the opinion in a case where the court held that a truthful report of a public record is privileged, regardless of how old it is. And she wrote the 2005 opinion in which the court overturned a death sentence, holding that it was fundamentally unfair, "without a good faith justification," for a prosecutor to argue inconsistent theories at the separate trials of codefendants.
She authored dissents from opinions in which the court allowed landlords to bar residents from distributing newsletters in apartment complexes, and barred the victims of the massacre at San Francisco's Pettit & Martin law offices from suing the maker of the weapon that was used for negligence in how the product was marketed and distributed, and from last year's holding that attorney-fee invoices from outside counsel to the County of Los Angeles relating to current litigation over jail conditions were protected by attorney-client privilege.
She also dissented from the 2010 ruling that a retired Los Angeles Superior Court judge who had been censured for making offensive comments about women based on their physical attributes, had no duty to disclose the censure prior to being chosen as arbitrator of a medical malpractice claim centering on a woman's appearance.
She argued, as a dissenter in death penalty cases, that her colleagues were creating too high a bar for defense counsel challenging alleged racial bias in the use of peremptory challenges.
Chief Justice Tani Cantil-Sakauye said in a statement that she would miss Werdegar's contributions "to our collegial court ethos." Retired Chief Justice Ronald M. George praised her "meticulous work in crafting the opinions that she authored for the court and those that she wrote separately" as well as her work as chair of the high court's Advisory Committee on Rules for Publication of Court of Appeal Opinions.
Copyright 2017, Metropolitan News Company