Monday, July 31, 2017
Page 1
Plaintiff in Action Against Buchalter, Sedgwick Faulted Over Conflict
Plaintiff in Qui Tam Action Should Not Have Voted, as a Water District Board Member, In Favor of Waiving the District's Attorney-Client Privilege, Court of Appeal Says
By a MetNews Staff Writer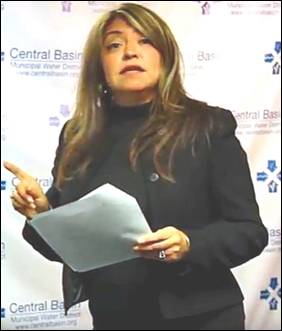 LETICIA VASQUEZ
Plaintiff
Los Angeles Superior Court Judge Susan Bryant-Deason will be taking a second look at whether to scrap a $2.75 million qui tam action against the law firms of Buchalter, PLC, and Sedgwick, LLP, under a ruling of the Court of Appeal for this district.
Plaintiff is claiming in her whistleblower action that at a closed-door meeting on June 28, 2010, attorneys Douglas E. Wance of Buchalter and Curtis Parvin of Sedgwick, who served as counsel to the Central Basin Municipal Water District, met with the district's then-general manager, Art Aguilar, and cooked up a scheme. Under it, $1.75 million in district funds was diverted to Buchalter and $1 million was routed to Sedgwick, according to the complaint, and used to pay "associates, friends, political allies and other persons related to or otherwise associated with" the respective law firms or Aguilar.
She is seeking to recoup the funds for the district, while taking a cut for herself.
Div. One, on Thursday, said that Bryant-Deason's May 19, 2016 overruling of Buchalter's demurrer and her denial of Sedgwick's motion to dismiss were predicated on her taking judicial notice of the decision of the district's board to waive the attorney-client privilege. However, that action by the board was infirm, Acting Presiding Justice Victoria Chaney wrote, because Vasquez, a member of the board, improperly cast a vote, and without that vote, the motion would not have passed.
Judicial Notice Taken
Bryant-Deason's May 19, 2016 ruling was in connection with the first amended complaint. She had sustained Buchalter and Wance's demurrer to the initial complaint on the ground that, as it presently appeared, due process precluded the action because the attorneys were powerless to mount a defense in light of the attorney-client privilege.
Chaney said that Vasquez, in voting to waive the privilege, had a conflict of interest because absent that waiver, her qui tam action would have failed.
The jurist did not discuss the effect of a subsequent vote by the board to waive the privilege, with Vasquez not participating.
Chaney pointed to Government Code §87100, a portion of the Political Reform Act of 1974 ("PRA"), which provides:
"No public official at any level of state or local government shall make, participate in making or in any way attempt to use his official position to influence a governmental decision in which he knows or has reason to know he has a financial interest."
Explains Conflict
She wrote:
"Given that Vasquez is the only party advancing the lawsuit, that petitioners' demurrers to her initial complaint were sustained due to the barrier presented by the attorney-client privilege to the defendants' ability to defend the case, and that Vasquez herself introduced the motion after the court suggested that the board might waive the privilege, the conflict presented here is clear….The express prayer set forth in the first amended complaint, for a portion of any penalty awarded in accordance with the California False Claims Act (between 25 percent to 50 percent under the False Claims Act), provides a direct financial incentive such that Vasquez should not have voted on the privilege waiver motion pursuant to the requirements of the PRA."
Vasquez, a former mayor of Lynwood, was first elected to the board of the water district in 2012. She is a professor of political science at El Camino College in Compton.
The case is Buchalter Nemer v. Superior Court, B275709.
Attorneys on appeal were Thomas R. Freeman, Paul S. Chan, Marc E. Masters and Kate S. Shin of Bird, Marella, Boxer, Wolpert, Nessim, Drooks, Lincenberg & Rhow, for Buchalter and Wance; Bethany W. Kristovich and Laura K. Lin of Munger, Tolles & Olson, for Sedgwick and Parvin; and Jimmie Johnson for Leticia Vasquez.
Earlier Decision
This is the second time Div. One has acted in the case. On Feb. 25, 2016, in an opinion by Chaney, it affirmed Bryant-Deason's denial of a motion by Buchalter and Wance to compel arbitration.
Although the moving parties and the district had agreed to arbitration in the event of a dispute, Sedgwick and Parvin hadn't. Chaney wrote:
"The trial court could not compel Sedgwick and Parvin to arbitrate this dispute. Therefore, it exercised its discretion and denied Buchalter and Wance's motion to compel arbitration."
She made "note" that the arbitration agreement was executed more than one and one-half years after the closed-door meeting at which the alleged plot was formulated.
Copyright 2017, Metropolitan News Company