Monday, May 22, 2017
Page 1
C.A. Presiding Justice Paul Turner Dies
By a MetNews Staff Writer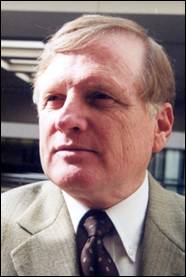 PAUL A. TURNER
1947-2017
Court of Appeal Presiding Justice Paul Arthur Turner of this district's Div. Five—a jurist who put in unusually long hours, and even had work brought to him at his home when he stopped going to the office at the start of this month, as he weakened, in the final stages of liver cancer—has died, at the age of 69.
Chief Justice Tani G. Cantil-Sakauye said she had "the great pleasure of serving with Paul on the Commission on Judicial Appointments and on the Supreme Court of California when he was assigned pro tempore," adding:
"He was a force of nature in his approach to the law, his work ethic, with a real zest for life. I will always remember his razor wit, his collegiality, and his optimism."
While liver disease is generally associated with alcoholism, Turner, a Baptist born in Shawnee, Oklahoma, was a teetotaler.
He told friends recently: "I'm not afraid of dying—I just can't bear the thought of not being a member of the Court of Appeal."
Turner was placed on Div. Five in 1990, as an associate justice, by Gov. George Deukmejian, and was named by that governor the following year to the post of presiding justice, taking office, upon confirmation, on Jan. 6, 1991. His sole competitor for the position was then-Associate Justice Roger Boren, whom Deukmejian elevated in 1993 to the office of Div. Two's presiding justice, and is now retired.
The two appellate court appointments of Turner followed two appointments of him by Deukmejian to trial court posts. At age 35, Turner, then a criminal defense lawyer, was placed on the Los Angeles Municipal Court, and in 1985, was promoted to a judgeship on the Los Angeles Superior Court.
Political Views
Although his judicial career was gratifying, it was also inhibiting.
Turner—an avid reader of books on both history and current affairs—held strong political views, and could cite facts to buttress them. He espoused those views with eloquence and fervor, but only to those close to him, being barred by judicial ethics from speaking out publicly.
He was, however, politically active prior to going on the bench.
Former County District Attorney Steve Cooley said yesterday:
"I first came to know Justice Turner when we worked on the George Deukmejian for AG campaign in the '70s. He was a highly skilled attorney then.
"He brought those skills to his various judicial positions. Besides having been a great judge and justice, Paul possessed a marvelous sense of humor and great institutional knowledge."
Another former district attorney, Robert H. Philibosian (who was chief assistant attorney general when Deukmejian headed the office), has recollections of Turner devoting "himself to the successful election of Governor George Deukmejian" in 1982.
"Paul was a man of infinite courage, grace and good humor in the face of immense adversity," the former prosecutor said. "He was a brilliant analytical mind wrapped in a warm but unassuming personality."
Philibosian, now of counsel to Sheppard Mullin, added:
"His passing leaves an unfillable void in the judiciary of California and in the hearts of his friends. We owe a great debt of gratitude to [his wife] Elizabeth and their family for sharing him with us and we hold them in our prayers and thoughts."
Election Challenge
In 1984, Turner became involuntarily involved in a campaign: his own. As a municipal court judge, he drew an election challenge from a woman who had apparently never voted in any previous election and, although it was a nonpartisan race, ran against him because he was a Republican.
Turner won, with 67.18 percent of the vote.
Court of Appeal Justice Sandy Kriegler—who had known Turner for 43 years and has served in Turner's division for 12 years—recalled the campaign. He said judges who draw challenges are usually distraught.
"Typical of Paul," he related, "he didn't get upset or feel sorry for himself. He was as positive as ever.
"He relished the opportunity to get out and campaign for himself."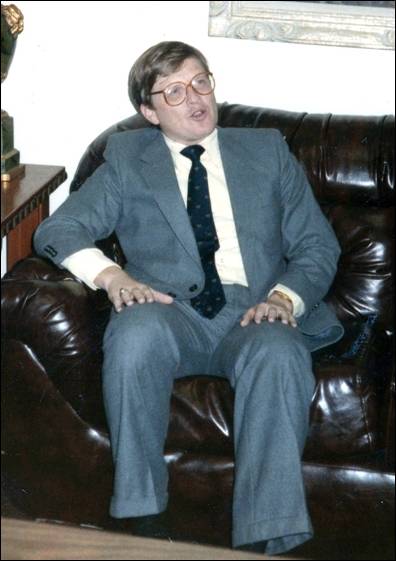 —Staff photo
Turner appears in an 1984 photograph during his campaign for election to the Los Angeles Municipal Court to which he has been appointed the previous year. He handily turned back the election challenge.
At that time, there were several newspapers in the county that made endorsements, and he received all of them.
When he came to the MetNews offices to meet with the editorial board, he was buoyant and, atypically of judges who are defending their seats, cracked jokes and chatted with office workers.
More recently, as a presiding justice, with his chambers in the Ronald Reagan Building at Third and Spring streets, he would occasionally drop in at the newspaper office. He did so twice, by happenstance, when a candidate for election to the Superior Court was being interviewed.
In 1994, the candidate was then-Deputy Attorney General Susan Bryant-Deason, and in 2014, it was then-Deputy District Attorney Stacy Wiese (both of whom won election). In each instance, Turner sat down and began firing questions.
Colleagues' Perspectives
Kriegler said that Turner was a "believer in the rule of law" and "really cared about" reaching a result in conformity with the law.
He related that Turner would be working in his chambers not only on court days, but nearly every Saturday and Sunday.
The presiding justice also widely lectured, Kriegler noted, saying he was "witty and charming and creative in his speeches."
Court of Appeal Presiding Justice Norman Epstein of this district's Div. Four pointed out that "[j]ust last month, although gravely ill, Paul traveled to San Jose to give one of his informative and entertaining lectures to a statewide conference of judicial research attorneys."
Kriegler said that Turner's "spirits were very good," even at the end, and Epstein commented:
"He always was so full of life, even as his illness progressed," adding:
"He exuded joy and friendship on every occasion I recall, and these go back a long time. He was an excellent and dedicated judge, and a good friend."
Los Angeles Superior Court Judge Sanjay Kumar, who frequently sat as a pro tem in Div. Five, pursuant to Turner's requests that he be so assigned, began his latest stint there in January when, the jurist said, Turner's "illness was starting to quickly progress."
He remarked:
"[F]ew people were aware of how sick he really was because he often arrived with a loud commanding voice, could aptly discuss the most complex issues of law, and would regularly tell war stories. I have never known a man with such resolve."
Kumar made note of Turner's "tremendous passion for his work."
Presiding Justice Lee Edmon of Div. Three said:
"Paul was a great mentor to me and to so many others in our legal community. His carefully crafted opinions revealed his tremendous intellect.
"In addition, he was outgoing and open so that you were always glad to see him."
Former Court of Appeal Justice Elizabeth Baron said:
"Paul Turner was wise, witty and wonderful. He was simply the best friend a person could have. His love of the law was unparalleled as evidenced by the brilliant opinions he wrote over the years. It was a joy to attend his lectures at judicial conferences.
"His speeches revealed his deep patriotism and integrity. I think I can speak for all his friends when I say we will miss 'talking law' with him. We will miss his warmth and jokes and laughter and the intensity of his friendship. To me, he was a man for all seasons."
'Consummate Judge'
Los Angeles Superior Court Judge J. Steven Czuleger described Turner as "a consummate judge, scholar and dedicated public servant," adding:
"He was a pleasure to be around and his wit the envy of those that knew him."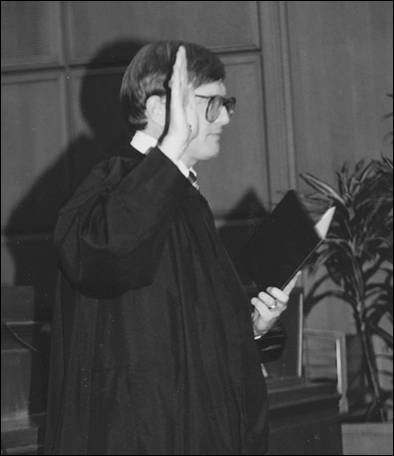 —Staff photo
Turner is seen taking the oath of office in 1990 as an associate justice of the Court of Appeal.
Another judge of that court, Mary Ann Murphy, expressed these feelings:
"It was the greatest honor to have known Justice Paul A. Turner. He was a beloved friend to us all. We will remember the laughter, his wit and his dedication to his family, friends and the People of this State. Paul will live on in our hearts, the same as it ever was."
A former judge of that court and U.S. District Court, Dickran Tevrizian, termed Turner's death "a major loss to the legal profession and the judiciary." He said Turner "fought a brave fight against his illness for many years and never complained" about the distress.
"Paul was a voracious reader with an unparalleled vocabulary, as anyone who knew him could attest," former Los Angeles county counsel Lloyd Pellman observed.
The lawyer, now a partner in Nossaman LLP, noted that Turner was "an avid alumnus of Antelope Valley High School," recounting: "[S]ince he knew I taught there after he had graduated, he would break into the high school pep song with little prodding."
Appellate Lawyers' Praise
Appellate attorney Douglas Collodel, of counsel to Sedwick LLP, remembers Turner as "always affable, even when pressing me during oral arguments on difficult issues where the other side may have had the upper hand."
He went on to say:
"I remember fondly the day when I was a relatively new appellate specialist and on my way to an appellate committee meeting when he stopped me in the hallway, chatted for a few minutes and then conscripted me to his chambers. There, after stepping over boxes and boxes containing records on several matters he was analyzing, we simply spoke about family and current events.
"He was a devoted family man; at a recent lunch, he shared with me what a wonderful time he had with his family when visiting Normandy and soaking in the historical sites with them. I have treasured, and will deeply miss, our fellowship."
Bradley S. Pauley, a partner in Horvitz and Levy, credited Turner with having "an extremely sharp legal mind" and caring "deeply about the cases" he handled.
"He was devoted to his role as an appellate justice, working hard to adjudicate cases with a minimum of delay, both to benefit the parties and to serve the larger goals of efficiency and judicial economy," Pauley, chair of the Los Angeles County Bar Association's Appellate Courts Section, said.
Pauley said he remembers Turner as "warm and engaging, often going out of his way to talk with attorneys and to make sure we knew that he saw us as his colleagues."
He conveyed that a partner in his firm, Daniel J. Gonzalez, "recalls a particular occasion several years ago when Justice Turner went above and beyond the call of duty by making arrangements so that he could conveniently review the massive record in a high-profile case at the Court of Appeal, which included securing the record from the superior court and setting aside a large room in the clerk's office for his use."
Jeremy B. Rosen, also of Horvitz & Levy, which exclusively practices appellate law, said:
"I had the privilege of appearing before Justice Turner many times as well as speaking on numerous panels with him. I loved the absolute joy he had for the law and for the appellate process.
"He was deeply engaged in the nuance of every legal issue that came before him. In my mind, no one more exemplified the role of an appellate judge than Justice Turner."
Appellate lawyer Norman Pine reflected:
"I met Paul about 25 years ago, at the very beginning of my career. In addition to my highest respect, he also gained my deep affection.
"His laugh was infectious, he had a wicked sense of humor (in all senses of that word), and his personality filled the room. But that did not detract from the fact that he was incredibly disciplined, hard-working, and unflinchingly dedicated to his job.
"One thing that always stood out was that, however strict he was to people appearing before him, he was always gracious. This is especially true about pro per litigants. However much they might ramble about non-germane things, Paul showed patience and compassion, striving to make them feel comfortable and feel that they were being heard."
Edward J. Horowitz, an appellate law specialist, had this to say:
"This is such sad news, especially after his long and courageous fight against the disease that finally killed him.
"As an appellate justice, he combined great intellect, legal knowledge, energy and the ability to write clear and convincing opinions (even opinions that ruled against me).
"I will miss the many conversations we had about nonlegal subjects such as sports, politics and politicians, and the human condition in general. But mostly, I will miss the man."
Thomas Cacciatore, who practices in various areas of law, termed the late justice "a wonderful guy, a terrific writer with a wonderful sense of humor," and added:
"Win or lose, he always treated lawyers with respect."
Law Practice
Turner was, himself, a practicing lawyer from 1973 until his 1994 appointment to the bench.
His law degree was from UCLA and his undergraduate degree from Cal State University, Long Beach. That latter institution has presented to him its Distinguished Alumnus Award.
Other awards have included the California Judges Association's Bernard Jefferson Award for Distinguished Service in Judicial Education, the Consumer Attorneys of Los Angeles's Roger J. Traynor Appellate Justice of the Year Award, and the Metropolitan News-Enterprise Person of the Year Award.
He and his wife Elizabeth, a music teacher, have two daughters and five grandchildren.
High-Risk Surgery
Turner underwent surgery on May 10, which he described in advance as perilous but necessary. He disclosed in an email that he had a "dangerously high bilirubin level"—indicating an abnormally active destruction of red blood cells— and would undergo "an endoscopic procedure in an effort to bring down my bilirubin level."
This was to entail, he explained, an "attempt to insert 3 or 4 stents in blocked liver ducts including the biliary duct."
As it turned out, the operation had not been necessary because the blockage that was suspected did not exist.
Kriegler advised that Turner died "at home with members of his family at his side," also providing this information:
"He will be buried in Elizabeth's family plot in Kentucky.
"There will be a church service in Los Angeles at some point, but no decision has been made whether it will be before or after the burial."
_________________________________________
Farewell to a Longtime Friend
I first met Paul Turner about 40 years ago when I was a Municipal Court judge and Paul tried a criminal case in my court. A friendship grew out of that early encounter despite our occasional differing philosophical perspectives on law, history and politics. We both wrote letters of support to the respective Governors who appointed us to the Court of Appeal.
Several years ago, Paul and I often appeared together to discuss recent cases before various bar associations. On occasion we would take each other on in a friendly and spirited presentation. It was hard to say who had more fun, Paul and I or the audience.
Paul's enduring passion for the law was palpable. He was known to do an "all-nighter" when drafting an opinion. "Paul," I would tell him, "this isn't a final exam that is due tomorrow morning." I would get a laugh, but I knew he just had to finish a draft at that moment.
He was warm and engaging with everyone. His demeanor at oral argument was open and friendly. He was the quintessential people person. And his courage was indomitable. He faced his illness with defiance and even humor. He worked as hard as ever, gave lectures, and continued to live his life to the fullest.
Paul, by way of example, you taught us much about living as well as the law. Presiding Justice Paul Turner, your legacy will endure and continue to enrich us. Good-bye my friend and colleague.
ARTHUR GILBERT
Presiding Justice, Court of Appeal
Div. Six
Copyright 2017, Metropolitan News Company