Friday, February 24, 2017
Page 1
State Bar Charges Carmen Trutanich With Suppressing Evidence in Murder Case
Lawyer Says Former City Attorney Is Innocent of Wrongdoing and Will Fight Accusations
By KENNETH OFGANG, Staff Writer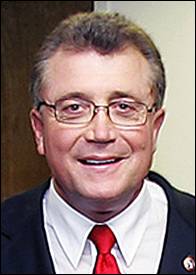 CARMEN TRUTANICH
Former Los Angeles City Attorney
Former Los Angeles City Attorney Carmen Trutanich is innocent of State Bar misconduct charges and will "vigorously fight" the accusation that he suppressed exculpatory evidence in a capital murder trial more than 30 years ago, his attorney said yesterday.
David Cameron Carr of Klinedinst PC told the MetNews his client "strongly denies" that he knowingly allowed a witness to misidentify an eyewitness to the murder and failed to provide the defense with the witness's correct name and address.
The State Bar's Office of Chief Trial Counsel charged Trutanich on Feb. 9 with five disciplinary violations—suppression of evidence, violation of his duties under Brady v. Maryland, moral turpitude, and two counts of presenting false testimony.
The charges stem from the 1986 trial of Barry Williams, a South Los Angeles gang member charged with killing a member of a rival gang in 1982. The conviction and death sentence were upheld on direct appeal in 1997, but were thrown out on a writ of habeas corpus by U.S. District Judge David O. Carter of the Central District of California last year.
Williams is serving a 34-year-to-life sentence for a 1981 murder. The two killings were initially charged as one case, but were tried separately after the defense successfully moved for severance.
Trutanich, who was elected city attorney in 2009, defeated in his bid for district attorney in 2012, and unseated in 2013, often talked about the Williams case during his campaigns.  But Carter called his conduct in the trial "deeply troubling."
Judge's Findings
Carter found that the prosecutor mishandled the testimony of Patricia Lewis, who testified that she saw Williams shoot Jerome Dunn from the passenger seat of a station wagon driven by a second eyewitness, whom she named as Jean Rivers. It was ultimately discovered that the person she called Rivers was actually Arlean McKay, and that Lewis lied in an effort to keep her friend McKay uninvolved in the trial.
Carter found, however, that Trutanich's handwritten notes about the case had both names listed for Rivers/McKay, in one place with the two names next to each other in quotation marks. Trutanich also did not try to correct the name during Lewis' testimony, Carter said.
The OCTC reiterated those findings in the disciplinary notice, saying Trutanich "knew, or was grossly negligent in not knowing, that `Jean Rivers'' true name was Arlene McKay"; and that he was obligated to provide the defense with McKay's true name and address under Brady.
The office also charged the former city attorney with presenting false testimony at a pretrial hearing in the Williams case.
Massiah Hearing
The hearing was held to determine whether police had obtained incriminating statements from Williams, despite knowing he was represented by counsel at the time, in violation of Massiah v. United States. The notice of disciplinary charges alleges Trutanich knowingly or negligently allowed a detective to testify that the inmate to whom Williams allegedly made the statements had initiated contact with the detective, when in fact it was the other way around.
Trutanich's conduct with respect to both witnesses, the OCTC alleges, reflected "moral turpitude, dishonesty or corruption."
Trutanich has repeatedly denied that he misled the jury or suppressed evidence during the case, as his attorney did again yesterday. During a 2015 hearing, he told Carter that he never knew Rivers/McKay's real name and claimed he had turned over both names to defense attorneys.
"I'm sure as hell not going to my grave and meeting my maker having hid information in a death penalty case," Trutanich told reporters at the time of the hearing. "Never happened. Never happened. No. Not me."
A State Bar Court status conference is scheduled for March 13 in Los Angeles. Carr said he expects a trial date to be held at that time.
Copyright 2017, Metropolitan News Company