Thursday, September 14, 2017
Page 1
C.A. Upholds Anti-SLAPP Order in Favor of Trotter, JAMS
Declares That Action Over the Former Presiding Justice's Alleged Effort to Coerce a Settlement By Threatening to Tattle to the Trial Judge—Who He Was About to Hire—Was Properly Scuttled
By a MetNews Staff Writer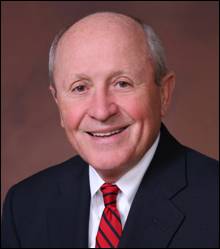 JOHN K. TROTTER JR.
Mediator, Former Court of Appeal Presiding Justice
The Fourth District Court of Appeal yesterday affirmed the dismissal of an action against former Court of Appeal Presiding Justice John K. Trotter Jr. and his mediation outfit JAMS, following the granting of an anti-SLAPP motion, declaring that any threat he may have uttered to force a settlement would be inadmissible in light of the confidentiality of mediation.
The opinion was written by Justice Patricia Benke of the San Diego-based Div. One. The appeal from a decision by Orange Superior Court Judge Mary Fingal Schulte was filed in Orange County's Div. Three—which Trotter headed from 1982-87—but members of that panel recused themselves and the case was shifted, by order of the Supreme Court.
Trotter was the mediator in an action by mobile home owners over an assessment by the Palm Beach Park Association. The judge presiding over the matter was Nancy Wieben Stock, then a member of the Orange Superior Court.
At a trial setting conference in October 2013, she told the lawyers:
"Further mediation opportunities should be taken advantage of....
"I think it's well known that Justice Trotter is one of the most skilled neutrals in the nation. So you are in good hands at least in that context."
'Judge Nancy'
In the course a mediation session, Trotter allegedly threatened the plaintiffs—in front of members of the association—that if they would not settle, he would tell "Judge Nancy" of their intransigence.
Benke mentions in a footnote that the appellants recited in their brief that Trotter said he would advise Stock that they were the "bad guys," but said that the court "will not consider this alleged statement" because there is no citation to the record in connection with it.
Stock retired in January 2014. A month later, she joined JAMS.
Trotter had revealed at a mediation session in September 2013 that he knew Stock but nothing was said about negotiations with her to join JAMS.
In May 2014, the plaintiffs moved to disqualify Stock retroactively, voiding her order for a jury trial, and to disqualify the judge who took over the case, Robert J. Moss. The motions were turned down and the Court of Appeal denied a writ petition.
The action against the association continues.
Coercion, Non-Disclosure
On May 2, 2014, six of the plaintiffs in that action sued Trotter and JAMS, alleging various theories, based on Trotter's alleged coercion and the failure to reveal purported negotiations between JAMS and Stock. Schulte granted an anti-SLAPP motion based on mediation confidentiality, quasi-judicial immunity, and the litigation privilege.
She awarded JAMS $48,616.50 in attorney's fees and $1,196.53 in costs.
In the unpublished opinion affirming the judgment of dismissal, Benke said:
"Justice Trotter's alleged communications here are from mediation proceedings. These communications are confidential."
She cited Evidence Code §1119, providing for such confidentiality.
The plaintiffs pointed to Evidence Code §1121 which, in general, prohibits a mediator submitting to a court "any report, assessment, evaluation, recommendation, or finding of any kind by the mediator concerning a mediation conducted by the mediator," and noted that a California Law Revision Commission comment to that section says the section precludes a mediator from threatening to make such a report.
Evidence Code §1119
In their opening brief, they argue:
"The legislative intent behind Evidence Code section 1121 was to eliminate, not shield under a grotesque expansion of Evidence Code section 1119, the coercive tactic of threatening to besmirch a mediating party to the trial judge."
Benke responded:
"We disagree. The comments following Evidence Code section 1121 do provide 'the focus is on preventing coercion' and 'a mediator should not be able to influence the result of a mediation... by reporting or threatening to report to the decisionmaker on the merits of the dispute or reasons why mediation failed to resolve it.'…But the comments, at most, reflect that discouraging coercion and threats to disclose is a goal of limiting reports about mediation. They do not expand Evidence Code section 1121 to prohibit such threats…."
Illegality Asserted
The appellant's opening brief asserts:
"Anti-SLAPP does not protect wrongful and criminal speech. It protects free speech and petition. The threat and promise to wrongfully communicate with the trial judge to induce fear was not free speech, it was legislatively prohibited speech, extortion and obstruction of justice."
Citing the California Supreme Court's 2006 decision in Flatley v. Mauro, the brief says:
"While legally raising funds is part of petitioning, illegally raising funds is not; it cannot be SLAPP protected."
Benke pointed out that Flatley applies only if there has been a concession of illegality or "illegality is conclusively shown by the evidence."
"Defendants have not conceded anything," she wrote, declaring that their silence cannot be construed as an adoptive admission because the Evidence Code compels it.
The plaintiffs alleged conspiracy and extortion but, Benke declared, they "do not identify evidence sufficient to conclusively establish the elements of these crimes."
She agreed with Schulte that the defendants are also protected by quasi-judicial immunity and the litigation privilege.
The case is Chodosh v. Trotter, D070952.
Patrick J. Evans represented the plaintiffs and Joseph P. McMonigle, Jessica R. MacGregor, David S. McMonigle, and Noah S. Rosenthal of Long & Levitt LLP acted for Trotter and JAMS.
Appellants' Counsel Comments
McMonigal did not respond to a request for comment. Evans did, saying:
"Plaintiffs are disappointed but not surprised by the opinion, given JAMS massive influence on the judicial system as the largest employer of retiring judges. Perhaps most astounding is the court's approval of mediator coercion by threat to 'go to the judge.' Evid. Code sec. 1121 prohibits mediator communication with the judge. According to official commentary, (which the court quoted) 'the focus [of sec. 1121] is on preventing coercion.' JAMS argued that sec. 1121 is a 'toothless' statute which does not prohibit mediator threats and coercion.
"The court agrees that coercion in mediation is permitted. It ruled that while sec. 1121 has the 'goal' of 'discouraging [mediator] threats and coercion,' the statute does not 'prohibit' it. (Op. at pg. 19, & fn. 10). Thus, mediator Justice Trotter was fully free to threaten plaintiffs that if they did not settle as he had instructed, that he would communicate ex parte to the trial judge that plaintiffs had prevented settlement.
"The court declares that a California mediator is free to coerce by threat 'to tell the judge.' Under the opinion, mediation is not a voluntary process to attempt resolution, but an avenue for authorized private contract mediator obstruction of justice by interfering with a party's right to their day in court before an impartial judge not influenced by the mediator."
Reason for Lawsuit
In his opening brief, Evans explains:
"The complaint states Appellants' fear that Hon. Justice Trotter could malign them to the Judge who took over from Hon. N. Wieben Stock (Ret.) and that he could malign them to other Orange County judges. JAMS and its co-founder Justice Trotter have influence over Orange County judges because they often look to JAMS for post bench employment….
Hon. Justice John K. Trotter (Ret.) was the first and founding Presiding Justice of the Fourth District Court of Appeal, Div. 3….His picture hangs in the Court of Appeal as the first Justice of Div. 2. Ensconced at JAMS in Orange County, Justice Trotter manifestly is in the position to wield influence over Orange County Judges. His threat and statement he would influence their trial judge against them terrified Appellants. Their recourse was to sue and they did."
The Long & Levit's brief takes the position that "Justice Trotter's alleged threat would not have been illegal conduct even if it had occurred and JAMS had no obligation to disclose Judge Stock was going to join JAMS."
Recusal Sought
Evans sought the recusal of all three divisions of the Fourth District. In a motion filed July 8, 2016, he asked that the case, at that time in Div. Three, "be assigned to a district where defendants John K. Trotter and JAMS have no influence."
On Aug. 25, 2016, the justices responded:
"Appellants' motion for disqualification of all justices of the Fourth Appellate District from this matter is DENIED. Individual justices will determine whether they will recuse themselves. (Kaufman v Court of Appeal (1982) 31 Cal.3d 933, 937-940 [each appellate justice decides for himself or herself whether the facts require recusal].) No appellate justice who has recused himself or herself will be assigned to this matter."
That same day, the state high court transferred the case to Div. One. On the panel with Benke were Justices Judith L. Haller and William Dato.
Copyright 2017, Metropolitan News Company