Monday, October 30, 2017
Page 1
Ninth Circuit Affirms 12-Year Sentence For Supporter of Terrorist Organization
By a MetNews Staff Writer
The Ninth U.S. Court of Appeals on Friday upheld a 12-year prison sentence imposed on a man for attempting to provide material support to Iraq and the Levant (ISIL), a designated foreign terrorist organization.
U.S. District Court Judge John A. Mendez of the Eastern District of California imposed the sentence last year on Nicholas Michael Teausant, then 22. Teausant had pled guilty to the single count in the indictment.
In a brief memorandum opinion, a three-judge panel declared that a "sentence of 144 months"—12 years—is not substantively unreasonable."
The maximum sentence is 15 years in prison. The judges said Mendez used the wrong set of sentencing guidelines, but that the error was harmless because if he had used the right set, the maximum would still have been 15 years.
"After reviewing an extensive record that included Teausant's three mental health evaluations," and after considering the statutorily enumerated sentences purposes, Mendez "determined that a 36 month variance from the statutory maximum was appropriate," the opinion says.
Teausant, a college student and National Guard enlistee, was arrested on March 17, 2014, in the state of Washington as he neared the Canadian border by bus. He planned to go from Canada to Syria to join ISIL.
He was indicted on March 26 of that year on one count of attempting to provide material support or resources to a terrorist organization.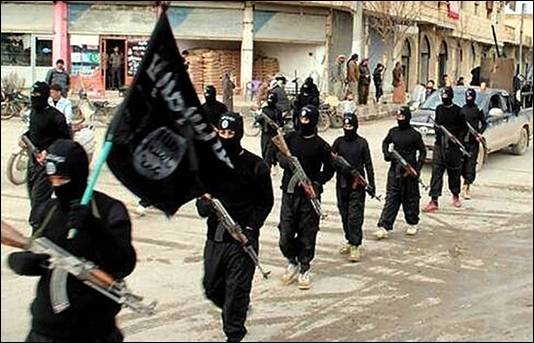 This undated file image posted on a militant website in 2014, which has been verified by AP, shows fighters from the Islamic State of Iraq and the Levant (ISIL) marching in Raqqa, Syria.
The FBI investigation opened an investigation of him in 2013 based on online postings. Teausant declared an intent "to conduct violent jihad and to be part of America's 'downfall'."
He divulged to an FBI informant, at one point, a plot, later abandoned, to attack the Los Angeles subway.
Teausant said of his plan to go to Syria:
"I'm going to be commander and I'm going to be on the front of every single newspaper in the country."
Assistant Federal Defender Benjamin Galloway of the Eastern District of California who represented Teausant, insisted that Teausant's talk was "all hot air" and that he never committed any overt act in support of terrorism.
Once he is released, he will be on 25 years of supervised release.
Copyright 2017, Metropolitan News Company