Thursday, July 6, 2017
Page 1
Man Accused of Murder Must Be Released—C.A.
Justice Needham Says There's No Authority, Under Circumstances of the Case, for Holding A New Competency Hearing for a Man Determined in 2009 to Be Incompetent to Stand Trial
By a MetNews Staff Writer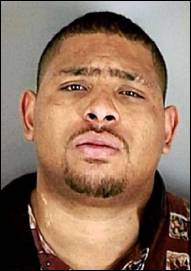 —Redding Police Department photo
JORDAN E. TAITANO
A man accused in 2009 of murder, robbery, burglary and other offenses, but who was found incompetent to be tried, must now be released, under a decision yesterday by the First District Court of Appeal.
Writing for Div. Five's majority, Justice Henry E. Needham, Jr. said that under the circumstances, a Contra Costa Superior Court judge was compelled to order the release of Jordan E. Taitano pursuant to a petition for a writ of habeas corpus, and that there is no statutory authorization to hold a new hearing on competency.
The circumstances were that Taitano, was found incompetent by a judge (overriding a jury's finding) to stand trial; the commitment facility, Atascadero State Hospital, determined in 2013 that that there is no substantial likelihood he will regain mental competence in the foreseeable future; the public guardian found he is not "gravely disabled," thus ruling out a "Murphy conservatorship" (named after the legislator whose bill created the procedure); and has served the entirety of the statutory maximum commitment term.
Section Not Applicable
Penal Code §1368, under which a judge found Taitano incompetent to stand trial, does not provide authority for a new competency hearing, Needham declared.
"[S]ection 1368 does not apply to a defendant who, like Taitano, has already been declared mentally incompetent, already been determined not to have a reasonable likelihood of regaining competence in the foreseeable future, and already served the statutory maximum commitment term," he wrote.
The code section provides that if "during the pendency of an action and prior to judgment...a doubt arises in the mind of the judge as to the mental competence of the defendant, he or she shall state that doubt in the record," and if a competency hearing is ordered, "all proceedings in the criminal prosecution shall be suspended until the question of the present mental competence of the defendant has been determined."
Needham wrote:
"The plain meaning of the statutory language is that the court can stop criminal proceedings to make sure the defendant is competent to stand trial. Nothing in the statute indicates it also applies to determine if a defendant is no longer incompetent despite the treatment facility's evaluation."
He found no authority to hold a competency hearing implied in other statutes.
Raises Questions
Needham mused:
"[O]ne might wonder what should happen when an incompetent defendant has served the maximum commitment term, is ineligible for a Murphy conservatorship, and is released from confinement, yet the trial court declines to dismiss the charges. Should the statute be amended to specify that the court must dismiss the charges if the defendant is released at the end of the commitment period after a finding of no substantial likelihood of restoration to competency?"
He went on to question whether Penal Code §1370—which authorizes resumption of criminal proceedings if a defendant is found competent to stand trial—should "be amended to authorize a new competence hearing, at least upon a showing of new facts and circumstances indicating a change in competency, so the prosecution may proceed if the defendant is found to have regained competency after release from confinement?"
Legislative Intent
The jurist remarked:
"Just as appellant has not demonstrated that the Legislature intended to allow courts to hold a competence hearing when the statute does not authorize one, it is not clear that the Legislature would want the prosecution to be automatically and forever barred from proceeding if the defendant regained competency, merely because of the defendant's release from confinement."
In a footnote, he observed:
"Indeed, if there are questions as to what the court should do with the charges after the maximum commitment period has expired, holding a new competency hearing will do little to answer them. If the new competency hearing is held, a defendant who is found incompetent (and unsuitable for a conservatorship) will still have to be released even though the charges remain pending. What the court should do with the charges in this case is not at issue in this appeal."
Bruiners's Opinion
In a concurring and dissenting opinion, Justice wrote:
"The majority suggests that after an incompetent defendant has served that maximum commitment and has been found ineligible for a Murphy conservatorship, he must be released and no future competency hearing may be held absent a new act of the Legislature. I would not concur in the result in this case if I believed this were the consequence of our decision. I do not believe the prosecutor here is powerless to pursue the charges against Taitano by, for example, dismissing and refiling the charges against him to initiate a new criminal proceeding. That question is not before us, and I do not understand our opinion to address it. Instead, I believe the Legislature has left unintended gaps in the statutory scheme, as amply demonstrated in the case before us, and that we have judicial discretion to bridge those gaps based on inferences from the statutory scheme and a trial court's inherent authority. However, I agree with the majority that we risk opening a "Pandora's box" of other issues if we do so, and thus believe we should exercise our judicial discretion not to bridge those gaps here. The Legislature is best equipped to anticipate and address issues associated with those rare instances when a defendant facing serious charges remains incompetent at the end of the maximum confinement period for treatment, but does not otherwise qualify for a conservatorship."
The murder charge against Taitano stemmed from the 2008 death of Mary Shepard, 76, an Arkansas woman who was visiting her daughter and son-in-law. According to the account of police, at the time, Taitano, driving a stolen truck, hit the automobile in which Shapard was a passenger while he was attempting to elude officers in a chase.
Earlier that day, he had allegedly kicked down the door of a motel room, demanding money from the occupant.
He had been released from San Quentin days earlier, where he was serving time on a parole violation which took the form of an assault on an officer.
The case is People v. Taitano, A147412.
Copyright 2017, Metropolitan News Company