Wednesday, April 5, 2017
Page 1
Retired Judge Lillian M. Stevens Dies at 87
By a MetNews Staff Writer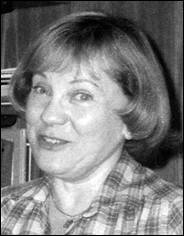 1983 Staff Photograph
LILLIAN M. STEVENS
1929-2017
Retired Los Angeles Superior Court Judge Lillian M. Stevens has died.
Presiding Judge Daniel Buckley informed his colleagues of Stevens's death in an email. She died March 17 at the age of 87.
Stevens was a Glendale Municipal Court judge from 1976, and a Los Angeles Superior Court judge from 1979 until her retirement in 1995. As a Superior Court jurist, she sat in Pomona until 1982, in Pasadena from 1982 to 1995, and in Central Civil until she stepped down from the bench.
Born in Indiana, she once told an interviewer that she resolved to become a lawyer after viewing the interaction between her father, who was in the real estate business, and his attorney, whom she said commanded tremendous respect. She joined the debate teams at Los Angeles City College and USC, where she roomed with Elva R. Soper, later a Los Angeles Superior Court judge, who once credited Stevens with persuading her to go to law school.
Graduating from USC Law School in 1954, Stevens said she faced a good deal of hostility because of her gender.
She recalled one job interview when speaking to the MetNews in 1983. An attorney asked her "Would you be interested in having a totally uninhibited sex partner"?, she said, to which she responded "No, I'm interested in a job."
Unable to find one elsewhere, she joined the practice of her then-husband, general civil practitioner Edward Stegman. But the firm and the marriage broke up, and she joined the Pasadena City Prosecutor's Office in 1973.
Her efforts to return to private practice were stymied by both sexism and "ageism," she said. She opened her own office in Pasadena, handling criminal defense and personal injury cases.
She hadn't thought about applying for the bench, she said, before she received a phone call from then-Gov. Ronald Reagan's office in 1973, asking her to apply. She explained that she didn't actually know who or what caused the governor to become interested in appointing her, but said it may have been due to the efforts of then-Superior Court Judge Joan Dempsey Klein and California Women Lawyers to increase the number of women judges.
Stevens said she completed the application, but was not appointed before Reagan left office in January 1975. She reapplied, and was appointed by Gov. Jerry Brown the following year.
Brown elevated her three years later to the Superior Court, where she mostly heard criminal cases. 
Copyright 2017, Metropolitan News Company