Monday, June 26, 2017
Page 1
Convictions of Bell Scandal Figure Reversed On Five Counts of Misappropriation
Instructional Error Found in Light of Intervening Case Clarifying a Statute
From Staff and Wire Service Reports
The Court of Appeal for this district on Friday reversed five of 11 criminal counts against an official convicted in a scheme to bilk millions of dollars from the City of Bell.
Div. Three determined that instructional error.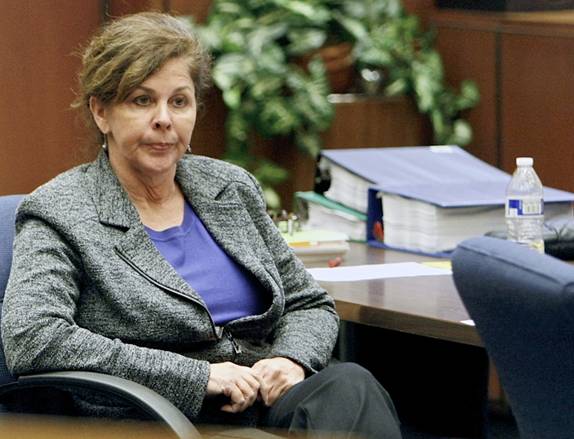 —AP
In this file photo, former Bell assistant city manager Angela Spaccia listens to testimony in court.
At issue was an interpretation of the statute pertaining to misappropriation of public funds. It applies to "[e]ach officer of this state, or of any county, city, town, or district of this state, and every other person charged with the receipt, safekeeping, transfer, or disbursement of public moneys…."
Los Angeles Superior Court Judge Kathleen A. Kennedy told jurors at the 2013 trial of Bell's former assistant city manager, Pier'Angela Spaccia, that to convict her of misappropriating city funds, it would have to find that she was either a public official or was "charged with the receipt, safekeeping, transfer, or disbursement of public moneys."
In 2016, the California Supreme Court held in People v. Hubbard that the statute, which it found ambiguous, must be viewed as requiring that a defendant necessarily was "charged with the receipt, safekeeping, transfer, or disbursement of public moneys."
Writing for the panel, Justice Luis Lavin said that because the instructions "allowed the jury to convict Spaccia based upon a finding that she was a city officer, without also finding she was charged with the receipt, safekeeping, transfer or disbursement of public moneys," there must be a reversal. The error, he said, cannot be dismissed as harmless.
The court upheld six other charges against Spaccia, including two counts of hiding public records.
Spaccia and several other former officials were accused of bilking the blue-collar city of millions of dollars through a long-running scheme to pay themselves hugely inflated salaries they hid from the public.
Bell's former city manager, Robert Rizzo, pleaded no contest to 69 corruption counts and was sentenced to 12 years in prison.
Options Being Weighed
District attorney spokesman Greg Risling said prosecutors were reviewing the court's opinion and will make a decision on a possible retrial after considering the legal options.
However, her trial lawyer, Harland Braun, said he doubts prosecutors would refile charges because Spaccia, who was incarcerated following her conviction, has already been released from prison.
She is living under house arrest and working full-time at an office job in Los Angeles, Braun said, adding that she's expected to be paroled in December.
During sentencing, Spaccia was ordered to repay Bell more than $8 million, but Braun said she is presently indigent.
When she and others were arrested in 2010, Spaccia was making $564,000 a year in salary and benefits, according to court documents. Spaccia said in testimony that Rizzo masterminded the scheme and was making $1.2 million a year.
An audit by the state controller's office found the exorbitant salaries were funded by illegally raising property taxes, business license fees and other sources of revenue.
At one point, property taxes in Bell, where the average annual household income is $37,000, were higher than Beverly Hills.
Councilman Decries Decision
Current City Councilman Ali Saleh, one of a handful of residents who suspected abuse and pressed for years for reform, said he was disappointed in the appeals court ruling.
"The 40,000 residents in the city of Bell know that Spaccia and Rizzo deliberately schemed together to defraud the community," he said. "Spaccia should be ashamed of herself."
The case is People v. Spaccia, B256046
Spaccia was represented on appeal by John P. Dwyer, of Dwyer + Kim, under appointment by the Court of Appeal. Deputy Attorney General Idan Ivri acted for the People.
Copyright 2017, Metropolitan News Company