Thursday, February 2, 2017
Page 3
Services in San Rafael Sunday for Retired District Judge William W. Schwarzer
By a MetNews Staff Writer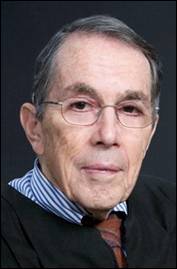 WILLIAM SCHWARZER
1925-2017
Services are scheduled Sunday for retired U.S. District Judge William W. Schwarzer of the Northern District of California, who died Jan. 28 at the age of 91.
Schwarzer, who had battled Parkinson's Disease in recent years, died at his San Rafael home, the Ninth Circuit Executive's Office said yesterday in a release.
Nominated by President Gerald Ford, he was confirmed by the Senate and received his commission on July 23, 1976. He assumed senior status on April 30, 1991, not long after being selected the director of the Federal Judicial Center.
He led the FJC from 1990 to 1995, then returned to the Northern District. He continued to serve that court until 2009, when he retired, and often served by designation on the Ninth U.S. Circuit Court of Appeals.
Schwarzer, who was born in Berlin, Germany, was well known for his interest in civil procedure, in particular his advocacy of more stringent use of Rule 56 of the Federal Rules of Civil Procedure., governing summary judgment motions, as a mechanism for expediting the disposition of cases, the circuit release noted.
Senior District Judge Jeremy Fogel of the Northern District, the current director of the FJC, said Schwarzer continues to be remembered there for "his passion for doing things the right way." Fogel said Schwarzer "played a critical role in preserving the FJC's independence, which has been and continues to be of inestimable value."
Ninth Circuit Chief Judge Sidney R. Thomas said in a statement:
"Judge Schwarzer's contributions to the judiciary have been numerous and important. He has had a large and lasting influence on the administration of justice in the federal courts."
Schwarzer was the 2004 recipient of the American Judicature Society's Edward J. Devitt Distinguished Service to Justice Award. He also served as the chair of the U.S. Judicial Conference Committee on Federal-State Jurisdiction from 1984 to 1990. He chaired the Ninth Circuit Committee on Jury Instructions and the Northern District of California Rules Committee, and served as a member of the Ninth Circuit Education Committee.
He was in private practice in San Francisco from 1952 until his appointment to the federal bench.
Schwarzer is survived his wife of 66 years, Anne Schwarzer, as well as by his son Andrew Schwarzer, daughter Jane Fields, and five grandchildren.
Sunday's memorial service is scheduled for 3 to 5 p.m. at Villa Marin, 100 Thorndale Drive, San Rafael. The family suggested memorial donations to The Nature Conservancy Attn: Treasury 4245 N. Fairfax Drive, Suite 100 Arlington, VA 22203, or the Southern Poverty Law Center 400 Washington Avenue Montgomery, AL 36104.
Copyright 2017, Metropolitan News Company