Thursday, February 2, 2017
Page 1
Remembrance Set for Charles Scarlett, Retired Superior Court Judge
By a MetNews Staff Writer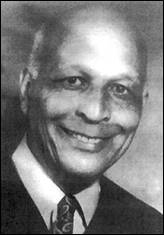 CHARLES R. SCARLETT
1924-2017
A memorial observance will take place in Inglewood Feb. 25 for retired Los Angeles Superior Court Judge Charles Scarlett, who died Jan. 21 at the age of 92.
The grandson of a slave and a native of the segregated South, Scarlett became a leading civil litigator on the defense side before Gov. Jerry Brown named him to the court in 1980. He officially retired in 1993, but continued to sit on assignment, primarily in Inglewood juvenile court, but also in Compton until after his 90th birthday.
Deputy District Attorney Frank Dunnick, who appeared before Scarlett at the Kenyon Juvenile Justice Center in Watts a decade ago, told the MetNews yesterday that Scarlett was "kind and compassionate" and "truly cared for the kids whose cases were in front of him."
The jurist "understood the communities these kids grew up in, but also recognized that they could rise up and make something of their lives, despite their current predicament," Dunnick said. "He had heard every excuse in the book and rarely did anything get past him. I can still hear his southern accent calling someone on an issue of credibility. He was firm, but all the while maintaining a professional demeanor."
Dunnick added:
"The attorneys and staff that worked with him cared a great deal about him."
Scarlett graduated from Howard University in Washington D.C. in 1949, then earned a law degree from Washington University in St. Louis—he was the school's first African-American student—in 1951. He joined the law firm of Earl C. Broady Sr, which became Broady, Scarlett & Brody and later Scarlett & Roberson, and was there for 27 years before he was appointed to the bench.
Broady later became a Los Angeles Superior Court judge, as did partner Robert Roberson Jr. Broady died in 1992 and Roberson last year.
Born in Greensboro, N.C., Scarlett served with the U.S. Marines in the South Pacific in World War II. He served on the board of the Los Angeles County Bar Association, and was also active in other legal organizations as well.
The Feb. 25 "Celebration of the Life of Judge Charles R. Scarlett" is scheduled for 1 p.m. at the Sheraton Gateway Los Angeles Hotel, 6101 W. Century Blvd., Los Angeles 90045.
Copyright 2017, Metropolitan News Company