Friday, October 13, 2017
Page 1
South Gate Corruption Figure Alfred Robles Loses Bid for New Trial on Bribery Charges
By a MetNews Staff Writer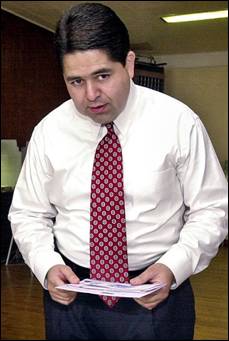 —AP
Then-South Gate Treasurer Albert T. Robles receives his ballot as he arrives to vote in a recall election in this Jan. 29, 2003 file photo. Voters recalled him and other city officials. The Ninth U.S. Circuit Court of Appeals on Wednesday declined to reverse the denial of a new trial on his previously upheld conviction for bribery.
The Ninth U.S. Circuit Court of Appeals has rejected a new-trial bid by former South Gate Treasurer Albert T. Robles—a figure in the corruption scandal that engulfed five small cities in southeast Los Angeles County in the early 2000s—holding that intervening case law does not call into question the constitutionality of his 2006 conviction on five counts of bribery, entailing solicitations of $1.8 million from bidders on contracts.
Robles, who was released from prison on Nov. 29, 2013, remains on supervised release.
A three-judge panel, in a memorandum opinion filed Wednesday, declared that "Robles fails to show that he is entitled to relief." It pointed to the court's 2013 affirmance of the bribery conviction (while reversing on other counts, resulting in his release) in United States v. Garrido, and said:
"A three-judge panel is bound by the prior authority unless 'the reasoning or theory of our prior circuit authority is clearly irreconcilable with the reasoning or theory of intervening higher authority.' "
Robles Cites Authorities
Robles contended there was such intervening authority, but the panel disagreed.
He relied on the United States Supreme Court's 2014 opinion in McCutcheon v. Federal Election Commission which, he maintained, supports his position that five political contributions made to him over a one-year period starting in 2000—which the prosecution insisted were bribes—were constitutionally protected.
In his opening brief, Robles quoted Chief Justice John Roberts as saying in McCutcheon:
" 'There is no right more basic in our democracy than the right to participate in electing our political leaders. Citizens can exercise that right in a variety of ways,' including by 'contribut[ing] to a candidate's campaign.' "
The brief argued:
"Because of the importance of campaign contributions to First Amendment-protected activity, the Supreme Court made clear in McCutcheon that to convict a government official of bribery based on his taking a campaign contribution the government must show that there was a quid pro quo agreement between the official and the donor when the contribution was made."
There was no showing, Robles set forth, that on occasions when Michael Klistoff gave him money for his campaign, there was any discussion of the donor's desire to land a city contract for his waste-hauling business.
Klistoff, with the admitted assistance of Robles, later landed a $48-million trash-hauling contract with the city. In the aftermath of exposes, it agreed to remit $8.5 million to the city.
McCutcheon dealt with statutes limiting campaign contributions, but Robles asserted that the principles set forth in that case were applicable to his.
'Official Act'
Robles also cited the federal high court's 2016 opinion in McDonnell v. United States, which reversed former Virginia Governor Robert McDonnell's conviction for accepting bribes, and remanded for further proceedings.
Writing for the court, Chief Justice John Roberts started with the proposition that "the Government was required to show that Governor McDonnell committed (or agreed to commit) an 'official act' in exchange for the loans and gifts," pegging the reversal to an overly broad definition of "official act" in instructing the jury.
The government opted not to retry the former governor.
In the Ninth Circuit's decision in Garrido, it was held that no official act had to be shown under the federal bribery statute, 18 U.S.C. §666, and that Robles's exercise of influence with other city officials sufficed to establish he had been bribed. However, McDonnell was not tried under §666, but was charged with fraud and extortion under other statutes.
The Ninth Circuit opinion on Wednesday found that "[o]n the interpretation of §666, Garrido is not clearly irreconcilable with either" McCutcheon or McDonnell "because these intervening higher authorities addressed the interpretation of statutes other than §666."
Conceded Point
Robles had argued in the District Court that a new trial or reconsideration should be granted based on newly discovered evidence. The first portion of the Ninth Circuit opinion affirms the rejection of that ground by Judge Stephen V. Wilson of the Central District of California, without noting that the ground was abandoned on appeal.
Robles's lawyer, Todd W. Burns of the San Diego firm of Burns & Cohan, said at oral argument in Pasadena before the Ninth Circuit panel on Oct. 2:
"We are not relying on new evidence at all. We are relying on intervening case law….That's all we're relying on. We're not relying on new evidence at all."
Circuit Judge Milan Smith asked, with reference to the supposedly newly discovered evidence:
"You realize you lose on that one, right?"
Burns responded, "Uh, yes," paused, started to elaborate, saying, "Well—," but was interrupted by Smith who remarked:
"Thank you, for that."
On another point, Smith questioned how long a person convicted of a crime would have to challenge the conviction based on new case law. He asked:
"Twenty years, 30 years, does it matter?"
Burns reminded him that the Robles was pursuing a direct appeal following a remand.
In Garrido, decided April 15, 2013, the Ninth Circuit reversed the convictions of Robles and codefendant George Garrido, a South Gate businessman, on charges of mail and wire fraud, and reversed Robles's conviction for money laundering.
Garrido, a friend of Robles, allegedly received $437,500 in payoffs from Klistoff a condition of landing the city contract.
Circuit Judge Harry Pregerson wrote for a three-judge panel in pointing to the 2010 case of Skilling v. United State where, he said, the United States Supreme Court "prohibited prosecutions (such as those in this case) based on a failure to disclose a conflict of interest as unconstitutionally vague," thus requiring reversal.
With the bribery conviction still standing, Wilson, on remand, in 2015 denied the plea of prosecutors that Robles be returned to prison, resentencing him to the seven years he had already served and placing him on three years of supervised release.
Robles is a former mayor and city council member of South Gate . He served as mayor in 1991 at the age of 26.
He was elected city treasurer in 1997 and gained further power in 2002 by being appointed by the city council as deputy city manager. Robles retained that appointed position even after his ouster by voters in a 2003 recall election that also resulted in the expulsion of the mayor, vice mayor, a member of the city council.
In 2002, he was tried on charges of making threats to then-state Sen. Martha Escutia and then-Assemblyman Marco Firebaugh, since deceased, but the jury was deadlocked and the charges were dismissed.
Copyright 2017, Metropolitan News Company