Friday, November 3, 2017
Page 1
U.S. Ninth Circuit Yanks Judge Manuel Real Off a Case
Reverses Summary Judgment Based on Statute of Limitations, Finding Nothing Significantly Different Since a Reversal in 2012 of a Judgment on That Ground
By a MetNews Staff Writer
The Ninth U.S. Circuit Court of Appeals yesterday took an action, one that it has taken before, in decreeing that on remand, the case is to go to a judge other than District Judge Manuel Real of the Central District of California, finding that his summary judgment in favor of a defendant was on the same basis as a summary judgment in 2012 that was reversed, with nothing new and substantial having been shown.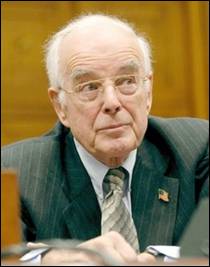 MANUEL REAL
District Judge
The only thing "new" was a 2006 letter, upon which Real relied in imputing to plaintiff Folex Golf Industries, Inc. knowledge of wrongdoing in 2005, which would have rendered valid the statute-of-limitations defense of O-TA Precision Industries Co., a Taiwanese company that manufactures golf equipment. The case involves business torts and unfair competition claims.
A three-judge panel in 2012 reversed summary judge which Real had awarded O-TA based on the statute of limitations, pointing out that under the delayed discovery rule, the statute does not begin running until the plaintiff did or should have gained knowledge of the facts giving rise to a cause of action. It held that Real "erred in concluding as a matter of law that Folex had actual knowledge in 2005 of its claims against O-TA."
No Explanation
A three-judge panel yesterday said in a memorandum opinion:
"[S]ummary judgment cannot be granted on this statute of limitations question unless one of the five exceptions to the law of the case doctrine has been met….None of the exceptions apply here. The district court erred in concluding that the August 20, 2006 letter was substantially different from the evidence previously submitted to establish that Folex was on notice of its potential claims against O-TA in 2005….The district court did not even explain why the substantially different exception applied."
It went on to say that "[a]t most," the letter indicated that Folex was aware of wrongdoing on the part of Luoyang Ship Material Research Institute—which had been a customer of Folex and was earlier a co-defendant in the case—but there was nothing in it suggesting that O-Ta was acting in collusion with LSMRI.
Reassignment Mandated
With respect to Real, the judges said:
"We grant Folex's motion to reassign this matter to a different district court judge. We are permitted under 28 U.S.C. §2106 to reassign cases on remand when 'unusual circumstances' are present….This is the third remand in this case; therefore, reassignment is warranted….Because the case has not progressed significantly beyond the preliminary stages, any minimal potential for waste or duplication is outweighed by the need to preserve the appearance of fairness….Therefore, we instruct the Chief Judge for the Central District of California to reassign this case to a different district judge on remand. Each party shall bear its own costs on appeal."
The second remand came on March 24, 2015. The Ninth Circuit reversed a summary judgment in favor of O-TA which Real granted based on a default judgment O-TA had obtained against Folex in China.
The court said, in a memorandum opinion, recited that Real found that under international comity, California would recognize the Chinese judgment and it would have collateral effect. In fact, even if California did recognize the judgment, the panel said, it would not give preclusive effect to it because the People's Republic of China would not give such effect to a California judgment.
Oral Argument
At oral argument on Oct. 6, Santa Monica attorney Philip W. Boesch Jr., representing Folex, started by remarking:
"We have somewhat of an unusual situation here—for me—in the sense that we're quoting the court to itself on a case involving statute of limitations that the court has already ruled upon previously."
He said the 2006 letter in question only mentioned O-TA three times, and nowhere in a context that related to wrongdoing on its part.
Judge N. Randy Smith of Idaho commented:
"Well, it seems to me that I got a panel of this court who's already said, 'You cannot rule on statute of limitations in this particular case because there's issues of material facts that are here, and so, go back and have a trial, or go back and take some more evidence, or go back and so something, because on the evidence that's in the record at this point, there's not enough to say the statute of limitations is a good defense.'
"Now, we got one thing that's come in since then: letter of Aug. 20, 2006. Now, I don't want to be mean, but it was a surprise to me that the district court concluded that this was new and substantially different. So, I looked at what did the district court say?
"Why was it new and different? Unless, I'm wrong, there is no basis for that conclusion."
Later, Smith remarked:
"One could have had a hearing—which everybody thought the good judge would do—and determine: What is there about this Aug. 20 letter that goes one way or the other? But instead, he jumps to conclusions.
"I said to myself, 'Why do I follow that?' 'Judge, why not have a hearing? Why not find out what the letter really says, and if it has any significance or not.'"
The case is Folex Golf Industries, Inc. v. O-Ta Precision Industries Co., No. 15-56905.
Copyright 2017, Metropolitan News Company