Monday, December 11, 2017
Page 1
Ninth Circuit to Decide if Glut of Emails, Texts, Calls Creates 'Minimal Contacts'
By a MetNews Staff Writer
A three-judge panel of the Ninth U.S. Circuit Court of Appeals has under submission the issue of whether an Alaskan company had "minimal contacts" with California, so as to justify personal jurisdiction over it by a district court here, based on a plethora of emails and text messages to a prospective buyer in San Francisco seeking his purchase of a steam-powered paddle-wheel boat.
The vessel, "The Queen of Seattle," is docked at a port near Seattle and the broker is in Florida.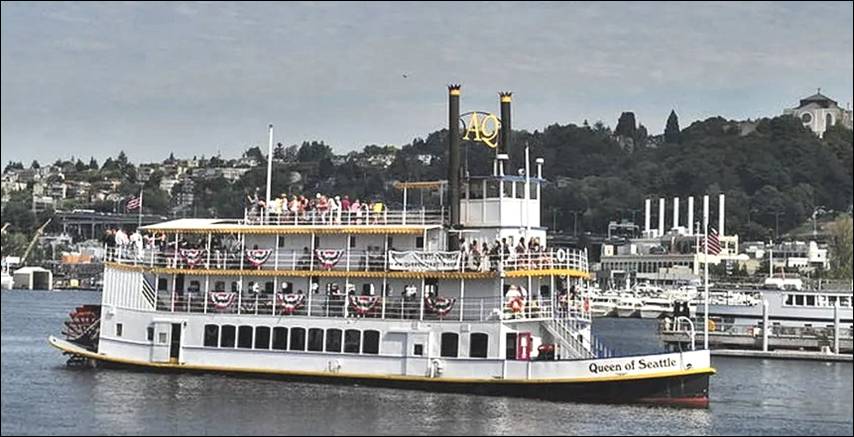 Pictured is the "Queen of Seattle," a paddle boat built in 1984.
Plaintiff, Lil' Man in the Boat, a California corporation headquartered in Daly City, contends that Auk Ta Shaa Discovery, an Alaskan limited liability company located in Juneau, agreed to sell the craft to it for $12,500, then reneged. It sued in San Francisco Superior Court for $1 million, and the defendant removed the action to U.S. District Court for the Northern District of California.
Judge Jon S. Tigar of that court on Nov. 14, 2016, ordered dismissal of the action without leave to amend, declaring that "the Court concludes that it lacks personal jurisdiction over Defendant because Plaintiff has not satisfied its burden of showing that Defendant purposefully availed itself of the privilege of conducting activities in California."
Judges Appear Unconvinced
Members of the panel evinced a lack of agreement, during oral arguments Thursday in San Francisco, with the position put forth by Los Angeles attorney J.T. Williams that a string of solicitations to the prospective California buyer, Lawrence Dale Murray, from several persons connected to the seller, sufficed.
Williams related that Murray made an inquiry about the boat in response to an Internet ad, and, over a period of months, efforts were made to kindle his interest through emails, texting and phone calls, until he was offered the boat for $12,500 in a phone call and said, "Great, I'm in for it," and the caller responded, "We've got a deal."
At one point, Williams held up a large number of papers which he said reflected the numerousness of communications directed to Murray.
Rhetorical Question
Arguing for the defendant, Katherine Malone asked, rhetorically:
"Can an isolated transaction for a one-off sale initiated by a California resident force ab Alaska company to litigate in California simply because the would-be purchaser happened to reside here?"
The answer, she said, is "no."
She said a "handful of emails" and "a few phone calls" are not enough to confer jurisdiction in this state. Malone went on to comment:
"The focus on the number of emails and calls is a red herring."
Arguing before the panel in San Francisco, Malone noted that the vessel is in the State of Washington said that if a contract had been formed—which she denied—it "would have envisioned performance 800 miles away from here."
She continued:
"So, the contract wouldn't have been formed in California, it wouldn't have been performed here, and there were no negotiations that took place in California."
In rebuttal, Williams said:
"We're not focusing on the number of emails for jurisdiction. We're focusing on the quality and the direction of the emails for jurisdiction."
He asserted:
"There are emails that are directed from the seller into California. That, right there, is probably enough to give jurisdiction."
Williams did not repeat an argument made to the district court that it is "noteworthy" that "the vessel in question was originally built in California, operated in California, and was purchased with the intent to return it for use" in California. Tigar found those factors irrelevant to the analysis.
The "Queen of Seattle" was built in 1984 and was used for short pleasure cruises.
Argument was held before Senior Circuit Judge Mary M. Schroeder, Circuit Judge Alex Kozinski, and District Judge Sara Lee Ellis of the a District Court for the Northern District of Illinois, sitting by designation.
Kozinski, whose questioning is often spirited, during much of the argument kept his head propped up by his hands and what few words he offered were spoken in a laggardly manner.
Copyright 2017, Metropolitan News Company