Thursday, August 24, 2017
Page 3
Ninth Circuit Affirms $250 Sanction for Bad-Faith Tactic
Panel Sees No 'Clear Error' in Judge's Finding that Lawyer Attempted to 'Sneak in' Testimony by Expert; Does Not Address Arguments Raised in Appellant's Brief
By a MetNews Staff Writer
The Ninth U.S. Circuit Court of Appeals has affirmed a $250 sanction imposed on an attorney for saying he was not going to call a particular expert witness to testify on a specific matter and, according to the district court judge, called the witness the following day and did ask about the matter.
The lawyer, Gilbert Purcell of the Novato law firm of Brayton Purcell LLP, tells a different version—one which the Ninth Circuit, in a brief memorandum opinion, filed Monday, does not consider.
In a 201-word discussion, the appeals court said it found no fault with the May 26, 2015 action of District Court Judge Vince Chhabria of the Northern District of California in penalizing Purcell for what the judge declared to be bad-faith trial conduct.
Purcell, was acting as an attorney for plaintiffs Barry Kelly and his wife Molly Kelly in an asbestos-exposure case. The lawyer is a specialist in that area of practice.
An issue—which Chhabria said in his sanction order was "hotly contested"—was whether chemotherapy, which was necessary to treat the mesothelioma that allegedly resulted from the exposure to asbestos, exacerbated Kelly's preexisting kidney condition.
Two of the expert witnesses for the plaintiff were a Dr. Barry Horn and a Dr. Frank Ganzhorn.
On May 14, 2015, Chhabria asked Purcell: "Is Horn going to testify that the kidney problems were caused or exacerbated by the chemo?"
The lawyer responded: "No, that's Ganzhorn."
As Chhabria recounted it, the next day, Purcell called Horn to the stand and asked him about a link between the chemotherapy and a worsening of the kidney condition; when the defendant's counsel objected, Purcell "reacted rather indignantly to the suggestion that this was not a proper line of questioning"; Horn, in fact, only made passing references to the kidney condition in his reports and there was no indication by him that he would testify on the matter.
Chhabria's Order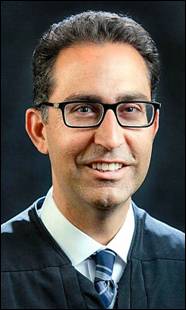 VINCE CHHABRIA
U.S. District Court Judge
He wrote:
"There are two possible explanations for Mr. Purcell's conduct. The first is incompetence. The second is that Mr. Purcell was attempting to sneak this testimony from Dr. Horn into the trial, notwithstanding Mr. Purcell's prior statements, made in open court, unequivocally denying that Dr. Horn would testify on this topic and conceding that Dr. Horn did not disclose an opinion on this matter in his report. In his response to the Court's order requiring him to explain his conduct, Mr. Purcell has disclaimed the former explanation. Accordingly, the Court finds that Mr. Purcell acted in bad faith, and he is sanctioned $250 for this misconduct."
The Ninth Circuit denied oral argument in the case. It affirmed in a brief memorandum, signed by Ninth Circuit Judges Diarmuid O'Scannlain and Johnnie B. Rawlinson, along with District Judge Susan P. Watters of the District of Montana, sitting by designation.
The memorandum says that in such cases, the factual findings are "reviewed for clear error" and declares:
"The district court did not clearly err in determining that such conduct demonstrated that Purcell acted in bad faith by attempting to 'sneak' in Dr. Horn's testimony."
Purcell's Lawyer 'Disappointed'
Richard M. Grant, an attorney in Purcell's firm who wrote the brief filed in the Ninth Circuit, commented yesterday:
"To say I am disappointed with the perfunctory opinion of this panel is an understatement. It appears our brief was never considered and oral argument was taken off calendar by the Court so we could not address the Court in person. There was no opposition filed in response to our brief and no hearing. Yet the Court basically just reiterated the incorrect facts set forth in the District court's order—'facts' that are shown to be incorrect in our brief. The predicates for the lower court's ruling are simply not supported by the record."
The attorney related:
"We will be filing a petition for rehearing (although actually we were never accorded a hearing in the first place) on the specifically permissible grounds that "material points of law and fact were overlooked by the Court."
Argument in Brief
Grant's brief says:
"The trial court exceeded and abused its discretion in sanctioning appellant, Gilbert Purcell. Its conclusory finding of bad faith, an absolute requirement for sanctions under a court's inherent powers, was based upon false predicates: 1. That there was a 'hotly contested issue' of whether Mr. Kelly's chronic kidney condition was exacerbated by chemotherapy. This was never the issue. No one disagreed that the chemotherapy could exacerbate a preexisting kidney condition, and no one contends that Barry Kelly did not have a kidney condition that preexisted. 2. That Mr. Purccll specifically asked expert Dr. Barry Horn 'whether the chemotherapy caused Mr. Kelly's kidney condition.' This simply never occurred. 3. That Mr. Purcell was attempting to 'sneak' into evidence from Dr. Horn's testimony that Mr. Kelly's acute renal failure was a result of his chemotherapy. However, this was already in evidence, having been testified to by Barry Kelly and Molly Kelly, without objection."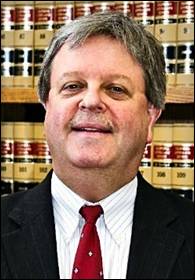 GILBERT PURCELL
Asbestos-Exposure Attorney
The brief continues:
"This appeal is obviously not about the nominal sanction amount of $250. It is about the integrity and reputation of an esteemed Officer of the Court, an advocate for justice."
Grant asserted:
"There was no bad faith on the part of Mr. Purccll. The Court did not exercise restraint in exercising its inherent powers. There was an abuse of discretion by the Court."
Another Sanction Order
On the same day Chhabria imposed a sanction on Purcell for bad-faith conduct, he also imposed a $250 sanction on him and on co-counsel Kimberly Chu, as well as a sanction in the same amount on defense lawyers Michele Barnes and Geoffrey Davis, for showing "a lack of respect for the jury."
The case had originally been brought against several entities including CBS and General Electric, but at the end, two remained; one of them, Todd Shipyards, agreed to settle on Friday, May 15, 2015 (the dayy Horn testified).
Drawing the judge's ire was the delay, by one day, in announcing the Saturday settlement with Crane Company.
Chhabria recited in his sanction order that the parties did not provide information as to the settlements until 3:45 p.m. on Sunday, "by way of email to Knsten Melen, the Courtroom Deputy." He complained:
"This email did not come to Ms. Melen's attention until roughly 8:00 p.m. Ms. Melen was unable to reach the undersigned judge until after 9:00 p.m. At that point the undersigned judge gave Ms. Melen the go-ahead to call the jurors and tell them not to come to the courthouse the next day. One of the jurors was awakened by the phone call. Another juror did not get the message on time, and therefore made an unnecessary trip to the courthouse early Monday morning."
The judge declared:
"Counsel should have informed the Court immediately upon reaching settlement agreements that had been approved by their clients. And they should have done so not only by emailing the Courtroom Deputy, but by filing a formal notice. This would have allowed the Court to inform the jurors in enough time to prevent one of them from making an unnecessary trip to the courthouse (and to prevent another of them from being woken up)."
Confirmed 58-41
Chhabria was nominated for his post by President Barack Obama on July 25, 2013, without action being taken that year on the nomination. He was renominated by Obama on Jan. 7, 2014, and was confirmed by the Senate on March 5, 2014 by a vote of 58-41.
At the time, Chhabria was a deputy in the San Francisco City Attorney's Office.
From 2001-02, he clerked for U.S. Supreme Court Justice Stephen G. Breyer. He earlier clerked for the high court justice's brother, District Court Judge (now Senior Judge) Charles Breyer of the Northern District of California, from 1998-99, and for Ninth Circuit Court of Appeals Judge James R. Browning (since deceased) from 1999-2000.
His parents hailed from India, and he became the first Indian-American federal judge in California.
Purcell, in 2011, was named by the by the San Francisco Recorder as "Attorney of the Year." He received the Pepperdine University School of Law Distinguished Alumni Award in 2013; the following year, he was designated by the Marin County Trial Lawyers Association as "Trial Lawyer of the Year Award"; and the year after that was designated by the San Francisco Trial Lawyers Association as "Trial Lawyer of the Year Award."
Copyright 2017, Metropolitan News Company