Monday, July 31, 2017
Page 3
State Bar Court Puts Former Contra Costa DA on Interim Suspension
By a MetNews Staff Writer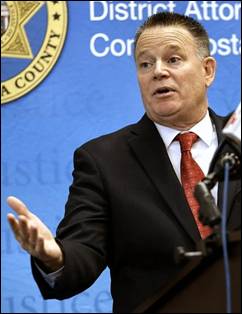 —AP
Then-Contra Costa District Attorney Mark Peterson gestures while speaking at a news  conference Nov. 4, 2016, in Martinez, Calif. He has since resigned, following his no-contest plea to perjury.
The State Bar Court announced Friday that it has put former Contra Costa County District Attorney Mark Peterson on interim suspension following his conviction for perjury.
The order declares:
"Since respondent Mark A. Peterson, State Bar Number 111961, has been convicted of violating Penal Code section 118 (perjury), a felony involving moral turpitude, it is ordered pursuant to Business and Professions Code section 6102 that respondent be suspended from the practice of law effective August 21,2017, pending final disposition of this proceeding…."
Peterson pled no contest on June 14. He was placed on probation and agreed to resign from elected office.
On Dec. 5, 2016, the California Fair Political Practices Commission fined him $45,000 for using $66,372.03 in campaign funds for personal expenses, over a five-year period. Last February, the Office of Attorney General opened its probe into Peterson's conduct.
While proclaiming publicly that the moneys he used for such items as clothes and movie tickets were merely loans to him, he signed campaign financial disclosure forms under penalty of perjury saying he had received "$0" in loans.
In the State Bar proceedings, Chief Trial Counsel Steven Moawad, a former Contra Costa senior deputy district attorney, is recused from the case, and a special deputy trial counsel, Edward John McIntyre of San Diego, is handling the prosecution.
Peterson is represented by San Francisco criminal attorney Doron Weinberg.
Peterson, whose law degree is from the University of Colorado, was admitted to practice in 1983. He was elected district attorney in 2010, and ran unopposed in 2014.
Copyright 2017, Metropolitan News Company