Wednesday, September 13, 2017
Page 1
C.A. Reinstates Suit Seeking to Establish Rock Hudson As Father
Flier Says It Doesn't Matter That Putative Father Is Dead and Assets Have Been Distributed
By a MetNews Staff Writer
The Court of Appeal for this district held yesterday that a 69-year-old woman may maintain an action to establish that Rock Hudson was her father, although the actor died in 1985 and the assets of his estate have been distributed.
Justice Madeleine Flier of Div. Eight wrote the opinion. It reverses Los Angeles Superior Court Judge Shelley Kaufman's dismissal of the paternity action brought by Susan Dent.
Kaufman—finding a lack of a standing based on the absence of a justiciable controversy—said:
"Here, Petitioner is not a young child whose social and emotional strength and stability are at issue. The probate estate is closed precluding any financial interest in the deceased's estate. Petitioner does not have a social relationship to maintain or create. The object of the paternity laws to protect a child's well-being is not achieved by this suit. As her stated father has long since died, he cannot accept or contest the claim of paternity."
Code Section Cited
Disagreeing, Flier pointed out that Family Code §7630(c) declares that "an action to determine the existence of the parent and child relationship may be brought by the child."
She reasoned:
"Thus, California law expressly affords Dent—as a child—standing to bring a paternity suit. Section 7630 contains no conditional requirement that the child express a pecuniary interest as a condition of the paternity suit. Nor does it contain an age limitation."
Flier said the special administrator of the estate, attorney Kenneth S. Wolf, "ignores the express permission in section 7630 for a child to pursue a paternity petition." His argument that Dent's action involves no actual controversy "lacks merit," she insisted, declaring:
"Dent's lawsuit presented an actual controversy—i.e. whether a parent-child relationship existed."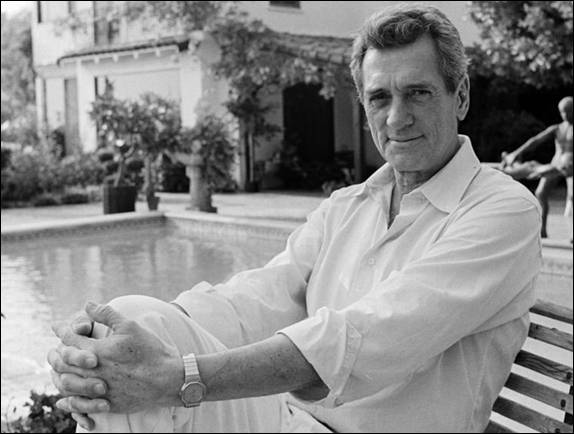 Actor Rock Hudson is seen in the backyard of his home on Nov. 8, 1984, a year before his death. The Court of Appeal yesterday held that a 69-year-old woman may pursue an action to establish that Hudson was her father.
Stake in Outcome
She went on to say:
"The purpose of a paternity suit—to determine the relationship between a parent and child—is achieved by Dent's lawsuit….Dent has a personal stake in the outcome of the paternity action, i.e. the accurate identification of her father and other collateral benefits such as the ability to amend her birth certificate and to develop a relationship with family members….The interest in identifying her father is independent of a claim for financial remuneration, affords her standing, and demonstrates a justiciable controversy."
The case is Dent v. Wolf, B278951.
Mark A. Samuels and Bradley N. Garcia of O'Melveny & Myers represented Dent. Kenneth S. Wolf, as special administrator, was self-represented.
Hudson Not Mentioned
Flier's opinion does not mention the identity of the putative father—and the case was initially captioned in the Court of Appeal "S.D. v. K.W." However, Dent's opening brief declares:
"Petitioner has sought to identify her biological father for her entire life. In 2011, she finally learned that her father may have been Roy H. Fitzgerald, better known as Rock Hudson. Petitioner then proceeded to develop, through great effort and expense, DNA evidence demonstrating her biological connection to Fitzgerald. Because she hopes, among other things, to finally put to rest any doubts about her heritage, and to take steps to honor Fitzgerald's memory without fear of reproach or harm to her reputation. Petitioner sought to secure legal recognition of her familial relationship with Fitzgerald. Under California law. the only way for Petitioner to do so, and to secure all of the benefits and rights that would flow from such recognition, was to file a paternity suit in Superior Court. Petitioner therefore filed this paternity suit in 2014, and she stood ready to prove at trial her biological connection to Fitzgerald."
The brief notes that Dent was adopted at an early age. It argues:
"Even if the emotional and reputational benefits of accurately identifying and securing legal recognition of who one's parents are could generally be regarded as more important to a young child, that does not mean that they are not also important to individuals of any age. Indeed. Petitioner has been seeking for years to identify her true biological parents to secure precisely those benefits. There is absolutely no basis to believe that the legislature would have intended to prevent Petitioner from securing a parentage declaration simply because it took her too long to identify her biological father."
Wolfe Comments
Wolfe—who said he drafted Hudson's estate plan about 40 years ago—said he was "surprised" by the outcome. He termed the opinion "unique."
The decision, he remarked "could open the door to so much litigation, particularly in the celebrity field."
He said a litigant, by plunking down $435—the Superior Court filing fee—can now get a determination as to ancestry.
The lawyer related that Dent obtained her DNA analysis by gather samples from Hudson's distant cousins and having a Canadian laboratory compare them to her own.
Wolfe said he does not know what will happen next because "the estate has no funds." He explained that all of the beneficiaries of Hudson's trust have died and, except for a small portion reserved for the appeal, the remainder was given to the Motion Picture and Television Fund.
His brief notes that the fund has no interest in involving itself in Dent's case. The brief comments:
"Without liability or financial exposure, Respondent has no reason to further participate in these proceedings should this Court reverse the dismissal. In effect, there will be no 'controversy' and without controversy the matter is not justiciable."
It adds that there is no provision in the Family Code "that require, or even permit, a personal representative to be named as 'respondent' in lieu of a deceased father."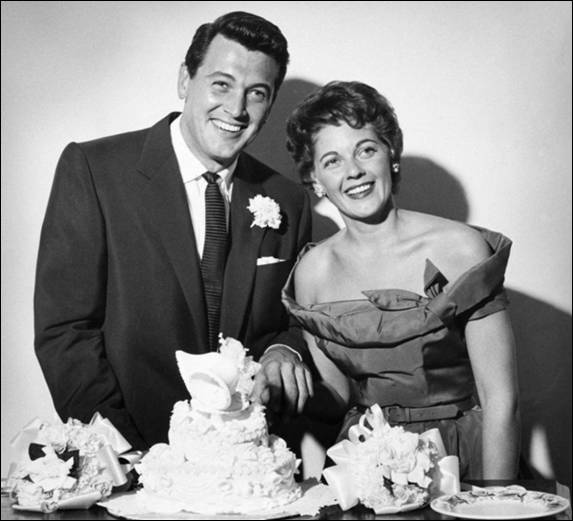 Hudson is seen with bride, Phyllis Gates, on Nov. 9, 1955. Their marriage lasted three years.
Hudson's Marriage
Hudson, who died Oct. 2, 1985, of AIDS, was wed to secretary Phyllis Gates from 1955–58.
Gates, now deceased, said in a 1987 book that Hudson was bisexual and that their marriage included sexual relations.
The actor was born Nov. 17, 1925, as Roy Harold Scherer Jr. His mother remarried and he took on the surname of his stepfather, Wallace Fitzgerald.
He assumed the stage name of Rock Hudson in 1947—around the time he would have had the sexual encounter with Dent's mother if, in fact, it occurred.
Following Hudson's death, Marc Christian, who lived with the actor at his Beverly Hills mansion, sued the estate, alleging that Hudson continued to have sex with him for eight months after learning he had AIDS and not revealing it. A jury awarded Christian $21.75 million; the case was eventually settled for $5.5 million.
Copyright 2017, Metropolitan News Company