Thursday, October 12, 2017
Page 1
George Nicholson to Retire From Third District Court of Appeal
Was Principal Author of Crime Victims' Bill of Rights; Over His Nearly 50 Years In the Legal Profession, He Has Drawn Considerable Controversy
By a MetNews Staff Writer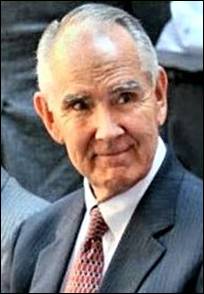 GEORGE NICHOLSON
Court of Appeal Justice
George Nicholson—who was an outspoken critic of then-Chief Justice Rose Bird while executive director of the California District Attorneys Association from 1976-79 and was the Republican Party's unsuccessful candidate for attorney general in 1982—yesterday announced his retirement as a justice of the Third District Court of Appeal, effective Jan. 2.
He has held his present post since 1990.
Nicholson joined the Attorney General's Office in 1979 while George Deumejian was governor, and was principal architect of the "Victims' Bill of Rights," enacted by voters on June 8, 1982, as Proposition 8.
In 1983, after being elected governor, Deumejian wanted to appoint Nicholson to the Sacramento Municipal Court, but refrained from doing so when the lawyer drew a "not qualified" rating from the State Bar Commission on Judicial Nominees Evaluation.
Sues Over Disclosures
Nicholson in 1984 sued the State Bar, the McClatchy Newspapers, the Daily Journal Company, and two reporters over publication of reports on the confidential rating, claiming a conspiracy, invasion of privacy, and intentional infliction of emotional distress. Demurrers by the media defendants were sustained without leave to amend; Nicholson appealed; the Third District Court of Appeal affirmed in 1986, saying:
"[T]he First Amendment protects the ordinary news gathering techniques of reporters and those techniques cannot be stripped of their constitutional shield by calling them tortious."
It added that "the conclusory allegation of a conspiracy cannot serve to transform privileged behavior of the media defendants into tortious misbehavior."
Obtains 'Qualified' Rating
Nicholson obtained a "qualified" rating from the commission in 1987 and Deukmejian placed him on the Municipal Court, elevating him two years later to the Sacramento Superior Court, and the following year to the Court of Appeal.
When Nicholson came before the three-member Commission on Judicial Nominees for confirmation of his 1990 appointment to the appeals court, John Van de Kamp (since deceased) was a member of the panel, as attorney general (having defeated Nicholson in the 1982 election and having been reelected in 1986). Based on a voluminous file with comments pro and con on Nicholson, many highly derisive, Van de Kamp declared:
"I cannot in good conscience say that I am convinced he possesses the judgment and the stability and the experience necessary for this appointment. Accordingly, I am casting a no vote."
Then-Chief Justice Malcolm Lucas and then-Third District Court of Appeal Presiding Justice Robert Puglia (both now deceased) voted in favor, and Nicholson took office.
Chief Justice Comments
Commenting on Nicholson's pending retirement, Chief Justice Tani G. Cantil-Sakauye said:
"I was fortunate to work alongside Justice Nicholson when I served on the Third Appellate District. His warmth, his commitment to justice, and his erudition benefitted all who served with him."
The district's administrative presiding justice, Vance Raye, remarked:
"George Nicholson is an extraordinary individual whose retirement will leave a huge void on our court. He has been a wonderful colleague whose opinions and incisive questions at argument have done much to shape the rules of law articulated by our court over the nearly 30 years that he has been a member. His influence has not been limited to his appellate opinions but extends to his involvement in a multitude of public and private initiatives to improve the legal system and to improve the lives of people generally.
"He has been a mentor to many, and an inspiration to all who have been fortunate enough to benefit from his amazing network of influential friends and his reservoir of creative ideas. He has committed to remain involved with the court's outreach activities, including the Third Appellate District Historical Society, and will remain a fixture in the many civic projects he helped to form or vitalize, including the Unity Bar Association, the Court-Clergy Conference, and many youth programs related to his passion: baseball."
Nicholson received his law degree from Hastings College of Law in 1967. He was a deputy district attorney from 1968-74 and senior trial deputy district attorney from 1974-76 in Alameda County.
He and his wife, Brenda Nicholson, have been married for 58 years.
Copyright 2017, Metropolitan News Company