Thursday, September 21, 2017
Page 1
Showing Jurors Photos of Charles Manson Wasn't Misconduct—Court of Appeal
Prosecutor's Use of Notorious Killer's Likeness Was to Assist in Making a Point And Was Not Calculated to Inflame, Opinion Says
By a MetNews Staff Writer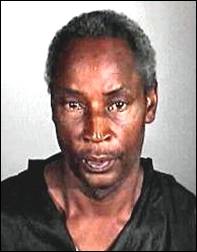 —Long Beach Police Department
STEVEN DWAYNE BROWN
Convicted Murderer
A Los Angeles deputy district attorney committed no misconduct in displaying, in closing argument to a jury, photographs of slayer Charles Manson, the Court of Appeal for this district has held in the case of man found guilty of the first degree murder of his girlfriend's mother, who was also grandmother of his children.
Acting Justice Kim Dunning, an Orange Superior Court judge sitting on assignment, wrote the opinion for Div. Five. It was filed Tuesday and not certified for publication.
The opinion rejected each of several arguments put forth by Steven Dwayne Brown who, on Oct. 11, 2013, fatally stabbed elementary school teacher Kellye Taylor, in a park, in front of her pupils.
He was reportedly upset that the Juvenile Court had given Taylor custody of the four children of whom he was the father and the victim's daughter was the mother. (According to news reports, he was the father of three of five children in her care.)
The alleged prosecutorial misconduct occurred when Deputy District Attorney Diana Martinez showed jurors two photographs of Manson, a cult leader whose followers committed nine murders in 1969, including that of actress Sharon Tate.
Mental Illness Defense
Martinez displayed the photographs in commenting on Brown's defense of mental illness, She told jurors:
"Based on the defense theory, [defendant] will never be held accountable for his actions, because after all, he will always be mentally ill based on his 17-year-old report.
"So he can get up and lie and say whatever he wants to say and you should absolve him. Does that make sense? No, because that's not what the law is.
"I'm going to show you someone. See if you know who that is."
Martinez displayed the photographs, and the defense lawyer objected. At a sidebar, he insisted the photographs were inflammatory, but Los Angeles Superior Court Judge Laura L. Laesecke said:
"If you said Charles Manson, everybody is aware of who Charles Manson is, and I don't think the picture changes that."
Manson's 'Crazy Eyes'
Martinez then argued to the jury:
"Everybody knows who that is? Charles Manson, right? You have seen him. Everybody recognizes those eyes? What they refer to as mad eyes, crazy eyes. They automatically look at him and say, 'Oh, my gosh, he's crazy,' right?
"And then you see this picture of him in a more current state. Again, everybody looks at him and thinks crazy. But where is he? He's sitting behind bars.
"Just because you're crazy, just because people think what you do is crazy, doesn't mean you're not able to form the specific intent to kill...."
'No Misconduct'
Dunning wrote:
"There was no misconduct."
She explained that non-evidentiary matter may be used for illustrative purposes, and said:
"Although a prosecutor should not compare a defendant to a historical or fictional villain, a prosecutor may use such figures to illustrate a broader point about a defense argument."
The jurist said that Martinez "did not compare defendant to Manson or suggest the offense charged against defendant was so heinous as those Manson committed," but rather "used the photographs to illustrate the broader concept that a defendant's apparent mental illness may not prevent him from forming the requisite intent to commit murder."
The case is People v. Brown, B270677.
Copyright 2017, Metropolitan News Company