Monday, February 13, 2017
Page 1
Elwood Lui in Line for Appointment as Div. Two's Presiding Justice
By a MetNews Staff Writer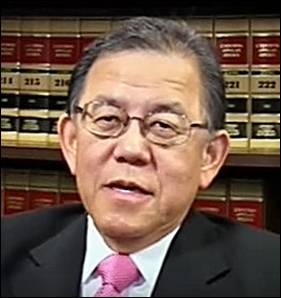 ELWOOD LUI
Court of Appeal Justice
Court of Appeal Justice Elwood Lui of this district's Div. One is in contention for elevation to the post of presiding justice of Div. Two, the MetNews has learned.
He would replace Roger Boren, who retired without public announcement, on Jan. 31.
If appointed by Gov. Jerry Brown, and confirmed by the Commission on Judicial appointments, it would be the third appellate court post for Lui, 76. He served as a member of Div. Three from 1981-87, when re resigned to join the law firm of Jones Day.
It was Brown who appointed Lui to the Los Angeles Municipal Court in 1975 (when Lui was 34), the Los Angeles Superior Court in 1980, and the appeals court in 1981, and again to appeals court in 2015.
When Brown named him to the Court of Appeal in 1981, then-Attorney General (late Gov.) George Deukmejian, one of three members of the Commission on Judicial Appointments, voted against confirmation.
Lui was president of the California Judges Association in 1986-87, and was president of the California Asian Judges Association in 1980, and president of the UCLA School of Law Alumni Association in 1984-85.
At the time of his appointment to his present post, Lui was serving, on a volunteer basis, as "prison compliance officer," appointed by a three federal judges to determine when penal facilities reach their capacity, and as a member of the California Medical Board.
In 1990, the Los Angeles County Board of Supervisors appointed him interim director of the Department of Children's Service.
Lui has served as a member of the Los Angeles City Harbor Commission, a special master for the State Bar disciplinary system, and a member of the Judicial Council.
He was admitted to the State Bar in 1970 and became a deputy attorney general, turning to private practice in 1971. Lui has held a license as a certified public accountant since 1966.
Both of his sons are attorneys. Christopher Lui is a member of the Los Angeles Superior Court and Bradley Lui is managing partner of the District of Columbia Office of Morrison and Foerster.
Copyright 2017, Metropolitan News Company