Friday, October 20, 2017
Page 1
Court of Appeal:
Suit Over Use of 'Voice Double' Properly Dismissed
Epstein Says Claims Founded on Hiring of Another Actress for Voice-Overs Gave Rise to Anti-SLAPP Motion, Action for Injuries on the Set Were Barred by Workers' Compensation Act's Exclusive Remedy Provision
By a MetNews Staff Writer
The Court of Appeal for this district has affirmed the dismissal of a $55 million action brought by actress Paz de la Huerta against Lion Gate, maker of "Nurse 3D," a 2013 film in which she starred, holding that an anti-SLAPP motion was appropriately granted as to her various causes of action over use of recordings by another actress of voiceover lines which were seemingly spoken by her.
Also affirmed was a judgment of dismissal as to her action for personal injuries, following a sustaining of demurrers without leave to amend. There was a prior recovery of workers' compensation benefits for her on-set injuries and, the appeals court held, de la Huerta showed no basis for an independent action at law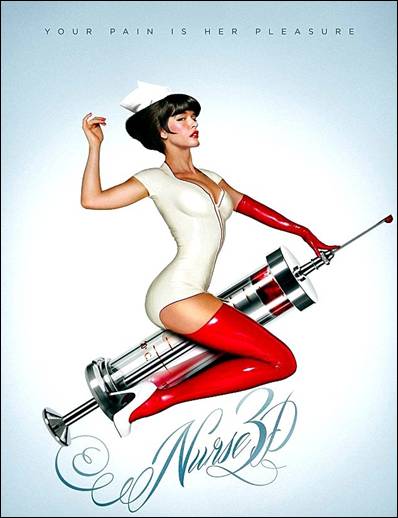 Actress Paz de la Huerta is pictured above in an ad for "Nurse 3D," an erotic horror movie in which she starred. The Court of Appeal on Wednesday affirmed the dismissal of her action against the maker of the film, Lions Gate Entertainment Corporation, and others. It held that an anti-SLAPP motion was properly granted as to her causes of action based on her voiceovers being replaced with readings of lines by a "voice double," and that her causes of action based on on-set injuries were barred by her failure to establish an exception to the exclusive remedies provision of the Workers' Compensation Act.
Presiding Justice Norman Epstein of Div. Four wrote the opinion, filed Wednesday, affirming actions by Los Angeles Superior Court Judge Gerald Rosenberg. It was not certified for publication.
Protected Activity
With respect to the anti-SLAPP motion, Epstein found the first prong—protected activity—was met. He wrote:
"Here, appellant's claims arise from the decision to use a voice double to rerecord lines originally read by a well-known lead actress in a widely reviewed film. That is a creative decision implicating a matter of public interest and hence within the scope of the anti-SLAPP statute….Whether or not appellant's consent to the voice dubbing was necessary and whether she suffered any damages go to the merits of her claims, not to the protected nature of the decision."
Epstein also said Rosenberg was correct in finding that de la Huerta had failed to show a probability of prevailing—the second prong—explaining:
"Appellant has not shown that she has suffered ascertainable breach of contract damages, and she does not argue that she is entitled to nominal damages. Rather, on appeal, she claims to have suffered damages because of 'trademark confusion' that caused her 'severe emotional distress' because viewers mistook the voice double's 'incompetence' as her own. We find these claims unsupported by admissible evidence, and deficient as a matter of law. We also find unconvincing appellant's claims that her employment contract gave her control over the redubbing, and that respondents breached that contract in dubbing over her voice."
Contractual Right
In support of her contention that the studio was contractually barred from using recordings of another actress for voiceovers, de la Huerta pointed out that the contract was subject to an agreement with the Screen Actors Guild. That agreement authorizes use of talents of another artist where the performer whose own services are not utilized "fails or is unable to meet certain requirements of the role, such as singing or the rendition of instrumental music or other similar services requiring special talent or ability other than that possessed by the performer."
Epstein said the examples given are illustrative and do not limit a director's discretion. He noted that respondent Production Executive Michael Paseornek (one of the defendants) "has declared that appellant's reading of the off-screen voiceover narration parts during post-production was considered unsatisfactory" and that de la Huerta "has offered no evidence to the contrary," finding:
"The undisputed evidence, therefore, shows that appellant failed to meet certain requirements of the role."
He continued:
"Appellant also relies on the provision in the performer's contract requiring that the actor be given first opportunity to dub in English. It is undisputed that appellant was given such an opportunity when she was allowed to record the voiceover parts that were added during post-production. Nothing in the language of the agreements on which appellant relies requires that she be given repeat opportunities to improve on her performance."
Right to Publicity
Epstein wrote that the cause of action for infringement of right to publicity and trademark dilution "fails to persuade" because "such claims, if cognizable at all in appellant's case, are either preempted by federal copyright law or subject to the defense of consent."
The presiding justice elaborated:
"She variously claims that respondents misappropriated her name or voice, or misused her persona, when they distributed the film after using a voice double….However, respondents did not use appellant's name or voice independently of her own performance in the film, and it is undisputed that appellant agreed her performance was 'work made for hire' under the 1976 Copyright Act…She also expressly consented to the use of her name, voice, and likeness in relation to the film.
"The partial dubbing over of appellant's voice does not vitiate her consent to the use of her name and voice in relation to the film as a whole since all agreements on which she relies allow the use of a voice double. In light of her consent and actual performance in the film, appellant may not rely on principles relevant to the unauthorized use of celebrity marks to falsely endorse products, or on principles generally relevant to trademark law."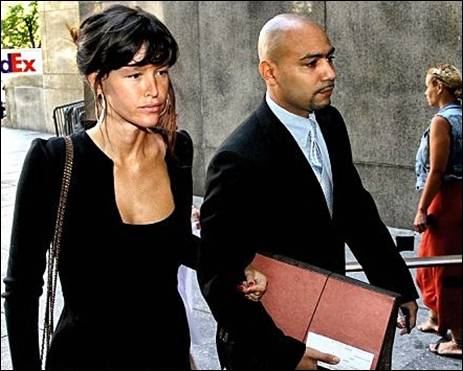 —AP
n this 2012 file photo, Paz de la Huerta is seen with her attorney outside a New York courthouse. She was sentenced to a day of community service and 12 weeks of alcohol counselling after an altercation with a reality television personality, Samantha Swetra.
Addressing additional contentions relating to the dubbing, Epstein said that de la Huerta's cause of action for breach of the implied covenant of good faith and fair dealing "is duplicative" of the contract cause of action "and fails for the same reason"; her cause of action for "viewer confusion" based on her being attributed with incompetent readings by the double withers because "[t]he evidence does not indicate that viewers noticed any difference in quality between lines spoken by appellant and those spoken by the voice double; the claim of emotion distress collapses because de la Huerta "does not cite to an affidavit stating that she watched the finished film and suffered severe emotional distress from the actual dubbing over her voice."
Personal Injuries
In the course of the filming of "Nurse 3D" in October 2011 in Toronto, de la Huerta performed a stunt in which she was to be depicted as being hit by an ambulance. It was intended that the ambulance pass close by her, but it did actually make impact, with the actress incurring a spinal injury.
In 2014, she was awarded more than $70,000 in workers' compensation benefits in New York.
In her Los Angeles lawsuit, De la Huerta sought to escape the exclusive remedy provisions of the Workers' Compensation Act by alleging intentional torts, asserting that that the director fraudulently obtained her consent to being subjected to a danger by knowingly minimizing it. Epstein responded:
"While the allegations in the operative complaint run the gamut from negligence to intent to injure, the latter allegations are inconsistent with those in the complaint appellant filed in the earlier New York case. That case was based on the same stunt-related injury; yet, appellant alleged only negligence claims, even though New York, like California, recognizes an exception for intentional torts directed at causing harm to the employee….Appellant's belated attempt to plead an intentional tort is barred by res judicata."
Assault and Battery
The complaint alleges that the studio actually intended that she be hit by the ambulance. Rosenberg found that under Code of Civil Procedure §335.1, an action for assault and battery is barred the two-year statute of limitations.
"In reply," Epstein recited, "appellant attempts to avoid this statutory bar by recharacterizing her claim as one of attempted homicide in order to take advantage of the longer statute of limitation in Penal Code section 800."
He remarked:
"That attempt is unavailing. Although intentional torts that also constitute crimes against the person under the Penal Code are not subject to the exclusive remedy provisions of the workers' compensation law, that does not mean criminal law statutes may be imported wholesale into workers' compensation law and enforced in a private civil action."
Also rejected was the contention that the actress has a cause of action for breach of contract based on the failure to observe required safety procedures.
The case is de la Huerta v. Lions Gate Entertainment Corporation, B271844.
The attorneys on appeal were Aaron G. Filler of Tensor Law for de la Huerta and David Aronoff and Rom Bar-Nissim of Fox Rothschild for Lion Gate and other defendants.
De la Huerta, a former leading player on HBO's "Boardwalk Empire," is known for her unbridled behavior in public, frequently marked by intoxication.
Copyright 2017, Metropolitan News Company