Thursday, June 22, 2017
Page 1
Court of Appeal Says:
Terrence Howard Must Adhere To Settlement Agreement
Panel Finds Insufficient Evidentiary Support for Finding That He Signed Under Duress
By a MetNews Staff Writer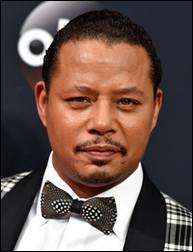 —AP Photo
In this file photo, Terrence Howard arrives at the 68th Primetime Emmy Awards in Los Angeles.
The Court of Appeal for this district has reversed an order relieving actor/singer Terrence Howard from support provisions of the judgment dissolving his marriage to his second wife, Michelle Ghent, finding the record insufficient to show he signed a marital settlement agreement under duress.
Howard, who stars in the Fox television series "Empire," contended that Ghent blackmailed him, threatening to release audio and video tapes of him of a sexual nature. Her threats were made in a telephone call he recorded on Sept. 20, 2011.
Under the agreement he signed on Sept. 19, 2012, Howard was to pay Ghent spousal support of $5,800 per month for four and one–half years, retroactively to May 15, in addition to 21 percent of any gross earnings and residuals that exceeded $62,500 in any quarter, up to $1.05 million.
Granting his motion for relief from the settlement agreement, pursuant to Family Code §2122(c), Los Angeles Superior Court Judge Thomas Trent Lewis found that Howard was "extorted by Michelle by direct threats to sell material to the tabloid press in exchange for money or a favorable settlement." He noted that Ghent failed to explain her "actions in her threatening telephone call."
Writing for Div. Four, in reversing, Justice Thomas Wilhite said:
"We view, with appropriate deference, the trial court's finding that Terrence credibly testified that he signed the settlement agreement because he feared Michelle would disclose embarrassing information if he refused to do so. Nevertheless, on this record, we cannot conclude that Terrence made a sufficient showing that Michelle subjected him to intentional threats or pressure to the point that he was deprived of the exercise of his free will, lacked any 'reasonable alternative to succumbing' and was essentially forced to agree to pay excessive spousal support to prevent disclosure of the tapes and resulting reputational damage."
He went on to say:
"First, and importantly, Terrence failed to demonstrate that Michelle's threats and coercion utterly destroyed his free will….
"Second, Terrence and Michelle had a tumultuous relationship, which included such significant physical abuse by Terrence that Michelle had to obtain multiple protective orders. The court observed that, while Terrence was clearly 'a bully, he also could 'be bullied,' and he had 'met his match' in Michelle who was 'plenty tough' herself. Mutual bullying does not describe a relationship in which one party's will is subsumed by the other's, and does not warrant setting aside a judgment as a matter of law….
"Third, the passage of time–which provides room for thoughtful reflection and the ability to obtain sound advice–can defeat a claim of duress. Here, the threats made by Michelle during the recorded call in September 2011 were too remote to support a finding that Terrence was under duress when he executed the final settlement agreement in September 2012, an agreement virtually identical to one he had signed four months before."
The case is In re the Marriage of Howard, B268368.
Sa'id Vakili, John A. Schlaff and Robert M. Zabb of Vakili & Leus, along with Anne M. Grignon and former Court of Appeal Justice Margaret M. Grignon of the Grignon Law Firm represented Ghent and Thomas Paine Dunlap of Ekins Kalt Weintraub Reuben Gartside argued for Howard.
Copyright 2017, Metropolitan News Company