Tuesday, October 17, 2017
Page 1
Ninth Circuit Leans Toward Reinstating Swimmer's Action Over Commentary
Writer Raised Question Over Whether Katinka Hosszu Uses Performance-Enhancing Drugs;
Trott Says the Article Relied on Allegedly False Facts, Reinhardt Cites First Amendment
By a MetNews Staff Writer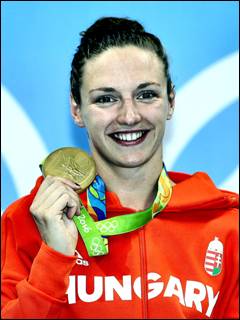 —AP
Hungary's Katinka Hosszu shows off her gold medal during the ceremony for the women's 400-meter individual medley final during the swimming competitions at the Summer Olympics on Aug. 6, 2016, in Rio de Janeiro, Brazil. She won three gold medals that year and a silver medal. Those attainments came a year after the allegedly libelous article appeared.
The Ninth U.S. Circuit Court of Appeals has before it the question of whether Olympic gold medalist Katinka Hosszu should be able to pursue her causes of action based on an article that expresses the perception that she uses performance enhancing drugs but in which the author admits he has no proof, with two members of the three-judge panel signaling at oral argument an intent to vote for reversing the dismissal.
Senior Judge Stephen S. Trott gave a clear indication Friday that he favors reinstating her action for libel, while Judge Stephen Reinhardt argued that author Casey Barrett did a public service by raising a question as to how the Hungarian athlete is able to achieve the feats she does and that no liability should attach to his efforts.
Chief Judge Sidney Thomas appeared to be doubtful that the comments were libelous, in the absence of a plainly false statement of fact, but gave indications that he views Hosszu as having validly stated a cause of action for false light. His questions reflected a view that if the defendants are entitled to prevail without trial, it should be in connection with a motion for summary judgment, rather than a motion to dismiss, on which the defendants prevailed in the district court.
Hosszu brought her action against Barrett, a former Olympic swimmer for Canada, as well as Sports Publications International, Inc., publisher of Swimming World Magazine. The article—titled "Are Katinka Hosszu's Performances Being Aided?"— appeared in the magazine's edition of May 20, 2015, as well as on its website, on which it remains posted.
Barrett's Article
It begins:
"Katinka Hosszu is the best all-around swimmer on earth right now… What everyone is talking about, but no one wants to say…
"There is no proof. There never is, not when it matters, not when it's needed most. So, this is what happens: the coaches grumble; the experts roll their eyes; the athletes offer lukewarm congrats at the end of each eye-popping race. Everyone talks, but no one speaks up. She has never failed a drug test, and without that proof positive test it's all just jealous hearsay.
"Except the chatter can often be true, and the visual evidence—on the body and the scoreboard—generally doesn't lie.
"Our latest Exhibit A: Hungary's 'Iron Lady' Katinka Hosszu."
The writer comments:
"No one competes, consistently, at a higher level than she does. Repeat—no one, ever."
He brings up the scandal over East German women in the 1976 Olympics using drugs and remarks that "[i]n retrospect, and even in the present tense, it was beyond obvious what was going on."
Barrett goes on to say that he hopes his suspicions "are wrong" but goes on to say:
"It's just that there's a distinct smokey aroma around Katinka Hosszu's performances these last two years. And where there's smoke… Hell, finish the cliché yourself. Instead, I'll share this indelicate comment made by a close friend when I first told him I was thinking of addressing this. Said he: 'Being surprised that Hosszu might be doping is like going to a strip club and being surprised that the strippers have fake tits!' "
Trott States Views
At the oral argument in San Francisco, Trott seized on the words, "Hell, finish the cliché yourself," commenting:
"So, he's planting in the reader's mind 'There's fire'—which is the implication that there's doping."
Trott uttered that observation came while Hosszu's lawyer, Todd A. Roberts of the Redwood City law firm of Ropers, Majeski, Kohn & Bentley was being questioned. He later repeated the words appearing in the article to the defendants' lawyer, Jeffrey Becker of Chicago's Swanson, Martin & Bell, LLP, and queried:
"That's forcing the reader to say, 'There's fire,' isn't it?"
Becker said Barrett was "trying to suggest that there needs to be an investigation."
Trott shot back:
"He didn't say an 'investigation.' He said there's 'fire.' "
That, the judge maintained, constituted an allegation that the swimmer used proscribed drugs.
Trott continued:
"He even destroys the only way she could possibly have of defending herself by saying these doping tests are ridiculous, only idiots fail them. He suggests, in this context that passing the doping test is evidence that she's doping."
Opinion in Milkovich
The jurist pointed to the United States Supreme Court's 1990 opinion in Milkovich v. Lorain Journal Co. There, it was held that the expression of an opinion is not protected by the First Amendment if it implies the existence of facts which don't exist.
Then-Chief Justice William Rehnquist (since deceased) wrote:
"If a speaker says, 'In my opinion John Jones is a liar,' he implies a knowledge of facts which lead to the conclusion that Jones told an untruth. Even if the speaker states the facts upon which he bases his opinion, if those facts are either incorrect or incomplete, or if his assessment of them is erroneous, the statement may still imply a false assertion of fact. Simply couching such statements in terms of opinion does not dispel these implications; and the statement, 'In my opinion Jones is a liar,' can cause as much damage to reputation as the statement, 'Jones is a liar.' "
Trott told Becker:
"After Milkovich, an opinion won't save you if it implies a false assertion of fact. The false assertion here is that she's doping."
Becker persisted that Barrett "never said" that Hosszu "cheated—he never said she took the drugs."
Reinhardt Opinion Cited
Both sides during Friday's argument cited the Ninth Circuit's 1995 opinion in Partington v. Bugliosi. When Roberts mentioned the case, Thomas prompted him to state who the author was, and the lawyer responded that it was Reinhardt.
There, a Honolulu criminal defense attorney sued Vincent Bugliosi (now deceased), chief prosecutor in the Charles Manson cases, for alleged libel/false light in a book he wrote which alluded to a matter the plaintiff had handled. Reinhardt found Milkovich inapplicable because, quoting a First U.S. Circuit Court of Appeal opinion:
"[W]hile the author's readers implicitly were invited to draw their own conclusions from the mixed information provided, the Milkovich readers implicitly were told that only one conclusion was possible."
Roberts asserted:
"Here, there's no mixed information, at all."
He took the position that Barrett pointed to the possibility that Hosszu relied upon performance enhancing drugs, then undertook to identify any possible alternative theory as how she could have made her achievements other than through use of drugs, and proceeded to refute any such possibility.
Becker cited the case, saying that "Judge Reinhardt said it best in Parkington" in pointing to dangers where "robust debate among people with different viewpoints that is a vital part of our democracy would surely be hampered."
Trott said that "of course" he agrees with that proposition, but reminded Becker that under Milkovich, if the expression of an opinion implies an assertion of fact, "it's enough to go to the jury."
Reinhardt Favors Affirmance
Reinhardt made clear that he agrees with the action of the district court. He declared:
"If you say, 'I can't prove it, but I think there are things we ought to consider,' and 'In my opinion, there are serious problems, and I can't prove it," I think that's a contribution."
When Roberts pointed to his client's "reputational interest," Reinhardt said:
"The First Amendment doesn't say that every public figure deserves dignity and respect. You can speculate as to the motive of a public figure, you can speculate as to what a public figure may be doing.
"That's how you expose wrongdoing—and if we shut off the press from doing that, if we try to yank their licenses, or we try to subject them to libel suits because they warn of the possibility of wrongdoing, that leads to a very undemocratic society."
Roberts told the judge that the "First Amendment is important," but added:
"I do not agree that you may imply a false assertion of fact, which is the standard under Milkovich."
Actual Damages
Trott asked Roberts whether his client has actually suffered damages, relating:
"I turned on the television the other day and watched her winning championships all over the place."
The lawyer said she lost a sponsorship right after the article was published and believes she lost other potential sponsorships—but noted that this was outside the record.
Thomas quipped:
"He's peaking under the curtain."
The complaint seeks general and special damages of "not less than" $5 million, plus punitive damages.
The case is Hosszu v. Barrett, 16-16571.
Copyright 2017, Metropolitan News Company