Tuesday, September 26, 2017
Page 1
Attorney Willmore F. Holbrow III Joins Buchalter in Los Angeles Office
By a MetNews Staff Writer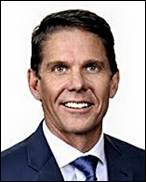 WILLMORE F. HOLBROW III
Attorney
Buchalter announced yesterday that Willmore F. Holbrow III has joined the firm as a shareholder and member of the Intellectual Property and Litigation Practice groups in Los Angeles.
He previously worked at Blakely Sokoloff Taylor & Zafman LLP.
Holbrow earned his undergraduate degree from UCLA and his law degree law from Suffolk University Law School in Boston. In addition to his membership in the State Bar of California, he is admitted to practice in Massachusetts and New York, as well as before the U.S. Patent and Trademark Office.
The lawyer remarked:
"My intellectual property practice fits perfectly within Buchalter's extremely talented intellectual property and litigation teams. Additionally, l am eager to introduce my clients to the benefits of the firm's full-service platform."
Adam Bass, president and chief executive officer of Buchalter, commented:
"Strengthening our intellectual property litigation capabilities has been a focus of ours for quite some time. I am so pleased to welcome Bill as we continue to strategically expand, and we are excited that his practice further enhances the legal services we offer our national and international business community clients."
A case Holbrow handled in 2015 drew nationwide attention. He represented comedian Jeff Dunham's current wife, Audrey Dunham, in a "cybersquatting" action against the former wife, Paige Dunham. The defendant allegedly registered AudreyDunham.com, AudreyDunham.net, AudreyDunham.us and AudreyDunham.biz on Jan. 31, 2012, after the announcement of the engagement and before the marriage.
"Defendant knew at the time she registered the Accused Domains, that Plaintiff would soon change her name to AUDREY DUNHAM," the complaint for "cyberpiracy" alleged.
The case, filed in U.S. District Court for the Central District of California, was settled and dismissed about three weeks after being filed.
Another high profile case he handled was one in which his client, which made "moviebuff" software, sought to enjoin another company's use of the domain name, "moviebuff.com." He succeeded in 1999 in gaining a reversal of the district court's denial of a preliminary injunction.
Copyright 2017, Metropolitan News Company