Friday, December 1, 2017
Page 3
Court of Appeal:
No Liability for False Story That Actor Heying Was Arrested
Plaintiff Failed to Show Constitutional Malice, Presiding Justice Bigelow Says
By a MetNews Staff Writer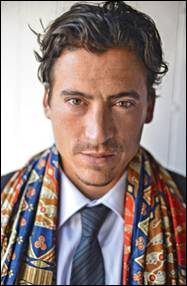 ANDREW KEEGAN HEYING
Actor
An article posted on a web proclaiming, falsely, that an actor had been arrested in connection with the illegal selling of kombucha—a fermented tea with a slight alcohol content—does not give rise to liability on the part of the website proprietors, the Court of Appeal for this district has declared.
In an unpublished decision filed Wednesday, Div. Eight, in an opinion by Presiding Justice Tricia Bigelow, affirmed Los Angeles Superior Court Judge Nancy Newman's granting of an anti-SLAPP motion filed by the defendants.
There was no dispute as to fact that actor Andrew Keegan Heying was not, in fact, arrested, and was not even present when the Full Circle Venice Church, which he co-founded, was raided during a charity fundraiser because of the sale of kombucha. However, the individual who contributed the post on the Examiner.com based it on what she inferred from a Fox News story that said Heying was "busted," which she interpreted to mean "arrested."
In fact, a citation was issued to the church.
Content of Post
The May 15, 2015 post was titled "ANDREW KEEGAN ARRESTED FOR SELLING ILLEGAL KOMBUCHA AT A NEW AGE TEMPLE." It began:
"Teenage heartthrob Andrew Keegan has been arrested for selling illegal kombucha at his New Age temple. He is best known for his time on the show 'Party of Five' and the movie '10 Things I Hate About You.' On Friday, Fox News shared about his recent arrest.
"Undercover agents from the California Department of Alcoholic Beverage Control are the ones who arrested him last Friday."
Heying suit for libel and under other theories.
Bigelow agreed with Newman that the first prong of the anti-SLAPP motion—speech on a public issue—was satisfied. She wrote:
"There was clear public interest in Heying and the activities of the church he co-founded. A government raid on the church for illegal activity, and Heying's alleged arrest as part of that raid, was an issue of public interest."
Can't Prevail
As to the second prong—whether the plaintiff showed a probability of prevailing on the merits—Bigelow said that as a public figure, he would have to show malice, knowledge of the falsity or reckless disregard of the truth, by clear and convincing evidence, and couldn't.
The poster, Mandy Robinson, had merely paraphrased the Fox story, she said, declaring:
"Even assuming Heying established the Fox News article contained defamatory falsehoods, he has not made a showing that there were obvious reasons to doubt the truth or accuracy of the Fox News article. While being 'busted' or arrested in connection with kombucha may seem implausible, that there was a kombucha raid at all was improbable, yet true. And, in light of the Fox News article in its entirety, there was no obvious reason to doubt the truth of the statement that Heying was arrested in connection with the kombucha raid."
The plaintiff argued that recklessness was established by the fact that the website proprietors do not review or revise the posts. That, standing alone, Bigelow said "does not create an inference that defendants' manner of doing business is a purposeful avoidance of truth, or a deliberate decision not to acquire facts that might confirm the probable falsity of any particular article."
CDA Not Considered
Heying complained that that Newman failed to consider the defendants' contention that they are shielded by §230 of the federal Communications Decency Act, and his arguments as to why they are not covered by that provision. Bigelow responded:
"Heying fails to articulate why the trial court was required to consider this defense argument given its ultimate resolution of the motion. Even if the trial court had considered the argument and agreed with Heying's position, that analysis would merely have eliminated one defense argument. Heying still needed to demonstrate a probability of prevailing on his claims under state law."
Given her conclusion that Heying could not show actual malice, Bigelow said, "the court had no reason to also consider the section 230 immunity defense."
Heying also alleged a misappropriation of his identity based on use of his name and likeness on the website for commercial gain. Bigelow responded that it's permissible to use a celebrity's photo even in an advertisement so long as an endorsement is not implied.
The case is Heying v. Anschutz Entertainment Group, B276375.
Anschutz was one of three named defendants. The defendants insisted that only defendant AXS Digital Medical Group, LLC operates the website.
Kyle Scudiere of Solace Law represented Heying and Steven D. Zansberg of Levine Sullivan Koch & Schulz acted for the defendants.
Copyright 2017, Metropolitan News Company