Wednesday, December 27, 2017
Page 1
Ninth Circuit:
County May Limit Concealed Weapons Permits To Those With Primary Residence There
By a MetNews Staff Writer
A man who has for seven years been attempting to secure a concealed weapons permit has incurred his latest defeat, with the Ninth U.S. Circuit Court of Appeals affirming summary judgment in favor of the Ventura County Sheriff's Department which turned him down because, despite owning a home in that county, he actually resides in Los Angeles County.
The memorandum opinion, issued Friday, does not allude to the previous attempt by Burbank contractor/real estate broker/attorney Sigitas Raulinaitis to obtain a permit here which was denied, with that denial being upheld by the U.S. District Court for the Central District of California, and affirmed by the Ninth Circuit.
Denial of a permit by the Los Angeles County Sheriff's Department was on the ground that he had not shown "good cause" for toting a concealed weapon.
The challenge for Raulinaitis was to show eligibility to bear a hidden firearm in conformity with Penal Code §26150 which provides:
"(a) When a person applies for a license to carry a pistol, revolver, or other firearm capable of being concealed upon the person, the sheriff of a county may issue a license to that person upon proof of all of the following: [¶] (1) The applicant is of good moral character. [¶] (2) Good cause exists for issuance of the license. [¶] (3) The applicant is a resident of the county or a city within the county, or the applicant's principal place of employment or business is in the county or a city within the county and the applicant spends a substantial period of time in that place of employment or business. [¶] (4) The applicant has completed a course of training as described in Section 26165."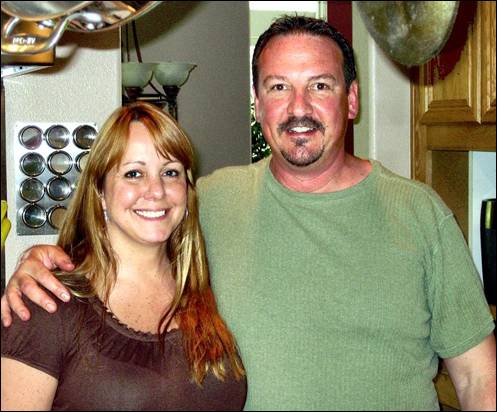 Rima Raulinaitis and husband Sigitas (or "Sig") Raulinaitis, above, both applied in Los Angeles County for concealed weapons permits and were turned down, then sued in U.S. District Court for the Central District of California; lost there; and unsuccessfully appealed last year. Sig Raulinaitis then sought a permit in Ventura County on the ground that he and his wife own a condominium there; he sued in district court when the application was rejected on the ground that the condominium is not his major residence; and he appealed summary judgment in favor of the Ventura County Sheriff's Department to the Ninth U.S. Circuit Court of Appeals. On Friday, that court affirmed.
At issue in the case decided by the Ninth Circuit on Friday was whether Raulinaitis was a "resident" of Ventura County by virtue of having a condominium there. He contended that he resides there, and here, and also in San Bernardino County where he and his wife also own an abode.
Raulinaitis admitted—but dismissed as irrelevant to his right to bear arms, under the Second Amendment to the United States Constitution—that he does not meet the Ventura County Sheriff's Department's definition of "residence" which would require spending the majority of time in that county. Surveillance by the sheriff's department buttressed the admission.
Nagle's Decision
The Ninth Circuit's brief opinion, which affirms a Sept. 30, 2014 decision by Magistrate Judge Margaret Nagle of the Central District of California, does not discuss the reasonableness of the Ventura definition of "residence." Nagle's opinion does.
It notes that Gov. Ronald Reagan on Aug. 30, 1969, signed into law Senate Bill 1272 which created the residency requirement. Reagan had before him advice from the Attorney General's Office saying:
"The purpose of this bill is to curtail the present practice of 'shopping' for concealed weapons permits throughout the state. It is now common practice for citizens to obtain these permits from law enforcement agencies in jurisdictions hundreds of miles from their residence.
"Senate Bill 1272 would require that an applicant obtain his permit from the sheriff or a chief of police within the county of his residence. It would also help to insure that permits are not granted improvidently. Law enforcement agencies near the residence of the applicant are obviously in a much better position to evaluate the background, reputation, and need for a weapon, of an applicant.
"Permits to carry concealed weapons should, of course, be restricted to those who are stable and have demonstrated a genuine need to carry a concealed weapon. This bill will help to insure that the issuance of these permits is confined to this class of persons."
Nagle noted that no case has interpreted the word "residence" in connection with §26150, which does not itself define the term. However, in reviewing the subsequent legislative history of the section, other California statutes relating to residency, and state cases, she determined that the word "resident" in the section means "domiciliary."
Reciting that a person can have only one domicile, she said Raulinaitis had not manifested an intent to change his domicile from the home in Santa Clarita, in Los Angeles County, where he and his wife primarily reside to a one bedroom condominium in Oxnard, located in Ventura County.
Oral Argument
Oral argument in the case—Raulinaitis v. Ventura County Sheriff's Department, No. 14-56615—was held in Pasadena Dec. 6. Members of the panel were Circuit Judges Kim Wardlaw and Ronald Gould (the latter teleconferencing), joined by Raner C. Collins, chief judge of the District Court for the District of Arizona, sitting by designation.
Jonathan W. Birdt, an attorney who specializes in Second Amendment cases, argued that even if residency is equated with domicile, the requirement of the Ventura sheriff (Geoff Dean)—which he paraphrased as "You have to spend the majority of your time in my county"—goes beyond what is required to establish a domicile.
He pointed out that a person would not lose a California domicile by spending the majority of time abroad.
The lawyer declared:
"The turning point was a discretionary definition by an elected sheriff that far exceeds anything under the law—or even jurisprudence as to voter registration or state registration as a resident."
Birdt noted that more than a year after Raulinaitis applied for a permit "and after two months of surveillance" by the sheriff's department, the permit was denied.
Ventura County's Lawyer
Ventura Deputy County Counsel Marina Gatti Porche argued for the sheriff's department. She questioned the legitimacy of Raulinaitis's claim that he resides in Ventura County, insisting that there was a discrepancy between an initial declaration in which he said there was no one county in which he spent the majority of his time and a second declaration in which he set forth that he intended to permanently reside in Ventura County.
Porche related that Nagle had done some investigating on her own, and uncovered information on the Internet that Raulinaitis had listed the Oxnard condominium for sale.
Wardlaw expressed dismay over such an independent probe, and advised Porche:
"I wouldn't rely on that argument too heavily."
The county lawyer was unable to respond to questions as to whether the policy of the Ventura sheriff is in accord with that of most other sheriffs in the state. In rebuttal, Birdt advised that "a majority of the sheriffs are freely issuing" permits upon request.
Ninth Circuit Opinion
The Ninth Circuit, in affirming Nagle's grant of summary judgment, found there is no triable issue of fact as to whether the sheriff's department abused its discretion. The opinion says:
"California gives sheriffs departments 'extremely broad discretion' to determine whether to issue concealed carry licenses….Here, the evidence showed that the Ventura County Sheriff's Department interpreted the residence requirement in California Penal Code section 26150(a)(3) reasonably, investigated Raulinaitis's residence thoroughly, and drew reasonable conclusions about where Raulinaitis resided. Because Raulinaitis's inconsistent declarations at summary judgment did not raise a genuine dispute of material fact about the Sheriff's Department's authority to conduct an investigation into Raulinaitis's residence or the manner in which the investigation was conducted, summary judgment was appropriate."
Addressing Raulinaitis's Second Amendment contention, the opinion points to the Ninth Circuit's en banc opinion last year in Peruta v. County of San Diego in which Circuit Judge William A. Fletcher said, writing for the majority:
"Because the Second Amendment does not protect in any degree the right to carry concealed firearms in public, any prohibition or restriction a state may choose to impose on concealed carry…is necessarily allowed by the Amendment."
'Good Cause' Requirement
Peruta dealt not with the residency proviso but the "good cause" requirement. It was that requirement that was in issue in Raulinaitis's challenge to the denial of a permit in Los Angeles County.
His wife, Rima Raulinaitis, merely stated as her reason for needing a concealed weapon, "self defense."
According to a recitation by Principal Deputy Los Angeles County Counsel Jennifer A.D. Lehman in her May 25, 2012 brief in the Ninth Circuit in opposition to Sigitas Raulinaitis's appeal of a summary judgment, granted by District Judge Michael W. Fitzgerald of the Central District of California in favor of the sheriff's department:
"In his application, Sigitas Raulinaitis stated that he should be allowed to carry a [concealed weapon] because as a construction contractor, real estate broker, and attorney, he has to be present at, and travel to, homes in blighted areas where persons may forcibly deprive him of his property or otherwise pose a danger to him….He also stated that he has two homes which involve travel in sparsely populated areas where 'self protection may be required without warning.'…He further stated that he sometimes transports large amounts of cash."
Lehman advised that "good cause" is defined by the Los Angeles County Sheriff's Department, as by the Los Angeles Police Department, as "convincing evidence of a clear and present danger to life or of great bodily harm to the applicant, his spouse or dependent child, which cannot be adequately dealt with by existing law enforcement resources and which danger cannot be reasonably avoided by alternative measures, and which danger would be significantly mitigated by the applicant's carrying of a concealed firearm."
Neither applicant, Lehman declared, showed convincing evidence of such a danger.
Applicant's Position
Sigitas Raulinaitis's position, as set forth in a paper filed in the district court on May 16, 2012, is:
"Public safety concerns may justify permissible regulations of protected activities, but the Constitution does not permit fundamental civil rights to be abridged by public safety fears….In fact, defendants entre policy appears based upon the mantra that more guns means more crime and relies solely on a study from 2001 that more guns equals more crime, blindly ignoring the fact that the last ten years have seen an astronomical rise in the sale of guns and ammunition while at the same time seeing a consistent and yearly drop in violent crime.
"This case is about Plaintiffs right to bear arms for the purpose of self-defense, and Defendants exercise of unfettered discretion to deny their only means of exercising that right, because he has decided, for reasons known only to him that in order to exercise one's Second Amendment right, one must first be the victim of a crime. Plaintiffs believe this standard is unconstitutional under any level of scrutiny and seek to establish this through testimony at a trial on the merits. More specifically, Plaintiffs allege a violation, pursuant to 42 U.S.C. 1983, of their Second Amendment Right to bear arms based upon a policy that has no rational basis, and in fact runs contrary to reality, existing solely for political purposes. Whereas, all of the parties herein, including Plaintiff, Sigitas, are officers of the Court or state who have taken an oath to support and defend the constitution which clearly states that the right to bear arms shall not be infringed, and neither his counsel nor the judiciary should give further quarter to his political actions in violation of his oath."
The Ninth Circuit, in a Nov. 7, 2016 opinion, cited Peruta, decided June 9 of that year, and said:
"For the same reasons, the Los Angeles County Sheriff's Department's policies interpreting the California statutory good cause requirement do not violate the Second Amendment."
Birdt Comments
Commenting on Friday's decision, Birdt said a rehearing by the court sitting en banc e\will not be sought, lamenting, "[W]e would get the same result." 
He remarked:
"As has long been the case, the Judges have ignored well settled Supreme Court decisions in favor of personal feelings. This opinion merely punts the legal issues instead of discussing them which is a shame, especially in a Court known to be do proactive in protecting civil rights consistent with their personal feelings."
Copyright 2017, Metropolitan News Company