Tuesday, December 19, 2017
Page 1
Ninth Circuit:
Action Over Weight-Loss Claims for Green Coffee Properly Dismissed
Judges Agree With District Court That Pleading Was Inadequate; Similar Action in Central District of California Is Pending
By a MetNews Staff Writer
Whether a pill containing green coffee bean extract can cause weight loss will not be adjudicated by the Ninth U.S. Circuit Court of Appeals—at least not in the case in which that tribunal has just affirmed a dismissal based on the failure to plead actual falsity of the manufacturer's claims.
In the wings, however—pending in the U.S. District Court for the Central District of California—is a case in which the pleading, alleging green (unroasted) coffee beans to be a sham cure for obesity, was on July 31 held to be adequate. It names as a defendant, among others, daytime television's "Dr. Oz" (Mehmet C. Oz), whose touting of green coffee as a weight-reducer on his syndicated show on April 26, 2012—declaring it to be "'the magic weight loss cure for every body type"—led to the widescale sale of products containing it, this buying spree popularly dubbed the "Oz Effect."
Such purchases persist although the study on which the initial claim was based was retracted by the authors in 2014, and the Federal Trade Commission has obtained multi-million dollars settlements from green-coffee marketers based on extravagance of their claims. The question of whether the supplements have any value, at all, in promoting wright reduction has yet to be resolved.
Litigation across the nation looms over the disputed efficacy of green coffee in taking off pounds. The most recent action came Friday in the memorandum opinion by Ninth Circuit Judges Marsha Berzon and Michelle T. Friedland, joined by William K. Sessions III, a U.S. district judge for the District of Vermont, sitting by designation.
The opinion affirms the action of U.S. District Court Judge Haywood S. Gilliam Jr. of the Northern District of California in dismissing, with prejudice, the complaint of Alhareth Aloudi and others alleging that claims by Intramedic Research Group, LLC, for blubber-shrinking propensities of its capsules marketed as "JavaSLIM," are bogus.
Aloudi's complaint terms the product "a caffeine pill mixed with ingredients that are incapable of providing rapid weight loss."
The opinion declares:
"Aloudi alleges that Intramedic's representation that JavaSLIM is 'clinically proven' to provide a 'significant reduction in actual body mass index (BMI)' is false.
"Under California law, private litigants can bring claims alleging that an advertising representation is actually false or misleading….By contrast, private litigants may not sue advertisers claiming that advertising representations lack substantiation….
"We need not decide that question here. Assuming that Aloudi could bring an actual falsity challenge to Intramedic's representation of clinical proof, his complaint did not allege sufficient facts to support a claim that that representation was actually false."
His allegation that he took JavaSLIM and did not lose weight was insufficient, the opinion says, because "Aloudi did not plead sufficient plausible and specific factual allegations to support his claim." The opinion explains:
"For example, Aloudi's complaint does not indicate his daily caloric consumption or metabolic activity before and while taking JavaSLIM."
'Supermodel-Thin'
In his April 19, 2016 order dismissing Aloudi's second amended complaint with prejudice, Gilliam scoffed at Aloudi's contention that if chlorogenic acid—the property in green coffee claimed to promote slimming—"actually caused 'rapid and significant weight loss' every customer in line at Starbucks would be supermodel-thin." The plaintiffs reasoned that there's more of that acid in large quantities of brewed coffee than in JavaSLIM.
The judge commented:
"Plaintiffs' conclusory observations regarding the physiques of Starbucks' clientele are unrelated to the efficacy of Defendant's Product, given that the Product contains different amounts of chlorogenic acid and other ingredients not found in Starbucks coffee."
The Ninth Circuit responded to the contention Friday by saying that the allegation does not relate to "scientific testing of the actual JavaSLIM product or a product with the same active ingredients as JavaSLIM, in a dose similar to that in JavaSLIM."
Oral Argument
Oral argument in the case took place on Nov. 15. San Diego attorney Gregory S. Weston's presentation received a chilly reception from members of the panel.
At the outset, Weston asked that the opinion be published in order to give guidance to other district courts. Friedland noted that the case was in federal court based on diversity jurisdiction and was being decided under California law, advising that "we usually don't publish on questions of state law."
The California rule that lack of substantiation for a claim does not give rise to a cause of action was the focus of the discussion.
Sessions questioned the relevance of the plaintiffs' point that liability can be founded on a "lack of clinical study" supporting JavaSLIM's claims. Weston responded:
"There's a claim that this pill—that's just a bunch of herbs—causes rapid weight loss and a significant loss of body weight….We allege those are false.
"Then there's the phrase that it's 'clinically proven' to do that. That is also false."
Under further questioning by Sessions, Weston said:
"Our allegation is not that [the defendants] were obligated to produce studies or that they're obligated to give us studies in any way. It's only that they were obligated to tell the truth on their labels."
In rebuttal, he declared that the effectiveness of green coffee bean extracts have been shown to be "worse than [a] placebo."
Attorney for Defendants
San Diego attorney Christopher Sullivan, in an animated address to the judges, insisted that a "list of clinical studies" substantiating JavaSLIM's claims "were sent to plaintiff a year before he filed his complaint."
Waving a copy of the communication, he asked:
"So, can he get around this—which is clearly a substantiation case—simply by ignoring it?"
Sullivan, acknowledging that there was a single report upon which his client at one point relied was discredited, asked:
"But what about the 17 other studies? How is this not a substantiation case?
The case is Aloudi v. Intramedic Research Group, 16-15876.
The battle over green coffee bean extract is being fought on various fronts.
Dr. Oz Sued
Veda Woodard and other named plaintiffs—including two New York residents—have brought a putative class action in the U.S. District Court for the Central District of California against Oz, media defendants connected with his show, and makers and suppliers of Labrada Nutrition's "Green Coffee Bean Extract." Woodward and the others say they tried it, and it doesn't work.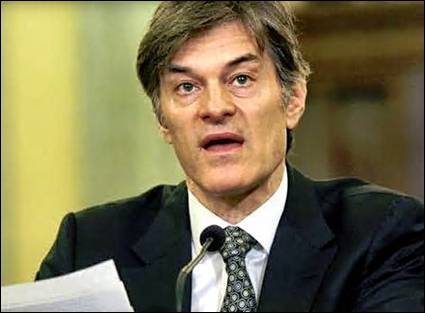 —AP
Dr. Mehmet Oz testifies on June 17, 2014, before the U.S. Senate Subcommittee on Consumer Protection, Product Safety, and Insurance. The hearing was held to examine the need to protect consumers from false and deceptive advertising of weight-loss products.
Lee Labrada, Labrada Bodybuilding Nutrition, Inc., and Labrada Nutritional Systems, Inc., makers of the capsules, moved for dismissal of the action, as did Naturex, Inc., which supplies Labrada with the key ingredient, chlorogenic acid. Naturex, which additionally made a motion to strike, calls its brand of the acid "Svetol."
Woodard's action also targets Labrada's capsules containing garcinia cambogia (Malabar tamarind). Defendant InterHealth Neutraceuticals, Inc., which supplies that ingredient to Labrada, also moved for a dismissal.
Motions Denied
On July 31, Judge Jesus Gilberto Bernal denied all motions.
Bernal found, among other things, that "Plaintiffs sufficiently allege that the Labrada Defendants: (a) made affirmative misrepresentations or fraudulent omissions; (b) had knowledge (or a duty to have knowledge) that these representations were false; and (c) intended to induce Plaintiffs' reliance in making those fraudulent misrepresentations or omissions."
He said that taking the facts that are pled as true, "the Court can reasonably infer that the statements on the Labrada Product labels are fraudulent misrepresentations"; the defendants did or should have known that a study upon which they had relied had been retracted by the researchers and other studies were paid for or performed by suppliers of green coffee products; and that the plaintiffs would not have bought Labrada's product if they had known of the unreliability of the studies.
Bernal said the plaintiffs adequately alleged that the ingredient suppliers knew of and authorized the alleged misrepresentations by Labrada as to the efficacy of their products.
The complaint alleges that Dr. Oz was "paid by Defendants Labrada, Interhealth, and/or Naturex in exchange for promoting Green Coffee Bean Extract" and other products on his show.
FTC Action
A preliminary injunction was issued on Nov. 25, 2015, by U.S. District Court Judge Percy Anderson of the Central District of California, pursuant an accord between the Federal Trade Commission and companies selling supposed weight loss preparations, including green coffee.
Other alleged weight reduction aids were made of Malabar tamarinds, white kidney bean extract, extract of forskolin (root of a plant in the mint family), and extract of a cactus from India and elsewhere.
The defendants—Sale Slash LLC, Purists Choice LLC, Apex Customer Care LLC, Penway LLC, Renvee LLC, and Optim Products LLC, along with individuals connected with those companies, all based in Los Angeles County—were ordered not to claim that a products "causes, or assists in causing, weight loss, or any specific amount of weight loss" or "assists in causing, rapid weight loss" unless they come up with substantiation based on "competent and reliable scientific evidence," which was narrowly defined.
Last Feb. 2, Anderson signed a permanent injunction. Pursuant to stipulation, the defendants were ordered to pay to the FTC $43,379,253.50.
On Dec. 6, the commission announced that it was mailing 442,898 refund checks, amounting to more than $8 million, to consumers who bought the products. It said the checks average $18.24.
Nonmonetary Recoveries
In seeking disgorgement of profits in green coffee extract cases, the FTC has received things of value other than money.
It filed an action in U.S. District Court for the District of Nevada against Health Formulas, LLC, and related entities, which marketed green coffee bean extract and other products. The FTC obtained judgment on April 26, 2016, for $105 million, and part of what the receiver wound up with was a Ferrari.
On Nov. 2, 2016, a judge of the U.S. District Court for the Middle District of Florida ordered Nicholas Congleton, who marketed "Pure Green Coffee," to pay the FTC $29,131,512. It also assessed damages against Congleton's brother, Dylan Loher, in the amount of $549,000.
That was the amount which Congleton drew from the company's funds to buy a building, with the title placed in Loher's name.
"Loher must disgorge title of the Twelfth Street property to a liquidator," the court directed.
Copyright 2017, Metropolitan News Company