Tuesday, August 29, 2017
Page 1
Ninth Circuit Declares:
Man Who Bilked Investors Must Be Resentenced
Finds U.S. District Judge Otis Wright II Sentenced Defendant to a Longer Term Than Permitted by Statute,
Failed to Pinpoint Those Who Were Victims, Considered 'Victim Impact Letters' From Non-Victims
By a MetNews Staff Writer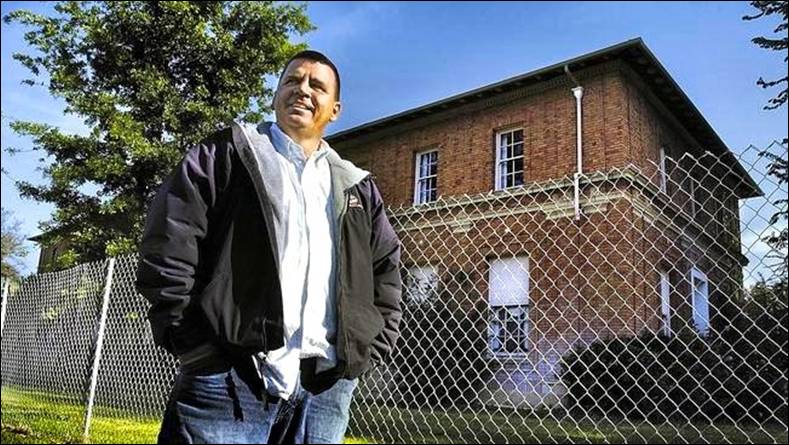 —AP
In this 2005 file photo, former Atascadero Citizen of the Year Kelly Gearhart poses in front of the Printery building in Atascadero. He was sentenced July 2, 2015 to 14 years in prison for bilking investors who poured millions of dollars into failed development projects. Gearhart had pled guilty in 2014 to wire fraud and money laundering as part of a plea bargain. U.S. District Court Judge Otis Wright II of the Central District of California sentenced Gearhart and, under a decision of the Ninth U.S. Circuit Court of Appeals Friday, must resentence him in light of multiple errors the judge committed at the hearing two years ago.
A real estate developer who was sentenced to 14 years in prison based on cheating investors out of "at least" $15 million, as the prosecution reckoned the amount, will have his term recalculated based on multiple sentencing errors by U.S. District Judge Otis Wright II of the Central District of California, under an opinion of the Ninth U.S. Circuit Court of Appeals.
Defendant Kelly Gearhart was sentenced to 168 months of incarceration based on his guilty plea, pursuant to a plea bargain, to one count of money laundering, while sentences on two counts of wire fraud were to be served concurrently.
The Office of U.S. Attorney conceded, on appeal, that Wright erred in sentencing Gearhart to 14 years for money laundering when, by statute, the maximum term is 10 years. Controversies on appeal centered on matters relating to enhancements and restitution, with the appeals court finding that Wright did not devote sufficient attention to these matters.
A potential future controversy, alluded to during oral argument on Aug. 8, was whether Wright could, on remand, actually boost the sentence by such means requiring consecutive sentences, or otherwise, or whether such an action would be "retaliatory" for the appeal having been taken.
No Extraordinary Facts
While granting Kelly Gearhart a new sentencing hearing, the appeals court did not accede to his request that the case be shifted to another judge. A memorandum opinion filed Friday—signed by Ninth Circuit Judges Consuelo Maria Callahan and John B. Owens, along with District Judge David A. Faber of the Southern District of West Virginia, sitting by designation—declares that "this case does not present the 'rare and extraordinary circumstances' needed to justify" a reassignment.
The opinion is, however, critical of Wright's handling of the sentencing, as well as the hearing on restitution.
Gearhart was sentenced by Wright in 2015. Under the plea bargain, there was no accord as to the length of the sentence or the number of victims.
The probation officer found that there were 17 victims, while the Office of United States Attorney maintained there were more than 250 victims, taking into accounts persons who invested in the schemes but did not have direct contact with Gearhart. Wright based an enhancement on an assumption of 17 victims but his restitutionary order assumed a greater number.
Calculations Required
The appeals court criticized Wright for his "unwillingness to spend time calculating restitution awards," instead requiring the parties to agree on an amount (contained in a sealed order). The memorandum opinion proclaims:
"[W]e remand for the district court to determine whether each victim suffered losses proximately caused by Gearhart. what those losses were, and to award restitution accordingly."
One of the findings which Wright was obliged to make, and didn't, was whether two banks were victims of Gearhart's scheme, the opinion says. He proceeded to sell lots in the Vista Del Hombre development project in Paso Robles that had been used as security for loans but, according to the defense, the banks knew of the reconveyances.
The opinion says:
"If Heritage Oaks Bank and San Luis Trust Bank were not victims. Gearhart's Guidelines calculation would change with respect to the total loss amount as well as the enhancement for gross receipt of more than $1 million from financial institutions. Thus, the district court was required to make a specific factual finding as to this matter."
Gearhart operated through Hurst Financial Corporation, the president of which was James Hurst Miller Jr., sentenced by Wright to seven years in prison. The opinion faults Wright for failing to pin down which of them did what.
"[T]he scope of the joint undertaking between Gearhart and Miller is directly relevant to whether all of the Hurst investors should be considered victims," the opinion declares. "Accordingly, we remand for the district court to make a specific factual finding as to the scope of the joint undertaking."
Victim Letters
There were 38 "victim impact" letters filed, but it was found that only two of those who submitted letters were victims. However, Wright said at the July 2, 2015 sentencing hearing:
"I strongly believe that there are hundreds of victims, and that feeling comes from all of these letters that were written where many times each of these individual victims discuss the investors' meetings where over a thousand people are present."
Wright also said:
"I was greatly touched by the numerous letters that I'd read from some of the elderly investors."
The memorandum says:
"[I]t appears that the district court did take all of the victim letters into account when determining Gearhart's sentence even though most of those individuals were not found by clear and convincing evidence to be victims of Gearhart's offense."
That, the three judges found, was error.
Oral Argument
At the oral argument session, Gearhart's lawyer, Elizabeth Hilda Richardson-Royer, commented:
"If there's a procedural error that your honors find that's the basis for vacating the sentence and remanding, I would ask that the case be reassigned to a different judge because of all the errors and the judge's adamancy in refusing to make the factual findings necessary in this case."
George Cardona, chief of the Major Frauds Section of the U.S. Attorney's Office for the Central District of California, acknowledged that Wright made some ill-considered remarks, but challenged the notion that he should not preside if the case were remanded. He told the panel:
"If I were the judge, I would probably refrain from making some of those comments. But if you look at them in context, I don't think they demonstrate either a personal bias against either the defendant or his counsel."
He said Wright has not evinced an inability to do "anything that this court would require him to do that he hadn't done."
Wright's Explanations
At the outset of his argument, Cardona acknowledged that Wright, in setting out his findings, "could have explained it better."
After articulating a point, Callahan asked:
"Did the court clearly articulate that, or are you doing a better job than the court did?"
Cardona responded:
"I will take credit for doing a better job than the court did."
Richardson-Royer at one point told the judges that Gearhart did not argue for a sentence below that set out in the guidelines, remarking:
"He took responsibility. You know, he's really a straight shooter."
Callahan interjected:
"Well, may later a straight shooter. I don't know that he gets that classification for this whole offense.
The lawyer persisted:
"I think it's fair to say that when we're talking about his background."
With respect to Gearhart's background, including misfortune that had befallen him, Richardson-Royer said that Wright "totally ignored it."
Copyright 2017, Metropolitan News Company