Thursday, October 5, 2017
Page 1
Ninth Circuit:
Lawyer Who Cheated Chico Marx's Heirs Can't Contest State Disbarment in Federal Court
By a MetNews Staff Writer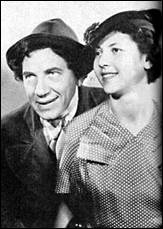 Comedian/bandleader Chico Marx is seen with his daughter Maxine Marx.
The Ninth U.S. Circuit Court of Appeals yesterday affirmed the dismissal of an action by a lawyer who was challenging his disbarment for having misappropriated $37,247.22 from the estate of the daughter of Chico Marx, one of the Marx Brothers.
A. Edward Ezor was disbarred Oct. 23, 2015. His defense that he innocently misallocated funds was disbelieved.
Yesterday's action by the federal appeals court came in a memorandum opinion which says:
"The district court properly concluded that it lacked subject matter jurisdiction under the Rooker-Feldman doctrine because Ezor's action amounted to a forbidden 'de facto appeal' of a prior, final state court judgment."
Second Case
The Ninth Circuit invoked the same doctrine yesterday in a separate case, affirming the dismissal of Ezor's action against Riva Goetz who, as a judge of the Los Angeles Superior Court (from which she's now retired) found that he had breached his duties as a trustee. He also sued the Court of Appeal justices who affirmed the decision—H. Walter Croskey (since deceased) and Patti Kitching and Richard Aldrich (both now retired).
The decisions each affirms a judgment by District Court Judge James V. Selna of the Central District of California, who in each instance adopted the report of Magistrate Judge Alicia G. Rosenberg.
Both memorandum says that Selna did not abuse his discretion in denying Ezor's motion to recuse Rosenberg because he showed no adequate basis for it.
The case in which Ezor challenged his disbarment is Ezor v. Morgenstern, No. 16-56720, and the case in which he sued the jurists is Ezor v. Goetz, No. 16-55S01.
Basis for Disbarment
The State Bar found that Ezor began representing Maxine Marx, daughter of Chico Marx, in 1999. He collected from Warner Brothers royalties that were still being earned on two Marx Brothers' movies, "A Day at the Races" and "A Night at the Opera" and distributed them to Maxine Marx and other beneficiaries.
After Maxine Marx died in 2009, her two sons, Brian and Keith Culhane, received a notice from the Internal Revenue Service that their mother owed sizeable back taxes, and they concluded she died penniless. They eventually tracked down the funds Ezor had been withholding.
Ezor was associate producer of the 1989 movie, Cage.
Copyright 2017, Metropolitan News Company