Monday, August 14, 2017
Page 1
Entertainment Mogul Walt Disney's Grandson Denied Access to Family Trust Funds
Court of Appeal Says Deference Must Be Accorded Determination of Arizona Court That Distribution Be Held Up Pending Outcome of Conservatorship Proceeding
By a MetNews Staff Writer
Bradford D. Lund, a grandson of Walt Disney, on Friday failed in his bid in the Fourth District Court of Appeal to gain a reversal of a judgment denying a petition for an order to Wells Fargo, trustee of the family trust, to distribute to him his share of the res.
Div. Three, in an opinion by Justice Raymond Ikola, said that even though the trust is administered in California, deference must be given the decision of an Arizona court that distribution to Lund be deferred until after resolution of a conservatorship proceeding. Lund is said to be mentally impaired.
He is the son of the Disney's adopted daughter, Sharon Disney, who died in 1993, and developer William Lund.
Sharon Disney was one of two daughters of Walt and Lillian Disney. Under the terms of the trust, the res is to be distributed in equal shares to the grandchildren upon the death of whichever daughter survived the other.
That event occurred in 2013 when Diane Disney Miller, a biological daughter, died at the age of 79.
Any grandchild over the age of 30—which included Brad Lund—was to take his or her share outright. The trust was estimated in 2014 at $400 million.
In seeking to circumvent the Arizona order, Brad Lund invoked Probate Code §17000(a), which provides:
"The superior court having jurisdiction over the trust pursuant to this part has exclusive jurisdiction of proceedings concerning the internal affairs of trusts."
He also cited the a provision of the Arizona constitution that: Brad then cites article 6, section 14, of the Arizona Constitution which states, "The superior court shall have original jurisdiction of: 1. Cases and proceedings in which exclusive jurisdiction is not vested by law in another court."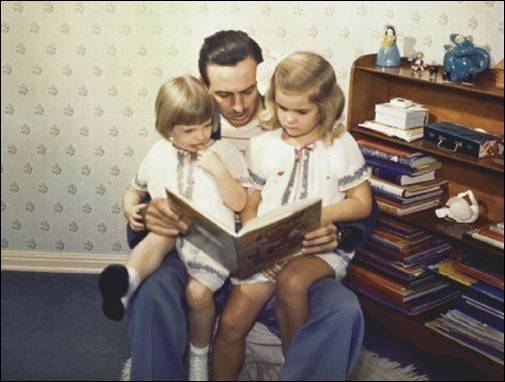 —AP
Walt Disney, who died in 1966, is seen in a photo with daughters Sharon and Diane.
Exclusive jurisdiction, he argued, is in Orange County, California, where the trust is administered.
Ikola responded:
"While Brad's argument has facial appeal, it relies on a misinterpretation of the term 'jurisdiction' as used in section 17000."
What it means, he said, is that probate departments have exclusive jurisdiction within a superior court over probate matters.
"Accordingly, section 17000 was not intended to confer exclusive fundamental jurisdiction to any particular court, but, rather, was simply intended to streamline the process of adjudicating trusts by ensuring parties would not bounce back and forth between different courts depending on the type of relief sought," Ikola wrote, adding:
"Since section 17000 does not deprive Arizona of jurisdiction, principles of comity counsel in favor of avoiding an order contradicting the Arizona court's order. Moreover, the Arizona court's order was merely a temporary order. If Brad is found to be competent, the Arizona court may well dissolve the temporary order without making any further orders concerning the trust. In that respect, it would be premature for us to address the broader question of where any remaining issues concerning trust distributions ought to be decided."
The case is Lund v. Wells Fargo Bank, G052717.
Bohm Wildish, James G. Bohm, Matthew Troncali, Klaus Heinze and Heather Cote were Lund's attorneys on the appeal. Don Fisher and Erin K. Oyama of Palmieri, Tyler, Wiener, Wilhelm & Waldron acted for Wells Fargo Bank, N.A. Brian M. Daucher, Adrienne W. Lee and Abby H. Meyer of Sheppard Mullin represented the plaintiff's twin sister, Michelle A. Lund, and two half-sisters, Kristen Lund Olson and Karne Lund Page.
Sheppard Mullin's clients, along with aunt, instituted the involuntary conservatorship proceedings in Arizona in 2009.
Copyright 2017, Metropolitan News Company