Friday, April 14, 2017
Page 1
Federal Agent Not Immune From Suit for 'Degrading' Treatment of Elderly Woman
By KENNETH OFGANG, Staff Writer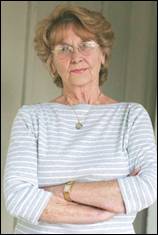 —AP
In this 2011 picture Joann Davis of Lake Elsinore poses for a photo.
A NASA agent who detained an elderly woman in the parking lot of a Riverside Denny's restaurant for two hours of questioning about a tiny piece of moon rock she wanted to sell to help pay for her son's medical care can be sued for violating her Fourth Amendment rights, the Ninth U.S. Circuit Court of Appeals ruled yesterday.
Chief Judge Sidney Thomas said NASA agent Norman Conley failed to establish qualified immunity on his motion for summary judgment on Joann Davis's constitutional tort claim under Bivens v. Six Unknown Fed. Narcotics Agents (1971) 403 U.S. 388. Bivens permits a tort action for violation of  civil rights to be brought directly against an agent of the federal government where no other remedy is viable.
Davis, the chief judge said, presented sufficient evidence that the detention was "unreasonably prolonged and unnecessarily degrading, particularly given that she is elderly, her clothing was urine soaked, the detention took place in a public parking lot, and the moon rock paperweight had already been seized."
Neil Armstrong's Gift
Davis, who was 74 years old at the time, had contacted NASA about the rock and claimed it was a gift to her late husband, an engineer at North American Rockwell,  from astronaut Neil Armstrong. She said she had unsuccessfully attempted to sell the item through public auction houses.
She also said she did not want do anything illegal, and that she had heard that someone had been convicted of illegally possessing lunar material, but that she thought her case was different because the item had been a gift to her husband.
Instead of telling Davis that her possession of the paperweight was illegal and asking her to surrender it to NASA, however, Conley "organized a sting operation involving six armed officers to forcibly seize a lucite paperweight containing a moon rock the size of a rice grain from an elderly grandmother," Thomas wrote.
Federal prosecutors in Orlando, Fla. declined to charge Davis with a crime.
Summary Judgment Denied
The appeal decided yesterday, in which the panel affirmed a denial of summary judgment by Senior Judge Consuelo Marshall of the Central District of California, dealt only with the Bivens claim against Conley and not with other claims and defendants in the case.
John Rubiner, an attorney for Conley, told the Associated Press he was examining the ruling and had not decided what to do next. He said Marshall determined that Conley had asked Davis if she wished to use the bathroom to clean up and whether she wanted to speak with him at her home, but she declined.
Marshall also said there was no evidence that Davis or her husband legally acquired or possessed the moon rock, for which Davis allegedly was seeking $1.7 million.
In addition to the moon rock, Davis claimed she had a nickel-sized piece of the heat shield that protected the Apollo 11 space capsule as it returned to earth from the first successful manned mission to the moon in 1969. Investigators did not seek to seize that item.
Armstrong, who died in 2012, had told investigators that he never gave or sold lunar material to anyone, according to an affidavit filed in the case.
Copyright 2017, Metropolitan News Company