Wednesday, November 22, 2017
Page 1
C.A. Reinstates Causes of Action Against Cosby
Justice Rubin Says Litigation Privilege Doesn't Apply to Threats of Suing That Are Bluffs; Declares Party May Be Added While Anti-SLAPP Motion Is Pending
By a MetNews Staff Writer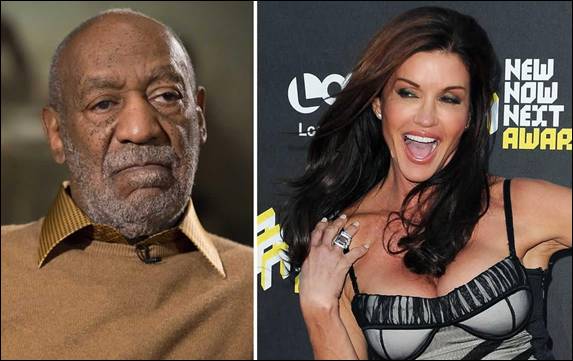 —AP
Comedian Bill Cosby, left, is accused by former model Janice Dickinson of defaming her when he accused her of fabricating his alleged 1982 drugging and rape of her.
The Court of Appeal for this district yesterday reinstated causes of action against Bill Cosby and his attorney by a woman they accused of lying when she publicly claimed the comic/actor drugged and raped her in 1982.
Div. Eight, in an opinion by Justice Laurence D. Rubin, held that causes of action against Cosby based on a demand letter to news outlets that allegations by model and television personality Janice Dickinson not be reported because they were "false and outlandish" were erroneously dismissed, pursuant to the anti-SLAPP statute.
The denial of a motion pursuant to that statute was affirmed in connection with a press release declaring that "Janice Dickinson's story accusing Bill Cosby of rape is a lie."
Dismissal of the action against Cosby's attorney, Martin D. Singer, who wrote the demand letter, was reversed. Rubin and his colleagues rejected the view of Los Angeles Superior Court Judge Debre Katz Weintraub that it was impermissible for Dickinson to add the lawyer as a defendant while Cosby's anti-SLAPP motion was pending.
Demand Letter
The demand letter was sent to producers of "Good Morning America" and other news outlets that had sought comment on allegations against Cosby made by Dickinson during an interview which "Entertainment Tonight" aired on Nov. 18, 2014.
(She became the third woman to accuse Cosby of a sexual assault, with dozens of other women coming forth with similar accounts. Cosby, 80, is facing a second trial in Pennsylvania next year on three counts of felony aggravated indecent assault, after jurors at the first trial were deadlocked.)
Singer proclaimed in that demand letter that if the allegations were repeated without checking the facts, "you will be acting recklessly and with Constitutional malice."
He warned that there would be "very substantial liability" and admonished:
"You proceed at your peril."
There was no dispute as to the first prong of the anti-SLAPP statute—litigation over protected speech—being met. The issue before Weintraub was whether the second prong was satisfied: an inability of the plaintiff to show a probability of prevailing on the merit.
For purpose of the appeal, Cosby did not deny that Singer acted as his agent in sending the letter.
Litigation Privilege
Weintraub found that Dickinson cannot prevail because the demand letter was protected by the litigation privilege.
That privilege can apply to demand letters, Rubin said, but only if litigation is seriously contemplated. It does not protect the letter sent on Cosby's behalf, he declared, explaining:
"Under the circumstances, the facts that: (1) the demand letter was sent only to media outlets which had not yet run the story but had indicated an intention to do so; and (2) Cosby never sued any media outlet which ran the story, give rise to an inference that the demand letter was not sent in connection with litigation contemplated in good faith and under serious consideration. Instead, these facts suggest that the demand letter was a bluff intended to frighten the media outlets into silence (at a time when they could still be silenced), but with no intention to go through with the threat of litigation if they were uncowed."
Rubin added in a footnote:
"We do not suggest that as a matter of law Cosby cannot prevail on the litigation privilege defense, only that Dickinson has shown a probability of prevailing at this juncture."
Defamatory Nature
Rubin said Dickinson has not only surmounted the litigation privilege defense but has shown a probability she will prevail on her contention that the letter falsely accused her of lying.
He dismissed the contention that the letter merely stated Singer's opinion. It was not phrased in terms of opinion, but fact, Rubin said, with the purported facts including the flat out statement that "the alleged rape never happened."
The jurist said that while "the language of the demand letter alone is sufficient to establish a reasonable fact finder could conclude the letter conveys a provably false assertion of fact," the context bolsters that conclusion. He pointed out:
"The fact that Cosby's attorney authored the statement is an important factor supporting our conclusion. The rape allegations against Cosby were a subject of national attention and much public speculation. It would perhaps be unactionable opinion if an unrelated individual, with no actual knowledge of the rape, chatting in a public forum, were to say, 'Dickinson lied about the rape; after all, she told a different story in her book.' That may be unactionable opinion because it is based on disclosed facts and the speaker would not be presumed to be basing the opinion on anything else. But here, the demand letter was authored by Cosby's attorney, who was speaking for Cosby, who, in turn, would certainly know whether or not he sexually assaulted Dickinson. Cosby's agent's absolute denial is a factual one. At the very least, the demand letter is susceptible of this interpretation, which is sufficient to establish Dickinson's burden at this stage of the proceedings."
Press Release
Rubin expressed agreement with Weintraub's denial of an anti-SLAPP motion in connection with the press release, a statement by Singer which said:
"Janice Dickinson's story accusing Bill Cosby of rape is a lie. There is a glaring contradiction between what she is claiming now for the first time and what she wrote in her own book and what she told the media back in 2002. Ms. Dickinson did an interview with the New York Observer in 2002 entitled 'Interview With a Vamp' completely contradicting her new story about Mr. Cosby. That interview a dozen years ago said 'she didn't want to go to bed with him and he blew her off.' "
It continued:
"Her publisher HarperCollins can confirm that no attorney representing Mr. Cosby tried to kill the alleged rape story (since there was no such story) or tried to prevent her from saying whatever she wanted about Bill Cosby in her book. The only story she gave 12 years ago to the media and in her autobiography was that she refused to sleep with Mr. Cosby and he blew her off. Documentary proof and Ms. Dickinson's own words show that her new story about something she now claims happened back in 1982 is a fabricated lie."
Wanted Story Told
Dickinson presented declarations of the president of the division of HarperCollins that published her 2002 autobiography, "No Lifeguard on Duty," and the ghost writer of that book, that she wanted the story of the rape told, but the publishing house's lawyers advised against including the account, and all that was mentioned was Cosby propositioning her.
Rubin said of the press release:
"The statement did not simply state that Dickinson's story was contradicted by her autobiography; it stated that her story 'is a lie.' The average person would infer that the statement was Cosby's denial of raping Dickinson."
In a footnote, Rubin said:
"Cosby did not argue that the litigation privilege extends to the press release.  He was correct not to do so.  The litigation privilege does not extend to press releases."
Action Against Singer
The opinion reverses the dismissal of Singer as a defendant.
"[T]here is a solid line of case authority discussing limitations on a plaintiff's right to amend the complaint when an anti-SLAPP motion is pending," Rubin wrote. "However, the parties and amici have not cited, and independent research has not disclosed, any authority discussing the precise scenario at issue here—where the party challenging the plaintiff's right to amend has not filed an anti-SLAPP motion and, in fact, is named as a new party to the litigation."
He said that "the language in and policy behind the cases restricting amendment when an anti-SLAPP motion is pending do not support extending their holdings to cases where the plaintiff amends to add an additional defendant."
Rubin noted that if Dickinson had waited until Weintraub ruled on the anti-SLAPP motions, her claims against Singer would have been time barred. He commented:
"…Cosby's anti-SLAPP motion was correctly denied with respect to the press release and should have been denied with respect to the demand letter. Nonetheless, Singer would have us affirm the dismissal of the complaint against him—thereby protecting him from any timely suit being pursued by Dickinson—simply due to the circumstance that Cosby, his eventual co-defendant, had filed an ultimately unmeritorious anti-SLAPP motion at the time Dickinson sought to include Singer as a defendant. We fail to see how justice is served by granting Singer a windfall immunity based on Cosby's pursuit of a meritless motion."
The case is Dickinson v. Cosby, 2017 S.O.S. 5720.
Lawyers Comment
Dickinson was represented by Lisa Bloom, Jivaka Candappa and Alan Goldstein of The Bloom Firm. Bloom remarked yesterday:
"We appreciate the appellate court's careful review of the facts and the law in this case, and today's sweeping ruling in our favor. I look forward to taking Mr. Cosby's deposition and to the trial of this important case, which is about a woman's right to speak out about sexual assault accusations without being publicly attacked in response."
She noted that Candappa and Goldstein "drafted the successful appellate briefs in this case."
Alan A. Greenberg of Greenberg Gross LLP, along with Angela C. Agrusa of Liner LLP, argued for Cosby. Bloomberg said:
 "We completely disagree with the court's ruling, which violates the First Amendment right to freedom of speech and will prevent attorneys from speaking out publicly on behalf of their clients, even in the face of false accusations. We are very confident that Mr. Cosby will prevail in this case."
Singer's lawyers on appeal were Jeremy B. Rosen and Felix Shafir of Horvitz & Levy and Andrew B. Brettler of Lavely & Singer. Rosen expressed this view:
"We disagree with the Court of Appeal's decision permitting Mr. Singer to be named as a party, and are exploring all legal options, including whether to seek Supreme Court review. No matter what, we feel confident that Mr. Singer will prevail on the merits if and when a court ever reaches those issues."
Copyright 2017, Metropolitan News Company