Thursday, January 12, 2017
Page 2
PERSONS OF THE YEAR 2016:
JOHN CHIANG
Trained in Law, His Background Is in Politics
By KENNETH OFGANG, Staff Writer
ohn Chiang is not your typical lawyer.
He practiced law briefly, but says he didn't intend to make it a career. When he "caught the political bug, the public policy bug," he veered onto a different path.
He served on the staffs of some of the state's most important Democratic politicians, which led to a seat on the State Board of Equalization. He then won two terms as state controller, won the treasurer's post two years ago after term limits barred him from running for controller again, and announced in May that he is running for governor.
It's something he could hardly have imagined, he says, as a child who struggled to understand the racist taunts of strangers while his parents built their version of the American dream.
They were Taiwanese immigrants who came to this country separately, in the 1950s, and met as students at Case Western Reserve University in Cleveland, Ohio.
The future California politician was the first of their four children. He was born in New York, where his father, a chemical engineer, was employed, but the family moved to Chicago when he was five or six years old.
He lived there more than a dozen years, graduating from Carl Sandburg High School in suburban Orland Park.
Friendship With Jones
He wound up being elected vice president of the student body, on a ticket headed by close friend Dave Jones. Their campaign posters were drawn by Neal Sternecky, who went on to draw the revived Pogo comic strip in the 1980s and 1990s and has more recently worked as a director of animated films and a toy designer.
Chiang and Jones, close friends to this day, later came to California by separate paths, and Jones is now the state insurance commissioner. He is currently a candidate for attorney general, and the friends have endorsed each other in their respective contests.
Chiang, Jones says, "is every bit the same as he was when we met as teenagers, freshman year of high school." The commissioner attributes his friend's success to being "honest, smart, hardworking" and caring deeply about people, "including people who aren't as well off as others."
The fact that Chiang "has all the traits he had when he was younger, despite all of his success, says a lot about his character," Jones opines. While political ambition often tests friendships, Jones says he and Chiang continue to share a "mutual respect and support for each other's interests in serving the public."
While Jones left for Harvard after graduation, Chiang stayed in Chicago for a year, attending DePaul University, before following a friend to the University of South Florida in Tampa. He graduated with a degree in finance, then fulfilled a longstanding ambition to attend law school.
He gained his legal education at Georgetown University, and says it was a good experience.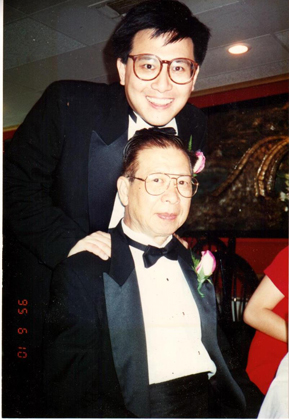 John Chiang and his father Mutong Chiang
"It was Washington, D.C.," he relates. "It was intense, it was busy. To de-stress, I would run between the monuments and be inspired by our presidents. During the winter you would study and the library would close in the late afternoon and you would walk over to the National Gallery of Art."
There was an ice rink nearby, but his recreational opportunities were "few and far between" he recalls. "Usually, I'd just be busy studying."
He graduated in 1987, and, like many graduates of D.C. law schools, got his first jobs on Capitol Hill. He worked for three Democratic House members, Lane Evans of Illinois and Norman Mineta and Robert Matsui of Northern California, but the jobs involved a lot of research and "not a lot of politics," Chiang says.
California Campaign
He worked for the Internal Revenue Service for less than a year, as a tax specialist, before taking advantage of the opportunity to work on a California political campaign.
It was 1988, and insurance reform was one of the state's hot-button issues of the day. Well over $100 million was spent by supporters and opponents of four separate initiatives on the November ballot, including Proposition 100, which was largely backed by trial lawyers and for which Chiang worked to gain passage.
In the end, that measure failed, as only one of the four measures, Proposition 103, became law. But Chiang says he was sure at that point that he wanted to continue working on campaigns.
He joined a Los Angeles-based consulting firm whose clients included Kathleen Brown, a former Los Angeles school board member and the sister of Gov. Jerry Brown. Chiang wound up working full time for Brown's campaign for state treasurer, and she went on to win the office in 1990.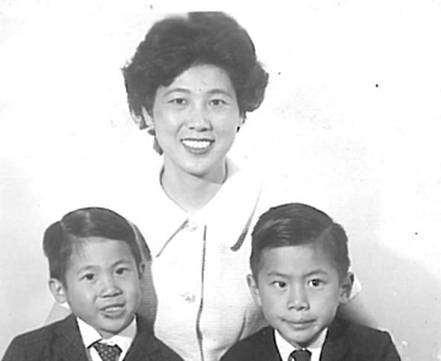 Brother Robert Chiang, along with his mother Judy Chiang, and John.
Chiang—whose name is pronounced "Chung"—joined the office of state Controller Gray Davis, who had just been reelected. He then started his own law practice, with the Controller's Office as his main client, doing transactional and tax work along with "whatever came across the desk."
He worked on Rep. Mel Levine's campaign for the U.S. Senate in 1992, but joined then-Rep. Barbara Boxer's campaign after she beat Levine and then-Lt. Gov. Leo McCarthy in the Democratic primary. He became an aide to Boxer after she won the general election.
From there, he left to work for Don Perata's 1994 campaign for state controller. Perata, then an Alameda County supervisor and later president pro tem of the state Senate, lost the primary by a large margin to Kathleen Connell, who went on to serve two terms in the office.
After Perata's primary defeat, Chiang again went to work for Kathleen Brown, who ultimately lost that year's governor's race to incumbent Republican Pete Wilson.
Acting BOE Member
Chiang's next assignment was on the staff of Board of Equalization member Brad Sherman, where he became chief deputy. Sherman was halfway through his second term on the BOE when he was elected to Congress. The state Constitution authorized the governor to appoint a successor, but only with the approval of both houses of the Legislature, which was controlled by Democrats.
An obscure statute, which went unheeded and apparently unnoticed when another BOE seat fell vacant during Wilson's first term, allowed Chiang, as chief deputy, to fill the post unless and until a Wilson appointee gained confirmation. A spokesperson for Wilson initially questioned Chiang's authority, but Sherman—armed with an opinion from then-Attorney General Dan Lungren—urged the governor to back down.
Sherman told the Los Angeles Times that Chiang was "an extremely qualified tax attorney" and that he had "been outstanding in his role as chief deputy." He also suggested that a challenge would not sit well with Wilson's "friends in the Asian community."
Whatever the reason, the governor did not seriously press the issue and Chiang wound up serving the two remaining years of Sherman's term and launched a campaign to win the office in his own right.
Although he had never run for office himself, he proved adept at raising money, gaining endorsements, and keeping better-known politicians out of the race. He won a six-way primary, then won the general election handily in the overwhelmingly Democratic district and was reelected four years later, so he had essentially a 10-year tenure on the board.
In 2006, while serving as board chair, he defeated Joe Dunn—then a state senator, and later executive director of the State Bar—by a margin of six percentage points in the Democratic primary for controller. He went on to defeat Republican Tony Strickland, then a member of the state Assembly, by 10 points in the general election.
Termed 'Nice Guy'
Fred Huebscher, a campaign consultant who has known Chiang for years, says there are several keys to his success.
"He's a nice guy, lots of people like him, and he's knowledgeable about issues," Huebscher says, adding that Chiang's years of work in government and politics before running for office himself were a huge boon to his success.
Chiang was reelected controller in 2010 and elected treasurer in 2014, both by large margins, so he heads into the governor's race with five straight victories behind him.
His philosophy of government, he says, is one of "inclusiveness." In a society based on the rule of law, he remarks, public servants have a duty to "create greater opportunities for all."
His own ability to do that, he acknowledges, has been limited by the nature of the offices he has held, with primary responsibility in the areas of finance and taxation. His approach, he says, has been to reach out to those who might otherwise go unserved.
"People don't always get equal access to information," he says he's discovered, motivating him to start a number of new public outreach programs while on the BOE.
He assigned trained staff members to provide free assistance to taxpayers who might otherwise be unaware of benefits like the earned income tax credit; held seminars for nonprofit organizations to explain both their tax obligations and the exemptions that they might be entitled to; and worked with small businesses to help them avoid having to pay additional taxes, interest and penalties as a result of running afoul of complex rules, he notes.
These events were held in many languages, he adds.
"People come from various parts of the globe," he says. "They want to be Californians, they want to be Americans," and they will comply with the rules if they understand them.
Duties as Controller
He describes his current post as that of "the state's banker," processing 2 trillion financial transactions annually, according to the Department of Finance.
Chiang says:
"I am the agent of sale for the state's debt…I am the investor of the state's short term cash, and I chair 15 economic development authorities that finance everything from taco trucks to [car manufacturer] Tesla."
That's not the sort of thing that usually creates headlines. But the controller and treasurer occasionally do become media figures, usually when the state is in crisis mode.
That was the case in 2007 and 2008, as Chiang, then the controller, was in charge of reporting the grim news of how the Great Recession was diminishing the state's ability to pay its bills.
That, in turn, led to an unusual public clash between the low-key and soft-spoken controller and the outspoken governor of the time, Arnold Schwarzenegger. According to news reports, the governor was prepared to slash the pay of 200,000 state workers to the federal minimum due to the lack of a state budget, which the controller derided as "a poorly devised strategy to put pressure on the Legislature."
Chiang said at the time that he would not go along with the governor's plan because it was "improper and illegal." The Third District Court of Appeal disagreed, but the decision was not rendered until after the impasse had ended.
By the time that decision came down, the governor had already filed another lawsuit seeking a declaration that he could do the same thing during another budget impasse, but Gov. Jerry Brown dismissed the action after Schwarzenegger left office. Chiang's stand, meanwhile, won plaudits from labor unions, which have been among his major campaign contributors.
He insists the stand was one of principle, and not partisan.
"I don't make politics personal," he says. "…I've offended people on both sides of the aisle," he adds, tussling with the Democratic legislative leadership on budget matters.
He says he has worked hard to forge relationships with figures in both parties, and always got along well with Republicans on the BOE.
Philibosian Lauds Chiang
Former Los Angeles District Attorney Robert Philibosian, a staunch Republican who is of counsel to Sheppard, Mullin, Richter & Hampton, which does a huge amount of public finance work, has dealt with Chiang and says he may back him in the governor's race. While he is still waiting to see who emerges on the GOP side, he says, "John Chiang is one of the few Democrats I could consider supporting."
He made headlines again recently, when he suspended major aspects of the state's relationship with Wells Fargo, following revelations that the banking giant had created millions of unauthorized consumer accounts.
"How can I continue to entrust the public's money to an organization which has shown such little regard for the legions of Californians who have placed their financial well-being in its care?," he asked bank officials in a letter made public by his office.
He disclaims any political or punitive motive, noting that he rarely holds press conferences or addresses public controversies, even though he makes hundreds of public appearances each year.
His involvement in the matter, he says, stems from a simple ethical premise.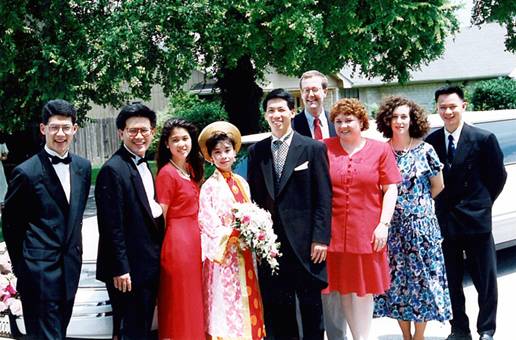 At his brother Robert's Wedding, along with (from left to right) Roger Chiang, John Chiang, Joyce Chiang, and Chi Chang, Robert Chiang's bride.
"Wells Fargo is a very important banking partner of the state of California," he says. "We want to make sure our partners are engaged in good practices and we want to encourage them to do the right thing."
The treasurer, who is separated from his wife and is childless, has a job that requires constant travel. He typically spends four days a week in Los Angeles, and the rest of his time in the Bay Area or Sacramento, while occasionally attending meetings out of state. He has also been to China on a trade mission.
He says he remains close to his family, including his mother, who lives in the San Fernando Valley. His father is deceased.
Chiang has two younger brothers. Roger Chiang works in technical management at KQED-TV in San Francisco, while Robert Chiang is an ophthalmologist in Texas.
Family Suffers Tragedy
The family suffered a tragedy when sister Joyce Chiang, a government lawyer in the nation's capital, was killed in 1999. Her body was found in the Potomac River, and police initially speculated she may have taken her own life.
Years later, however, it was concluded that she had either been pushed or fallen into icy waters after being robbed by three men. Police said there was insufficient evidence to prosecute after the long passage of time, but that one suspect was serving a life sentence for another crime and another had been deported.
"Sometimes things happen and there's no good reason for it," Chiang says. His family and friends have honored his sister's memory by maintaining a scholarship fund, he notes.
While his time away from work is limited, he says, he spends as much of it as he can sharing meals and watching sporting events—his favorites are football and basketball—with his friends and his six godchildren.
Chiang pronounces himself "very excited about California's future," while acknowledging great challenges, such as the need to restore higher educational funding, which has dropped precipitously since the onset of the recession, and to fix crumbling infrastructure. He also praises Chief Justice Tani Cantil-Sakauye "as a great public advocate and public educator" with respect to the need for adequate court funding, while acknowledging that the courts, like the rest of state government, cannot expect major injections of new revenue in the short term.
The state can, however, be a catalyst for positive change in citizens' lives, Chiang insists.
He cites as an example Secure Choice, the state's newly authorized retirement program for workers who do not have access to a pension or an employer-sponsored plan such as a 401(k). Chiang, who says that about 7.5 million California workers fall in that category, chairs the board charged with implementing the plan.
As for his own future, he says, whether he becomes governor or not, "I would like to end my professional career as an educator" in the field of public finance or public policy. His legal background, he says, "will be central to that discussion," just as it has been central to his public service.
____________________________________________
Comments
John Chiang is the only Democrat I have supported in partisan elections. I have known him since was the Board of Equalization member for my district. John is that unusual politician who cares more about serving the people than about glorifying himself. He is innovative, smart, hardworking and honest and exercises good common sense in his decisions which are the leadership traits we look for in our elected officials.
ROBERT H. PHILIBOSIAN
Of counsel, Sheppard Mullin;
Former district attorney, Los Angeles County
Congratulations to John Chiang for this well-deserved honor. John is one of those office holders who make all citizens, whatever their political belief, take pride in their elected officials.
John has a distinguished career. As Chair of the Board of Equalization, State Controller, and Treasurer, John has kept California fiscally sound through turbulent financial times, making our state the envy of the nation.
John's dedication to transparency has given citizens vital and easy to access information concerning debt created in state and local government.
His integrity, dedication and wisdom serve as a model for all who aspire to public office.
I say this without qualification even though John and I were on opposite ends of "friendly" litigation where he was the nominal defendant. Gilbert v. Chiang (2014) 227 C.A.4th 537 settled a matter of statutory interpretation. I can attest that John Chiang's devotion to fiscal responsibility is one of his highest priorities.
ARTHUR K. GILBERT
Presiding justice, Court of Appeal,
Second District, Div. Six
Among the various announced candidates for Governor in 2018, John Chiang is a standout. He is very smart, fiscally prudent, and very experienced in important ways. California faces huge problems in many ways. John may be the only person who can right what can be fairly characterized as a 'sinking ship'.
STEVE COOLEY
Former Los Angeles County District Attorney
Copyright 2017, Metropolitan News Company